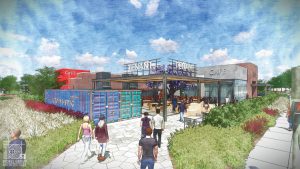 Commission Considering North Long Beach Retail Center Proposal
The Long Beach Planning Commission is considering the approval of Frontier Real Estate Investments' more than 11,000-square-foot Uptown Commons retail center development during its December 6 meeting. Located on the northeast corner of Atlantic Avenue and Artesia Boulevard in North Long Beach, the proposed project consists of six buildings, including two made of repurposed shipping containers. The largest building is 2,780 square feet and is slated to become a bank, which is a use nearby residents requested of the developer during the initial planning phase. Four restaurants are included in the project, two of which will occupy the shipping container structures at 650 square feet each, with the other two in buildings measuring 2,586 square feet and 2,653 square feet. The final building is 1,990 square feet and would be occupied by a coffee shop with a drive-thru. Overall, the project includes 3,650 square feet of outdoor dining and patio space. The project also includes 81 parking stalls, which is 14 more than are required. Frontier hopes to begin construction in March or April, and to complete the project in the fourth quarter of 2019, according to Vice President of Acquisitions Tom Carpenter.
Real Estate Investment In North Long Beach Continues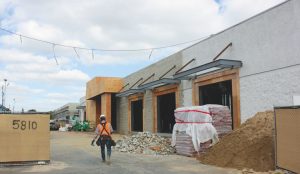 Construction is underway on a full remodel of the 35,000-square-foot L.A. Fitness location at the South & Downey Shopping Plaza in North Long Beach. In conjunction with the gym's remodel, property owner Gregg Kirkpatrick, managing partner of Long Beach-based Kirkpatrick Companies, is updating the facades for the entire center.
"The original developer of the center built it in the mid-1970s, and it really hasn't been updated since then," Kirkpatrick said. "I bought the center [around] 2004, and we've been waiting to update it until L.A. Fitness renewed their commitment because we didn't know who the next tenant would be if L.A. Fitness did not stay. We coordinated [our work] with the work that L.A. Fitness is doing for themselves."
Before it was a gym, the space was a grocery store. Bally Total Fitness took over the location, which was then acquired by L.A. Fitness in 2011, along with 170 other Bally locations. In that time, the space changed very little. However, contractors have since gutted the facility, making way for a completely new gym inside and out. The space will feature brand new equipment and a refinished pool area, according to Kirkpatrick.
Following the lease renewal for an additional 15 years, Kirkpatrick Companies provided L.A. Fitness with a tenant improvement allowance for an undisclosed amount to offset the cost of the remodel. Weather permitting, the facade improvements should be completed by the end of the year, with L.A. Fitness planning on a late January or early February opening, Kirkpatrick said. Working in partnership with Lakewood Regional Medical Center, located across the street, a 24-hour urgent care facility is soon opening at a 4,000-square-foot storefront facing South Street, he added.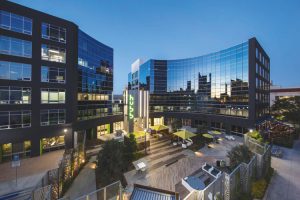 Downtown Long Beach Office Building Sells For $60.5 Million
The Hubb, a 210,428-square-foot creative office building in Downtown Long Beach, has sold for $60.5 million, real estate advisory firm Newmark Knight Frank (NKF) announced November 26.
"Ocean West [Capital Partners], alongside its capital partner Singerman [Real Estate], executed a tremendous repositioning of this asset and established The Hubb as one of Long Beach's premier creative office environments," NKF Co-Head of U.S. Capital Markets Kevin Shannon stated.
Originally built in 1986 at 100 W. Broadway, the six-story towers had $12 million of improvements completed in 2017 and are 88% leased. Upgrades included the addition of high and exposed ceilings, operable windows, polished concrete floors and full height glass walls and doors in both the east and west towers. The campus also features an indoor-outdoor "WorkPark," which includes worktables, seating, lounge chairs and Wi-Fi stations.
The seller, a joint venture between Singerman and Ocean West, was represented by Shannon, NKF Executive Managing Directors Ken White and Rob Hannan, and Senior Managing Directors Laura Stumm and Michael Moll. Bob Safai of Madison Partners represented the buyer, Redwood Partners.
"Downtown Long Beach has so much positive momentum right now, from the city's investment in its own infrastructure, to the development and revitalization of residential, hospitality and retail product," Hannan said. "The Hubb's position as a preferred office destination will only benefit as the city continues this upward trend."
Los Altos Sears And Kmart To Be Sold
Sears Holdings Corporation on November 21 filed a motion to sell 505 Sears and Kmart stores, including one of each in Long Beach, following its Chapter 11 bankruptcy filing in October. In a letter filed by financial advisory and asset management firm Lazard Frères & Co. LLC on behalf of Sears Holdings, the company indicated it would consider liquidation bids, as well as those that allow the stores to continue operating.
The Los Altos Gateway Kmart building located at Spring Street and Bellflower Boulevard measures 131,363 square feet, according to owner Robertson Properties Group. Los Angeles County lists the Los Altos MarketCenter Sears building, located off of Stearns Street and Bellflower Boulevard, at 125,451 square feet. Transactions are expected to be announced on January 16, with a final hearing slated for February 1, according to the document.
If the Long Beach locations are liquidated and closed, they will join the 35,000-square-foot Best Buy at Marina Pacifica, which closed in October, as the most recently shuttered big-box stores in the city. Underperforming Sears and Kmart locations have been closing since 2012.
City Seeks Input On Inclusionary Housing Policy
In an effort to develop an inclusionary housing policy to improve access to affordable housing in Long Beach, the city is conducting a study with input from the community related to local housing needs and opportunities. Two community meetings are scheduled, which each include a presentation by the city before a public comment period:
Wednesday, December 5, 6-8 p.m., Long Beach Polytechnic High School cafeteria dining room, 1600 Atlantic Ave.
Saturday, December 8, 10 a.m. to noon, Silverado Park Community Center, 1545 W. 31st St.
For more information, contact Andrew Chang, Long Beach Development Services administrative analyst, at 562/570-6710 or by e-mail at andrew.chang@longbeach.gov.
Community Meeting For Signal Hill Development
Signal Hill Petroleum is hosting a community meeting tonight, Tuesday, December 4, from 6-8 p.m. to provide an update and receive feedback on its proposed Heritage Square mixed-use development. Located on eight acres on Cherry Avenue across from Home Depot, the proposal includes 199 multi-family units, four single-family homes and 28,800 square feet of retail space, in addition to the existing 14,000-square-foot Mother's Market, which opened earlier this year. The meeting is being held in the Signal Hill City Council Chambers, 2175 Cherry Ave.
Recent Transactions By Centennial Advisers
The following is a list of recent residential and commercial property sales by the team at Centennial Advisers, working out of the company's Long Beach office. The descriptions were provided by the Centennial team:
296 Redondo Ave. – This 2,881-square-foot office building was built in 1976 and includes water features and a private parking area, and is walking distance to the beach and numerous restaurants. It's one of the highest-priced per foot properties sold in all of Long Beach, and is the original offices of design firm C. Robert Langslet & Son Inc., according to Centennial.
Investment Adviser: Douglas Shea
Sold Price: $1,600,000
Sold Date: 8/23/18
1628-1632 N. Stanton Pl. – After years of owning this 3,212-square-foot, four-unit multi-family complex, a group of four business partners decided to go their separate ways for continued investment. Multiple offers at or above the list price were received and careful consideration of the quality of the offers was done to select the strongest, most highly probable buyer to complete the sale.
Investment Adviser: Eric Christopher
Sold Price: $860,000
Sold Date: 9/25/18
12 W. Plymouth St. – This property sale included a restaurant, parking lot and an additional commercial retail space. It also included the restaurant's liquor license, furniture, fixtures and equipment. The building space is 8,640 square feet. The operator of El Cortez Mexican Restaurant and Sports Bar, who also owned the property, was ready to retire.
Investment Adviser: Eric Christopher
Sold Price: $1,650,000
Sold Date: 10/18/18
Sandy Cove, 1119 Dawson Ave. – The seller of this 7,790-square-foot, nine-unit multi-family complex received multiple offers and selected a high-quality buyer. Using a 1031 exchange, Centennial successfully helped the seller invest in another property that was not only closer to her home in the Bay Area, but also fit her situation better than the relinquished property.
Investment Adviser: Eric Christopher
Sold Price: $2,145,000
Sold Date: 10/10/18
Downtown Long Beach Development Wins Award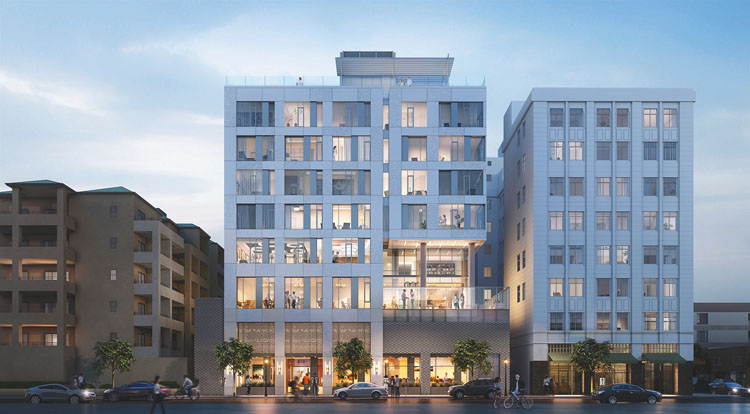 An assisted living development located at 810 Pine Ave. in Long Beach received the 2018 Shaping Advancements in Generational Environments (SAGE) Award for "Best 55+ Assisted Living or Special Needs Community – On the Boards" by the Building Industry Association of Southern California, KTGY Architecture + Planning announced November 30. Developed by Irvine-based Global Premier America, plans for the high-rise project consist of 78 units and continuum of care services, such as assisted living and memory care, in two buildings. The project is currently in entitlement with the City of Long Beach and is expected to break ground in the third quarter of 2019, according to the announcement.