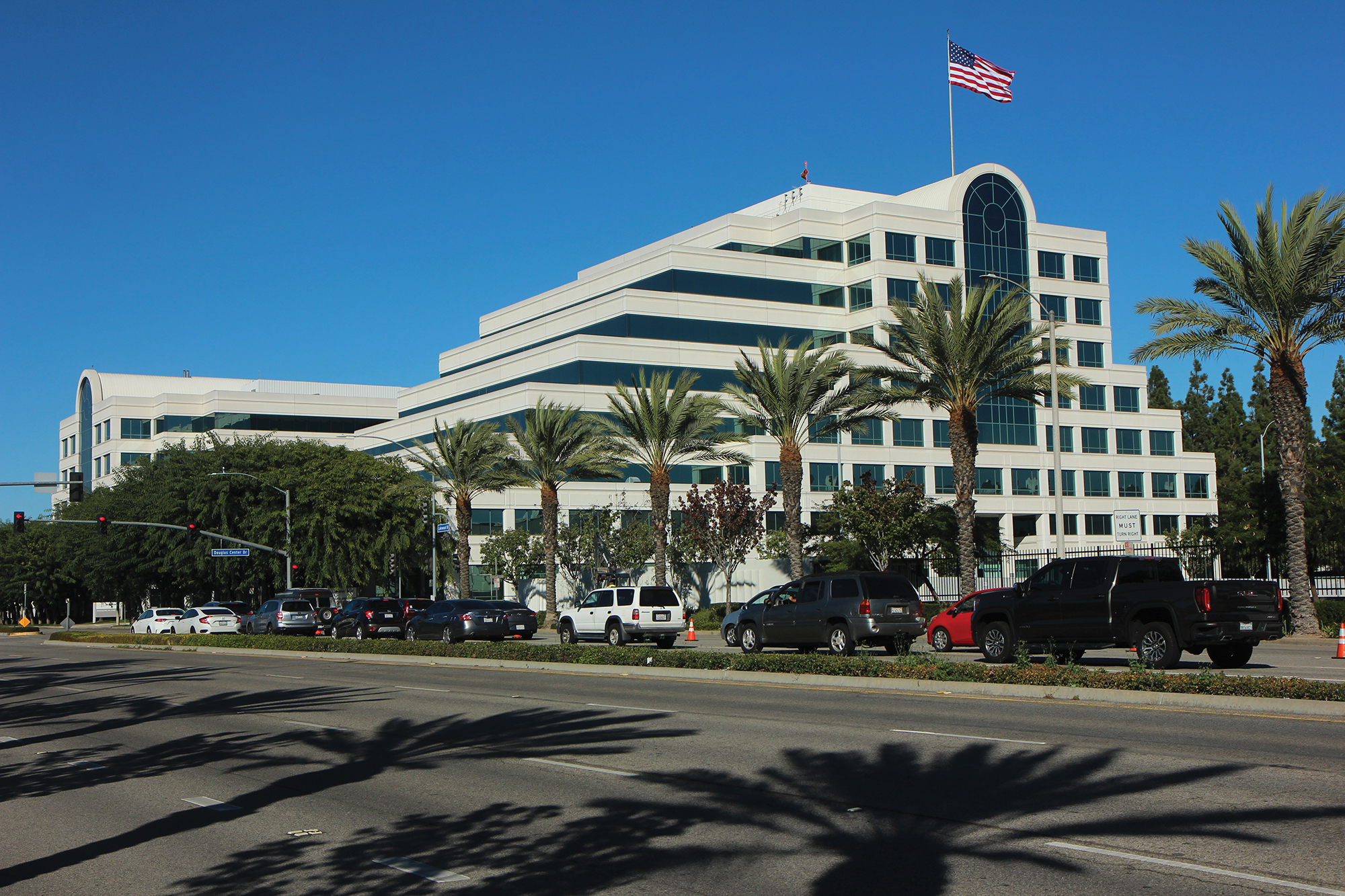 Relativity Space. Rocket Lab. SpinLaunch. Virgin Orbit.
New companies making a name for themselves have defined Long Beach's recent aerospace boom, but one company here that's gotten less attention could arguably claim credit for paving the way for them all: Boeing.
The global behemoth, which now occupies about half a million square feet of office space in Long Beach, is the last vestige of the city's first aerospace boom, which began in 1940 when Donald Douglas, president of the fast-growing Douglas Aircraft Company, and his vice president, Carl Cover, bought a 200-acre site near Daugherty Field (now Long Beach Airport) for $1,000 per acre.
As aviation and local history buffs already know, Douglas Aircraft would soon—at its World War II peak—employ more than 160,000 workers at the Long Beach site, an economic boon that helped spur the development of much of Long Beach as we know it today. The company would evolve and change hands over the following decades, merging first with the St. Louis-based McDonnell Aircraft Company in 1967, forming the McDonnell Douglas Corporation, and then being purchased by Boeing in 1997.
Tiffany Pitts, a spokesperson for Boeing, could not provide historical data on how much property and how many employees the company has owned and employed in Long Beach over the years. But she confirmed the company currently uses roughly 500,000 square feet of space and said that as of Jan. 1, Boeing had 12,005 employees in California.
The company's current Long Beach presence is clearly diminished from that of its predecessors, thanks in part to the closure and sale of most of its properties in the city, including, most recently, its former C-17 manufacturing site and a 78-acre property north of Long Beach Airport.
It's been part of an industrywide shift, Pitts said, from manufacturing planes to supporting ones that have already been built.
"Those aircraft—they're still flying strong," she said. "Sometimes, when you create something that's so good, it has a long life span.
"When we ended production of the C-17," Pitts added, "the saying at the time was, 'Fleet complete, but the mission continues.'"
But despite this shift, Boeing is nevertheless committed to Long Beach, according to Lynette McKinnon, the director of engineering for Boeing's Southern California Global Design Center in Long Beach.
"At the Boeing campus in Long Beach, we really do connect with just about every part of the Boeing enterprise business," McKinnon said in a recent phone interview. "So a lot of what we do in Long Beach is engineering design, but we also do various kinds of support, whether that be supply chain, finance, human resources—there's really a little bit of everything at Boeing Long Beach."
McKinnon acknowledged how the role Long Beach plays in the operations of Boeing and its predecessors has changed.
"As Boeing began, I'll say, its life as part of the aerospace infrastructure in Long Beach, it started certainly around the World War II time frame, really in manufacturing," she said. "It was an aircraft manufacturing focus for wartime production military aircraft."
Then, McKinnon said, in the 1950s, business in Long Beach shifted to manufacturing both military and commercial aircraft. And it largely remained that way through the early 2000s.
"That was really the focus, a lot more of that manufacturing of aircraft," she said of most of Boeing's history in Long Beach.
Since then, "we've continued to have a really vital part of the Boeing business, but today, instead of doing all that manufacturing, we do a lot of innovation and design now out of Long Beach."
Some of that work includes supporting the aircraft that was built here and remains active. And some of that work is more forward-looking.
"We're talking about sustainability," McKinnon said. "How do we operate in a more sustainable world that's more friendly to our environment? There's so many things to consider as we're designing products.
"How do we think about sustainable fuels?" she added. "How do we think about what the structure, for example, of an aircraft needs to be in order to operate on a different kind of fuel?"
McKinnon said she's hopeful both about the local talent pool—the ideas and innovations that will come from the students currently in Long Beach area schools and colleges—and about the recent interest other aerospace companies have shown in the city.
While Long Beach's first aerospace boom was driven by a single company, she said it's better for everyone that there are multiple players this time around.
"The energy of it—the aerospace innovation that's happening in Long Beach with additional companies coming in and considering Long Beach as their home, with Boeing having called Long Beach home for a long time," McKinnon said, "I think that partnership we can gain in the other companies that come into Long Beach—learning from each other, working together … is really valuable.
"I personally believe we are all better, collectively together, than any of us all by ourselves," she added, "and I think the same thing applies in our aerospace community."