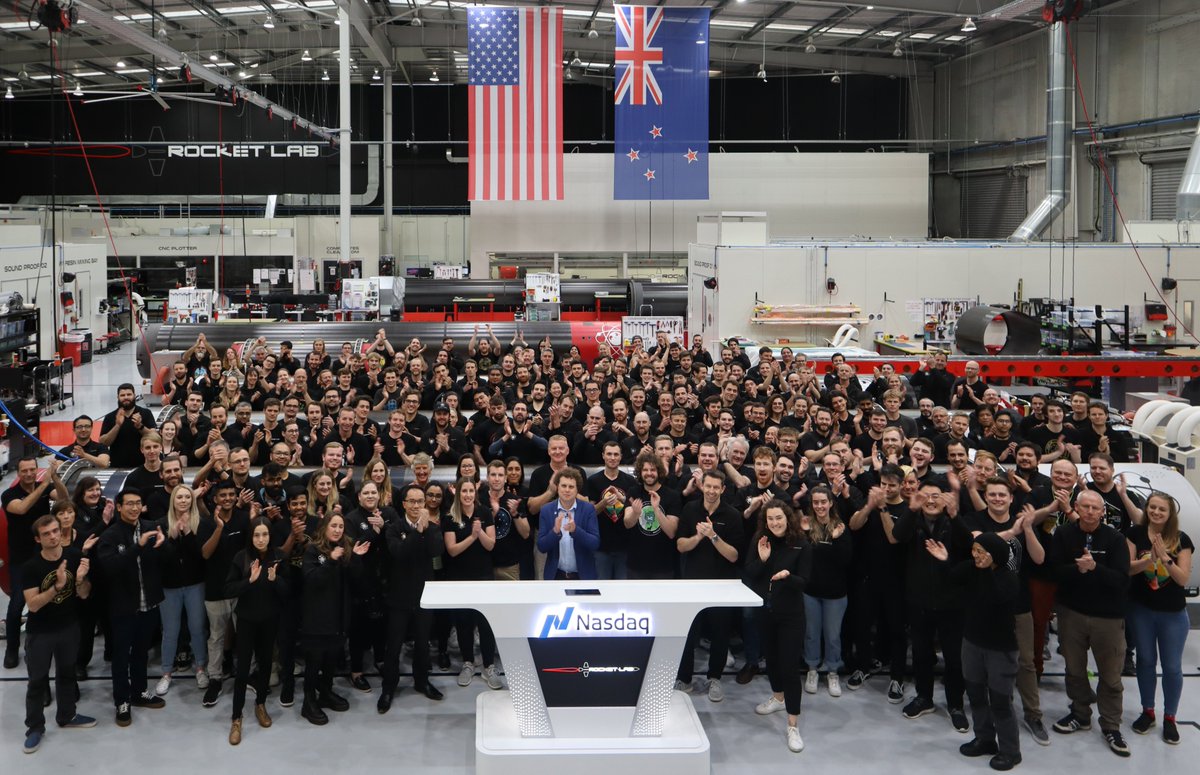 Rocket Lab, a Long Beach-based manufacturer and launch service provider, went public today on the Nasdaq stock exchange when it opened at 9:30 a.m. EST.
The company merged with Vector Acquisition Corporation, a special purpose acquisition company, or SPAC. Vector's shareholders approved the merger at an annual general meeting on Aug. 20.
Under the ticker RKLB, the company debuted on the market at $11.50 per share but quickly dropped to a low of $9.80. The stock has climbed since but remains below $10.70.
"As a leader in democratizing access to space, Rocket Lab is well positioned to capitalize on exciting opportunities in commercial and government-sponsored space industry innovation," Vector CEO Alex Slusky said in a statement. "We are confident in Rocket Lab's ability to deliver outstanding performance and reliability to drive long-term value for shareholders."
Before expenses, the merger netted Rocket Lab approximately $777 million, the company announced Wednesday. The funds came from Vector's trust account and a private investment in public equity, or PIPE, round that closed concurrently with the merger.
$RKLB has launched! Today's exciting next step in Rocket Lab's story was made possible by the incredible people behind us – our team, our families, our customers, and our investors. Thank you, thank you, thank you. #SpaceIsOpenForBusiness #NasdaqListed pic.twitter.com/DLmVsmtqOj

— Rocket Lab (@RocketLab) August 25, 2021
The proceeds are expected to accelerate the "organic and inorganic" growth of the company, though it was unclear what implications that would have on Rocket Lab's Long Beach footprint and workforce. The company did not immediately respond to a request for comment.
The influx of cash also will drive the development of Rocket Lab's Neutron rocket, an eight-ton payload class reusable spacecraft, and support potential future expansion into space applications that would enable the company to deliver data and services from space, according to the announcement.
​​"Our team is motivated by the enormous impact we can have on Earth by making it easier to get to space and to do incredible things there," Rocket Lab founder and CEO Peter Beck said in a statement. "We are excited to be making that a reality by embarking on our next chapter as a public company."
Beck will continue leading the combined company, while Slusky will join the board of directors.
Founded in 2006 by New Zealand engineer Peter Beck, the Rocket Lab became a U.S. company in 2013, setting up its headquarters in Huntington Beach. In 2017, the firm launched its first rocket. Since then, Rocket Lab has launched 21 of its Electron rockets, delivering over 100 satellites to orbit.
Rocket Lab's most recent launch on July 29 included the successful delivery of Monolith, a U.S. Space Force satellite. The Monolith delivery came months after a failed mission carrying two Earth-observing satellites for geospatial intelligence firm BlackSky.
The firm relocated to Long Beach at the start of 2020 and has announced a host of new missions, including its first beyond Earth's orbit to the moon and to Mars through contracts with NASA.
"We've simplified space, making it easy and affordable for companies, scientists, governments and entrepreneurs alike to get their ideas to orbit," Beck said. "I am thrilled to declare space open for business."