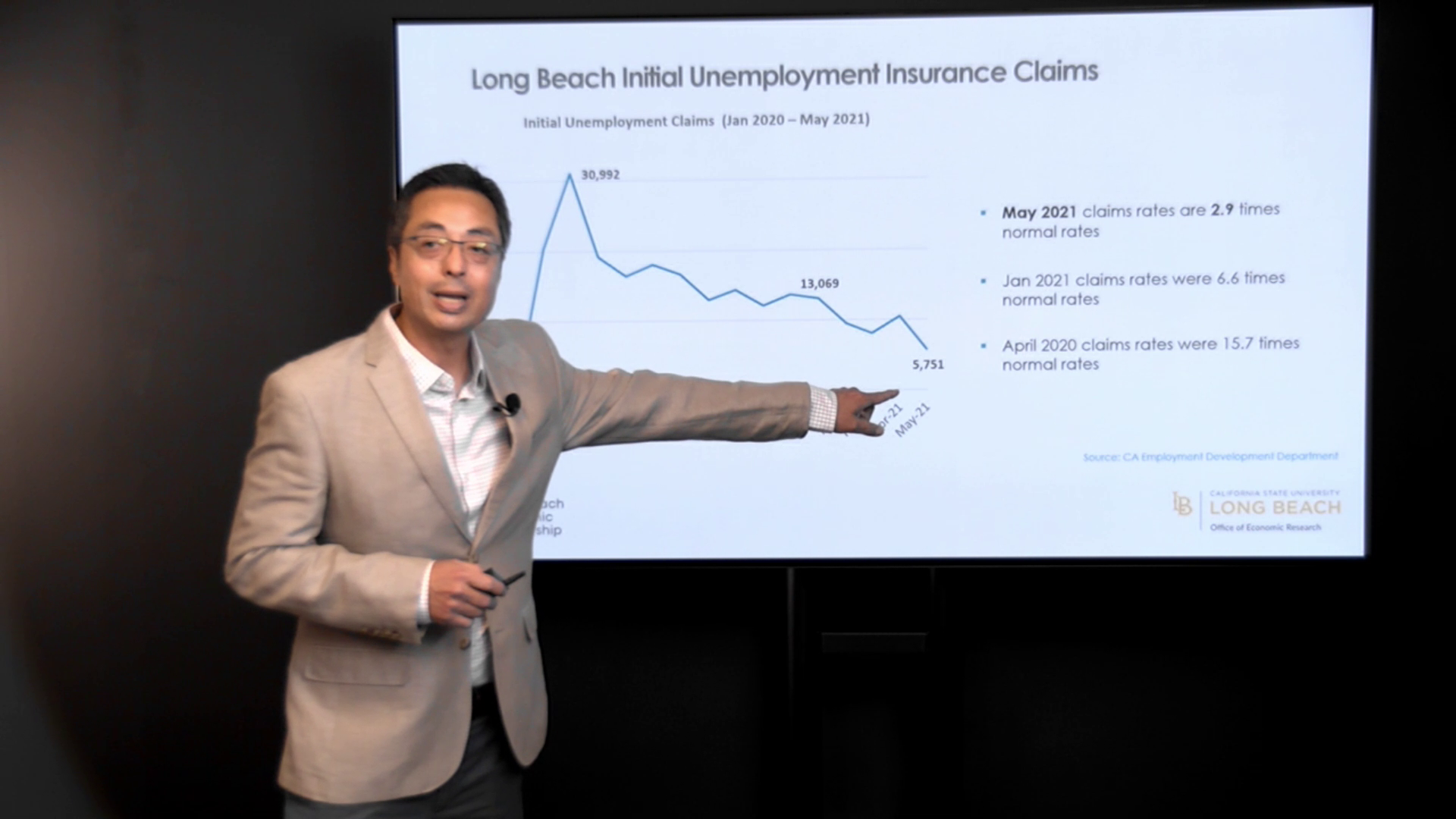 Long Beach's more than 11% unemployment rate remains well above the regional and national rates as the city and state reopen, thanks largely to its high number of workers in the leisure and hospitality field, local economists said during a virtual forum Thursday.
In California, 48% of jobs lost during the pandemic have been recovered, compared to 66% nationwide, economist Robert Kleinhenz said during the Accelerate Long Beach event, which focused on the city's burgeoning aerospace industry.
Prior to the pandemic, national unemployment was 3.5% but shutdowns caused a jump to 14.8%. Unemployment is now at 5.8% and is expected to fall below 5% by the end of the year, Kleinhenz said.
Unemployment in Los Angeles County is down to 8.3% from a peak of 16% amid the pandemic, Kleinhenz said. Prior to COVID-19, the county unemployment rate was about 4%. The county has recovered about 40% of the 2.7 million jobs lost as a result of the pandemic, in large part due to the number of jobs related to tourism and hospitality and entertainment, Kleinhenz said.
Long Beach unemployment is 11.5%, according to Cal State Long Beach Department of Economics Chair Seiji Steimetz, and unemployment claims remain three times their normal level, with more than 5,700 new claims filed in May.
"The state is moving in the right direction but moving more slowly than the U.S. because we've been more restrictive," Kleinhenz said, adding that after the "reopening" Tuesday, the state should make substantial job gains in the coming weeks and months.
In 2020, GDP decreased 3.5%, but Kleinhenz said the country is expecting 6.5% and 4.4% growth this year and in 2022, respectively, with GDP reaching its previous trajectory around this time next year. The economists said consumers are playing a major role in gross domestic product recovery, which suffered its most drastic decrease since 1940. National GDP is growing at the fastest pace in 35 years, Kleinhenz said.
Consumers are playing a leading role in gross domestic product recovery, the economists said. Kleinhenz said sales for services have not yet rebounded but consumer goods sales continue to prop up the economy. However, for the first time in 100 years, the state population decreased, Kleinhenz said, noting a decreased number of births and international in-migration, which typically offsets any out-migration.
Gender inequalities are apparent in unemployment data, Steimetz said, citing the fact that unemployment claims by women are 3.7 times higher than normal, while claims by men are 2.9 times higher. The economists said the main reason is more women left the labor force to care for their children when school shifted online and childcare options disappeared.
In terms of industries, tourism and hospitality across the country bore the brunt of the impact from the pandemic, Kleinhenz and Steimetz said. Because of the sector's sharp decline in employment, hospitality and tourism is leading the way in job gains locally and across the country—particularly in Long Beach and the rest of LA County—but still has a long way to go before reaching pre-pandemic levels.
Small businesses are struggling to recover, Steimetz said, adding that many are having difficulty finding staff to come back to work for the wages being offered.
"The backbone of Long Beach's economy is small businesses," Steimetz said.
Though challenges remain and the pace of recovery may not be as fast as many would hope, both economists said they are cautiously optimistic about the local, regional and national recoveries in the coming months.
Space sector
The forum was hosted by the Long Beach Economic Partnership and sponsored by Boeing, one of the city's longest-standing and most prominent aerospace firms. The event highlighted Long Beach's space sector, which is playing a key role in the city's economic recovery coming out of the pandemic.
Long Beach's space sector has been rapidly expanding since 2015, when Virgin Galactic leased a building in the Douglas Park industrial park. The company shifted its Long Beach operation to become a new branch—Virgin Orbit. Since then, Virgin has expanded its footprint in the city and has been joined by SpinLaunch, Rocket Lab, Relativity Space and Morf3D.
"The amount of aerospace talent in the area is unmatched," Virgin Orbit President and CEO Dan Hart said during the event. "Space systems really bond the whole globe together and make us a more efficient species."
Hart said the company will be providing small satellite launch services around the world using its LauncherOne system that is made at the company's Long Beach headquarters. Steimetz said these traded industries are important to the local economy, noting that they bring in money from outside the area, while simultaneously bringing in workers who will spend at local businesses.
The number of Long Beach aerospace jobs is less than half what it was in 2008 but has increased 48% since 2018, Steimetz said. Today, there are an estimated 6,500 aerospace and aerospace-related jobs in the city.
"People are under the impression that aerospace disappeared from Long Beach," Steimetz said. "It declined but is strong and bouncing back."
During a discussion led by Long Beach Post and Long Beach Business Journal Publisher David Sommers, panelists from three local space-related firms talked about the appeal of the city for the sector. GXO Inc. founder and CEO Mandy Vaughn said Long Beach is a "sweet spot" for companies looking to scale quickly, in large part because of the talent pool from the university and the city's decades-long history of being home to aerospace companies.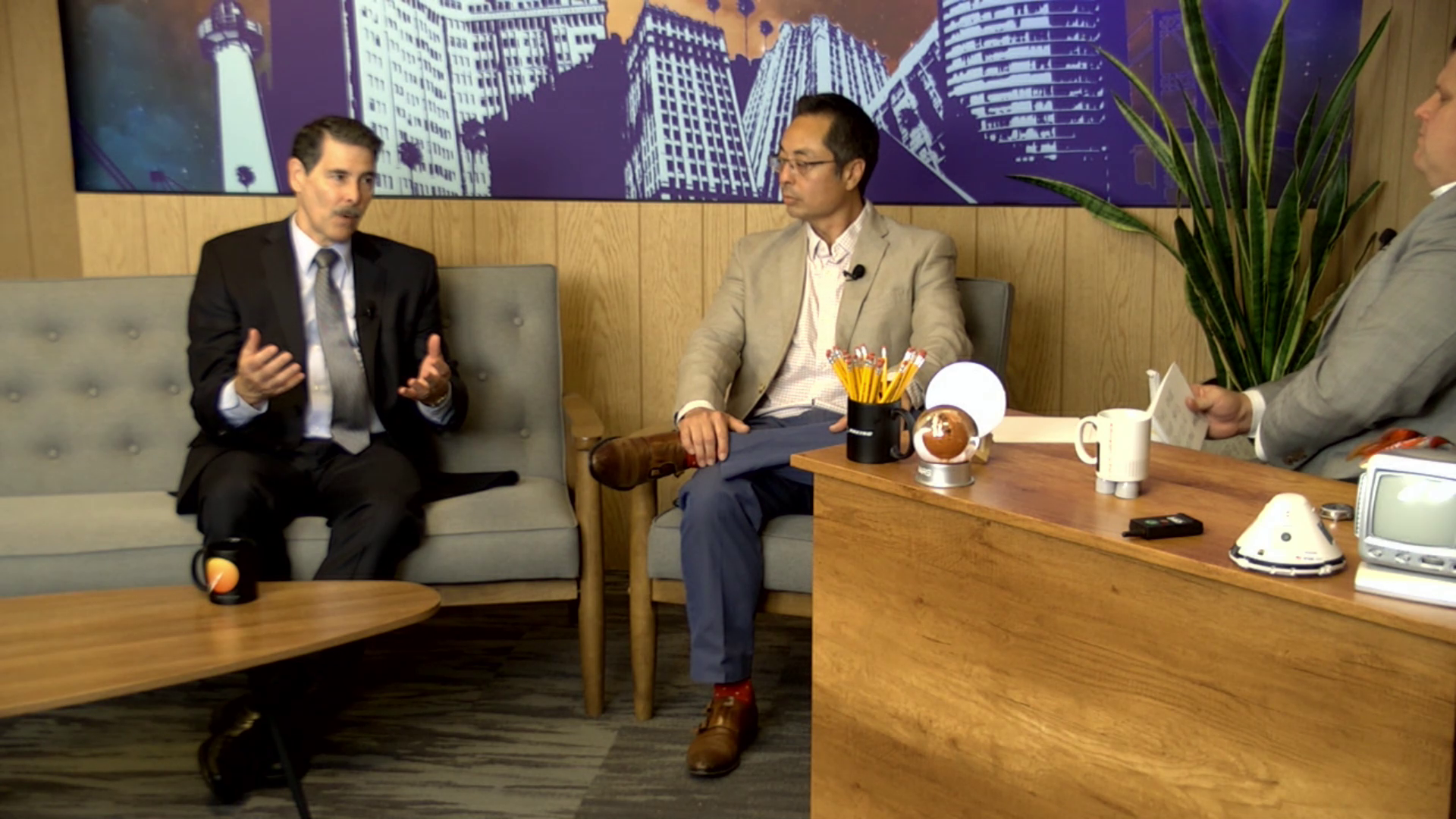 Dan Abir, director of sales and marketing for M4 Engineering agreed, said his company works with schools from middle school through college—especially robotics and rocketry clubs—to foster interest in the industry early on.
"If we can expose students, we're able to grow interest from a young age and expose them to technology and what can be done," Abir said.
In addition to the talent pool, Rocket Lab Senior Vice President Lars Hoffman said Long Beach is ideal for companies logistically. Most of the city's larger space firms are a stone's throw from the Long Beach Airport and amenities such as the Long Beach Exchange retail center, Hoffman noted.
The sector has changed drastically in the last 15 years, Hoffman said, including the government's shift from a buyer of hardware to a buyer of services. The fact that companies are treating the government similarly to their commercial customers—a model for which SpaceX has been a trailblazer—has spurred growth and innovation in the space sector, Hoffman said.
Because of that shift, Long Beach's proximity to the Los Angeles Air Force Base is also a major selling point for space companies to be located in the city and surrounding areas, Vaughn said. The United States Space Force is increasing its presence at the base and the federal government recently approved a 13% increase to the branch's research and development budget, which could mean more money for Long Beach space companies, Vaughn said. The base is a center of government procurement, with staff on site managing $9 billion worth of contracts and grant funding per year, she added.
"It's an exciting time for the industry," Hoffman said.