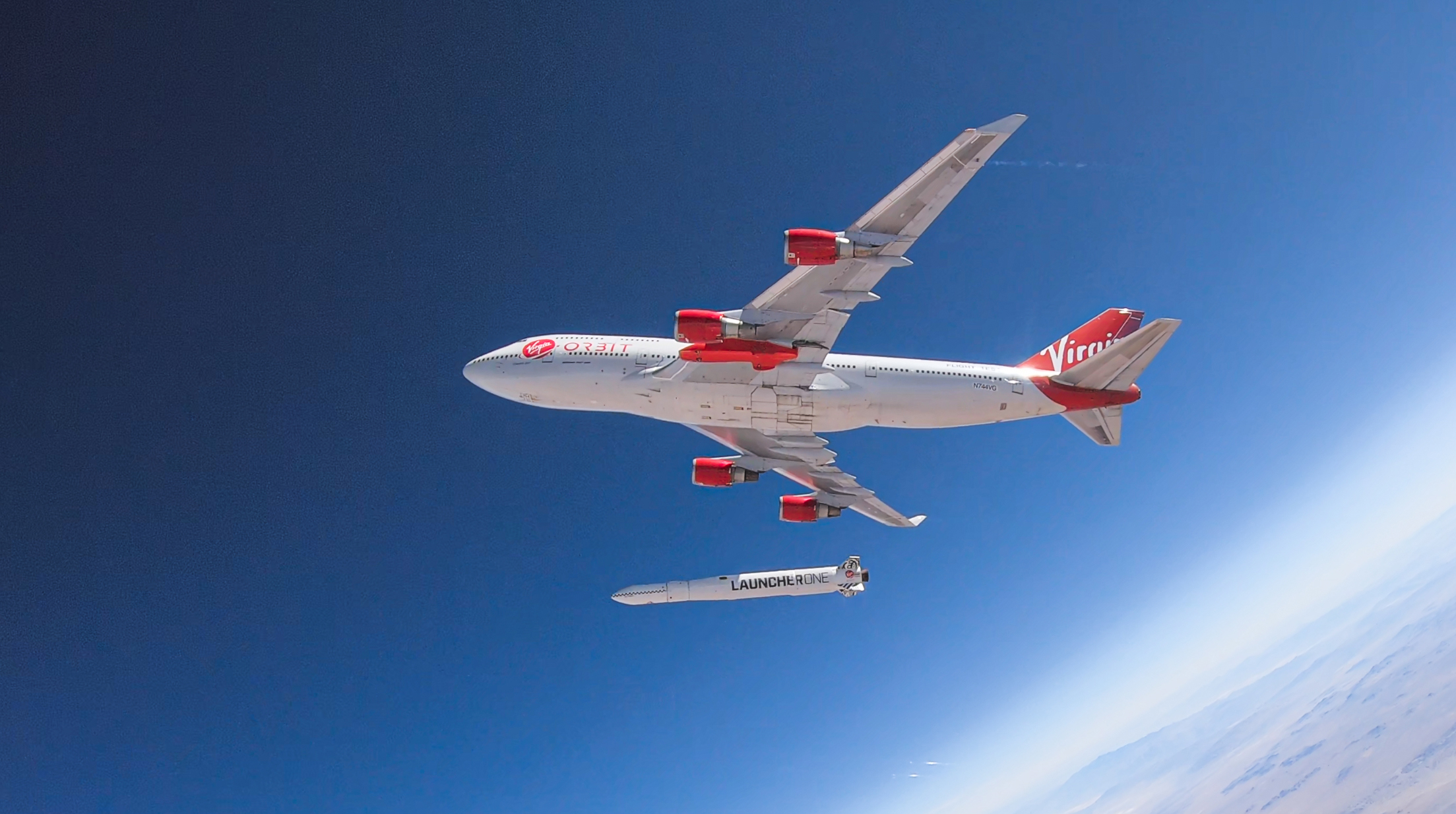 Long Beach-based rocket manufacturer and launch service provider Virgin Orbit is officially a publicly traded company following the completion of its merger with special purpose acquisition company NextGen Acquisitions.
NextGen stockholders approved the previously announced business combination on Dec. 28. Two days later the space company was listed on the Nasdaq stock exchange as VORB.
"This marks another major milestone for Virgin Orbit in a year that has seen us prove our technology and place satellites successfully into orbit for commercial enterprises, the US government, and for our allies," CEO Dan Hart said in a statement.
Hart, along with other Virgin Orbit senior leadership and Richard Branson, is expected to ring the opening bell for the Nasdaq on Friday.
Virgin Orbit was not the only Long Beach-based space firm to go public last year. Rocket Lab trading began on the Nasdaq Aug. 25.
The transaction is expected to raise $228 million to fund the continued growth of Virgin Orbit after a successful year, the company stated. In January 2021, Virgin Orbit's LauncherOne rocket reached space for the first time, following a failed test in May 2020.
In addition to delivering 19 satellites to orbit last year, Virgin Orbit announced multiple contracts for dozens of launches, including two deals with two Japan-based companies for a combined 30 launches.
"The capital raised through this transaction combined with our new access to the public markets, will enable us to scale rocket manufacturing and extend our space solutions business and product development while we continue to expand globally through key partnerships with customers worldwide," Hart said.
Aside from taking its services to Japan, the firm inked a deal last year with the Brazilian Space Agency and the Brazilian Air Force to bring orbital launch capabilities to Brazil, which has never completed a successful domestic launch to orbit. The firm also is set to bring launch to the United Kingdom for the first time, operating from Spaceport Cornwall in support of the UK Space Agency and Royal Air Force.
"The space economy is developing rapidly, and Virgin Orbit is extremely well-positioned to benefit as the industry grows in the years to come," NextGen co-founders George Mattson and Gregory Summe said in a statement. "The company's differentiated technology drives huge benefits to customers in the national security, civil, and commercial markets around the world. We are excited to help Virgin Orbit progress into the next chapter of its exciting journey as a public company."
While traditional rockets launch from stationary platforms on land, Virgin Orbit's LauncherOne system takes off from under the wing of a modified Boeing 747 airplane in flight. The system allows for more flexibility since it only requires an airport, rather than a full space launch facility.
Pre-launch rehearsal for Virgin Orbit's first mission of 2022, dubbed "Above the Clouds," has been completed, and the flight window is set to open Jan. 12.
The mission is expected to carry several research and development satellites from multiple government agencies as experiments in space-based communications and in-space navigation, as well as a university payload sponsored by NASA. The LauncherOne also will carry two nanosatellites for Poland-based SatRevolution.