Despite the economic woes brought on by COVID-19, including historically high unemployment, a mixture of assistance programs has kept renters in their homes, stalling any major impacts to the multifamily market.
"I'm not surprised vacancy rates aren't going up," said John Loper, associate professor of real estate at the USC Price School of Public Policy. Loper noted that even those who would be vacating space in normal circumstances are staying put.
"It's expensive to move," he said. "If you're unsure about your job, you don't want to make that change."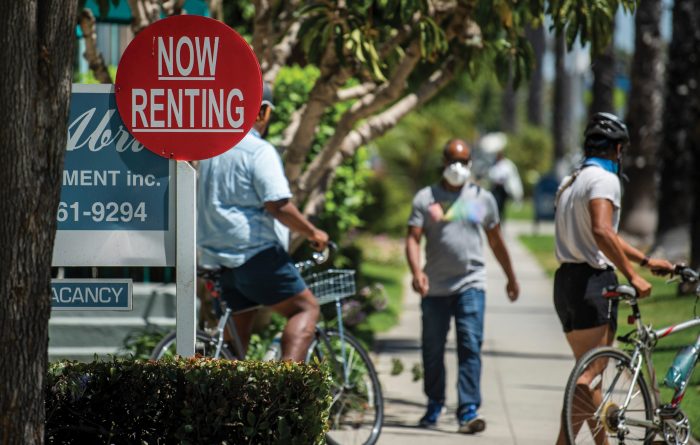 While average multifamily rents have decreased amid the coronavirus pandemic in many major markets, including Los Angeles—particularly for luxury units—nationwide, average rents increased $2 in July to $1,460, according to a report by Yardi Matrix, a national commercial real estate analysis firm. However, July marked the second month in a row that year-over-year national rent growth was -0.3%.
In Los Angeles County, average rent year-over-year decreased 2.1%. From June to July, rents in the county experienced a minute decrease. The Yardi report forecasts an overall LA County average rent decrease of 0.4% for 2020.
Sales velocity of multifamily properties are down about 60%, said Robert Stepp, principal of local brokerage firm Stepp Commercial. Many property owners are opting to refinance due to low interest rates rather than selling, Stepp added. One new trend is an increasing number of investors trading out of the Long Beach multifamily market for areas like Santa Monica and West Hollywood.
"I think that's because the political environment in Long Beach has become less desirable to outside investors," Stepp said, citing stricter rent controls in the city.
Despite national rent increasing while millions remaining jobless, occupancy remains high—95.5% in LA County as of late June. Stepp said Long Beach's occupancy is even higher, coming in between 97% and 98%.
"We actually had tenants making more money now than they did working," Stepp said. "Across the board, [rent] collections have been strong."
Tenants have been making full or partial rent payments thanks to expanded unemployment benefits, which included an additional $600 per week from the federal government for those impacted by the pandemic. However, those payments came to an end in late July and congressional infighting has delayed further economic assistance for residents.
"We expect the market to take a dip sometime in October," Stepp said.
In addition to extra unemployment assistance, many cities and states adopted eviction moratoriums that prohibited landlords from kicking out tenants impacted by the virus for nonpayment. Long Beach passed its own moratorium, which was extended through September to match the state mandate.
"When the eviction moratorium is over I expect to see some more vacancies," Loper said.
While some have concerns about a mass eviction leaving thousands homeless following the end of moratoriums, Loper said he expects more of a reshuffling: some people moving for work, while others downgrade to more affordable units.
If there is a mass eviction, Loper said it is unlikely to lower average rents—at least at first.
"[Landlords] will reduce security deposits, they will allow people with lower credit scores—they will reduce the requirements to get in," Loper said, noting that most landlords will work to keep good tenants, especially during economic crises.
"In an uncertain market, they'd rather have half the rent than no rent," he said. "Finding someone else to move in costs money."