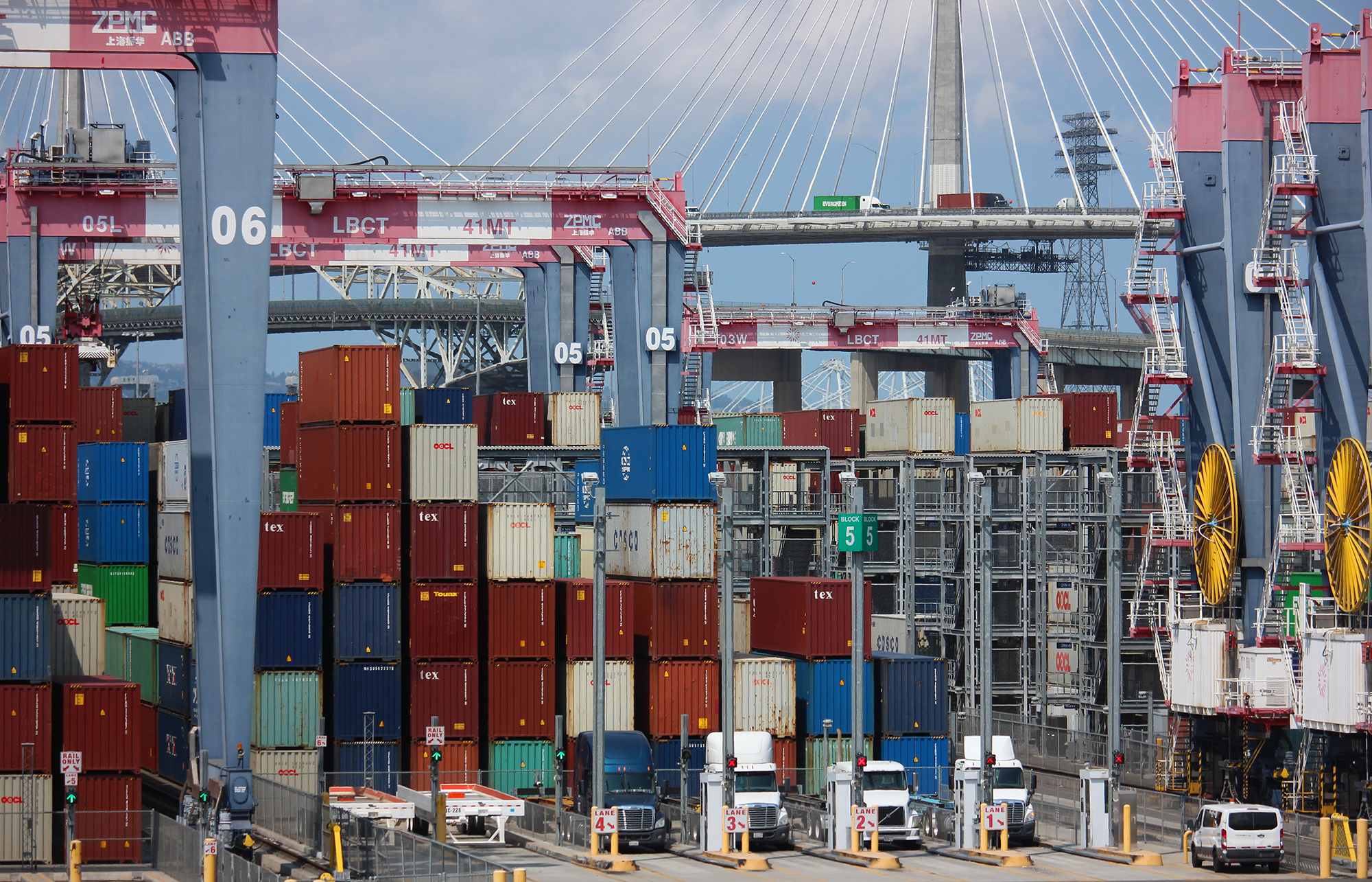 In January 2020, after nearly two years of a tariff-laden trade war, then-President Donald Trump announced an agreement with China. Trump described the deal as "historical" and "momentous."
"It just doesn't get any better than this," Trump said as he signed the Phase One agreement, which included a commitment from China to spend an extra $200 billion in the U.S. over two years.
Those two years have passed, and the numbers are in: China did not purchase any of the additional goods and services it had committed to under the agreement.
"Today the only undisputed 'historical' aspect of that agreement is its failure," Chad Bown of the Peterson Institute for International Economics wrote earlier this month.
How we got here
For over 35 years, China has benefited from a trade imbalance with the United States, meaning the U.S. has imported more from the Asian superpower than are being exported there. In fact, the imbalance has grown steadily every year since 1985 with few exceptions, according to U.S. Census Bureau data.
In 2015, the imbalance reached a new high of over $367 billion, when the U.S. imported over $483.2 billion in Chinese goods, while exporting just under $115.9 billion. The imbalance fell to $346.8 billion in 2016, the last full year of the Obama administration.
After Trump's first year in office, the imbalance rebounded to over $375 billion, and the businessman-turned-politician decided enough was enough.
"When a country (USA) is losing many billions of dollars on trade with virtually every country it does business with, trade wars are good, and easy to win," Trump tweeted on March 2, 2018. "When we are down $100 billion with a certain country and they get cute, don't trade anymore – we win big. It's easy!"
The next four years would prove to be anything but easy.
The U.S. ultimately slapped tariffs on hundreds of billions of dollars worth of Chinese goods coming into the country. China, as expected, responded with tariffs of its own. As a result, the trade imbalance exploded in 2018, reaching its highest point ever at more than $418.2 billion.
In 2019, the imbalance dipped back down to 2016 levels, despite both countries increasing tariffs amid ongoing negotiations.
The failed agreement
Trump and Chinese Vice Premier Liu He signed the Phase One deal on Jan. 15, 2020.
"This is a big win for the president," then-Treasury Secretary Steven Mnuchin told Fox News at the time. "It's not everything. There will be a 'Phase Two.' But this is the first time we've had a comprehensive agreement with China."
No Phase Two agreement ever materialized between the nations. In fact, already in the early stages of the COVID-19 pandemic, China quickly fell behind on the pace required to fulfill its part of the agreement.
Under Phase One, China was to purchase $200 billion worth of goods and services above 2017 levels, for a total of $502.4 billion over two years. But the coronavirus quickly swept through China, shuttering factories and halting trade. In the U.S., meanwhile, pandemic restrictions such as the halting of international travel worldwide decimated services exports like tourism and business travel, which fall under the deal.
By the end of 2020, China had only fulfilled 59% of its commitment for the year.
"One lesson is not to make deals that cannot be fulfilled when unforeseen events inevitably occur—in this case, a pandemic and a recession," Bown wrote. "The emergence of the COVID-19 pandemic undermined any chance of success."
Aside from the challenges of the pandemic, Bown said the American manufacturing sector has played a role in the agreement's failure. When the trade war began, for example, some automakers moved production out of the U.S. in order to maintain access to Chinese consumers.
In the end, China barely surpassed 2017 volumes, let alone the additional $200 billion, according to the Peterson Institute analysis.
"Trump set the US–China trade relationship on a new path, beginning with his trade war in 2018," Bown wrote. "Nearly four years later, the main lesson of the phase one agreement is that different terms for the trade relationship are still needed."
Ports of Long Beach and Los Angeles executive directors Mario Cordero and Gene Seroka have been outspoken against the trade war since it began, saying history has proven tariffs do not work.
"We will not succumb … to any trading nation that doesn't share our ideals on worker empowerment, environmental stewardship and rules-based trade, but the Phase One trade deal has been a failure," Seroka said in October 2021.
Where do we go from here?
Combined, the San Pedro Bay ports move 40% of the nation's containerized imports and about 30% of all containerized exports, making it the busiest port complex in the nation by far. And most of those containers originate in China.
Though they have been reduced, some $370 billion worth of tariffs remain on Chinese products, Cordero said. China's Commerce Ministry spokesman Gao Feng on Feb. 10 said the country has been struggling through the pandemic, global recession and supply chain crisis since the Phase One deal's inception, the South China Morning Post reported.
"We hope the U.S. removes the additional tariffs imposed on China and all sanctions and containment measures, in order to create a sound situation and conditions to expand bilateral trade cooperation," Feng said, according to the Hong Kong newspaper.
U.S. Secretary of Commerce Gina Raimondo, meanwhile, vowed to hold China to the terms of the deal. In an interview with Bloomberg following the release of the Peterson Institute's report, Raimondo said the administration "is in the thick of those negotiations now" but that "Beijing is not playing by the rules."
In a Feb. 14 email to the Business Journal, Cordero said he and his staff have been working closely with the Biden administration on pandemic and supply chain challenges, with a focus on the need for improved infrastructure at the nation's ports "as a means of better competing on the world stage," which would be beneficial for negotiations.
While trade with China remains strained, the Biden administration has made moves to ease relationships with allies. In addition to the tariffs on Chinese goods, the Trump administration instituted a tax on Japanese steel imports.
Under a new agreement, which takes effect April 1, the U.S. will stop charging a 25% levy on Japanese steel, excluding aluminum, up to 1.25 metric tons annually. Japan, for its part, will take steps over the next six months to support a fairer global steel market, which is dominated by China.
"The deal is another example of President Biden's focus on strengthening relationships with our vital Allies and partners," Raimondo said in a statement, "and working with them to address unfair practices by countries like China together."
Editor's note: This story has been updated to state Chinese Vice Premier Liu He signed the Phase One agreement, not President Xi Jinping.