The Aquarium As A Gathering Place – Annual Cultural Festivals
Cultural festivals have been a part of the Aquarium's calendar of events for most of its history and highlight the institution's role as a community gathering place. These festivals celebrate our region's diversity and bring various groups together to share their connections to the ocean and our planet, their cultural traditions and their talents, including performing and visual arts and artisanal crafts. For an updated schedule of festival events, visit www.aquariumofpacific.org/events/category/festival.
January: Festival of Human Abilities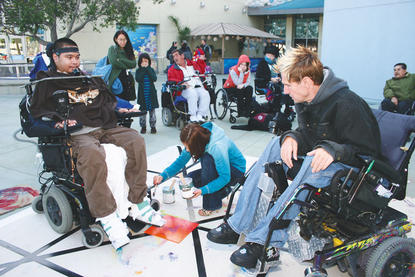 The Festival of Human Abilities is a celebration highlighting the creative talents and abilities of people with disabilities. This event will feature free classes and performances including wheelchair dance, live music, sign language choirs, art demonstrations and accessible scuba diving demonstrations.
February: African-American Festival
The African-American Festival celebrates the rich diversity of African-American and African cultures and features live entertainment and arts and crafts. Festival performers include Mardi Gras second line dancers, hip hop and break dancers, jazz musicians, interactive drum circles, West African dancers, and story tellers.
March: International Children's Day, Noche de Estrellas
International Children's Day is a festival celebrating the amazing talents of children of many cultures. Enjoy live children's performances, along with martial arts demonstrations and an international children's choir. Kids of all ages can partake in crafts and games. The Aquarium will also honor a local youth with its annual Young Hero Award in recognition of his or her efforts to make our planet a better place.
Noche de Estrellas is the Aquarium's Latin-themed late night, with discounted admission and live bands, DJs, Mexican cuisine, and underwater dive shows.
April: Earth Day Celebration, Urban Ocean Festival
Learn what you can do to help our ocean planet at the Aquarium's annual Earth Day Celebration, featuring booths from various earth-friendly organizations and hands-on learning demonstrations for people of all ages.
The annual Urban Ocean Festival includes art exhibitions, a fashion show, mural painting, poetry readings, live music, educational activities and a contest for designs using recycled materials.
June: Pacific Islander Festival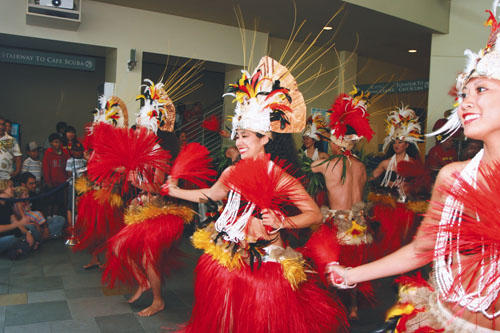 Discover the rich and diverse cultures of the Pacific Islands. Experience traditional island music, dance, and cultural crafts. Enjoy hula, Tahitian drumming, and Hawaiian games. See artisans demonstrate their traditional art of weaving.
September: Moompetam Native American Festival, Baja Splash
The annual Moompetam Festival features traditional cultural crafts, storytelling, educational programs, live demonstrations, music, and dance celebrating the indigenous California maritime cultures, including Tongva, Chumash, Acjachemen, Costanoan, Luiseno, and Kumeyaay.
In celebration of National Hispanic Heritage Month and Mexican Independence Day, the Aquarium hosts its annual Baja Splash Cultural Festival featuring live entertainment, crafts, and educational programs. Mariachi music, Mexican folkloric and Aztec dance troupes, interactive mural painting, Salvadoran dance, Guatemalan performances and other special programs are featured. Guests can also learn more about the animals of Baja, Mexico, and how to help protect them.
October: Southeast Asia Day
Southeast Asia Day highlights the beauty and diversity of the cultures of Cambodia, Thailand, Vietnam, Myanmar, Laos and Indonesia. Guests will enjoy live performances, including music, dance, and cultural craft demonstrations. Children will have the opportunity to partake in arts and crafts.
November: Autumn Festival
Autumn Festival highlights the traditions and cultures of Japan, China, Korea and the Philippines through a weekend of learning opportunities and family entertainment celebrating the rich diversity of Asian and Asian-American cultures.
Art Collaborations
The Long Beach Chorale sings in front of the floor-to-ceiling tank in the Aquarium of the Pacific's Great Hall. The Aquarium often partners with local performing arts groups in order to foster emotional connections with the ocean and the environment. (Aquarium of the Pacific Photograph)
The Aquarium of the Pacific has become known not just as an attraction and center for environmental and marine education, but also as a cultural venue. The Aquarium often partners with regional arts institutions, marrying the arts and the sciences to create unique modes of storytelling about the Pacific Ocean and our planet.
Museum Of Latin American Art
In January, the Aquarium and the Museum of Latin American Art (MoLAA) hosted a joint lecture series on the integration of art and science. Through this partnership, the Aquarium hosted a lecture on January 18 by JD Talasek, the director of Cultural Programs of the National Academy of Sciences. He discussed how creating better dialogue and collaboration between art, science, engineering, medicine and the humanities is an opportunity to challenge perspectives and inspire impactful change. He also provided an overview of some of the activities occurring in the National Academy of Sciences' Office of Cultural Programs that explore the integration of art, science, and other creative inquiries. On January 24 MoLAA, hosted a lecture by Sasha Huber, who discussed the roles of artists and scientists in society. She focused on the impacts of colonialization on the environment.
ArtCenter College Of Design
The Aquarium has partnered with the ArtCenter College of Design in Pasadena, California, for nearly a decade. Students in the Designmatters program work with Aquarium experts to learn about ocean and environmental topics to create projects that address these issues. In 2016, the two partner institutions were awarded a grant from the National Endowment for the Arts to develop projects focusing on climate change and coastal resiliency. The Aquarium and ArtCenter developed the Resilient Coastal Cities Studio to challenge students to conceptualize, design, and create an exhibit that would effectively communicate a call to action for the residents of Long Beach and other coastal cities for resiliency in the face of climate change. The outcome of this seminar will be used in future exhibits at the Aquarium.
Art Exhibits
Throughout the year, the Aquarium exhibits artwork that illustrates our connection with the planet through painting, drawing, photography, sculpture or installations. In 2017, an art exhibition called "Weather on Steroids: The Art of Climate Change Science" from the La Jolla Historical Society was displayed in the Aquarium's Great Hall. Visual artists collaborated with climate scientists to create the artwork in this exhibition, which explores the question of consequences, challenges, and opportunities that arise from the changing climate on our planet.
In 2018, the Aquarium will exhibit artwork from the Schmidt Ocean Institute's Artist-at-Sea program. The exhibit features artwork made from and inspired by the science done on the Falkor, the institute's research vessel. Media include watercolor paintings, drawings, photography, fiber art, comics and data visualizations by artists Rebecca Rutstein, Molly Homberg Brown, Kirsten Carlson, Michelle Schwengel-Regala and others. The Schmidt Ocean Institute, a nonprofit foundation established to advance oceanographic research, operates its Artist-at-Sea program to apply artists' storytelling abilities to ocean science and conservation. The program provides a platform where experts from different disciplines are brought together and cross-pollination of ideas can transform both the scientists' and artists' work. Priority goes to artists who incorporate elements of technology or cutting-edge methods into their techniques or media. Artists work side-by-side with scientists to produce meaningful collaborations. Artists immersing themselves in day-to-day ship life are asked to tie these experiences together through conceptualization, data collection, and application.
Performing Arts
The Aquarium has hosted performances by the Long Beach Ballet, Long Beach Symphony Chamber Orchestra, Long Beach Opera, Long Beach Chorale, various dance companies, theater ensembles and other groups. The Aquarium has also commissioned new works that help create emotional connections to the ocean and environment and interpret our relationship to the planet.