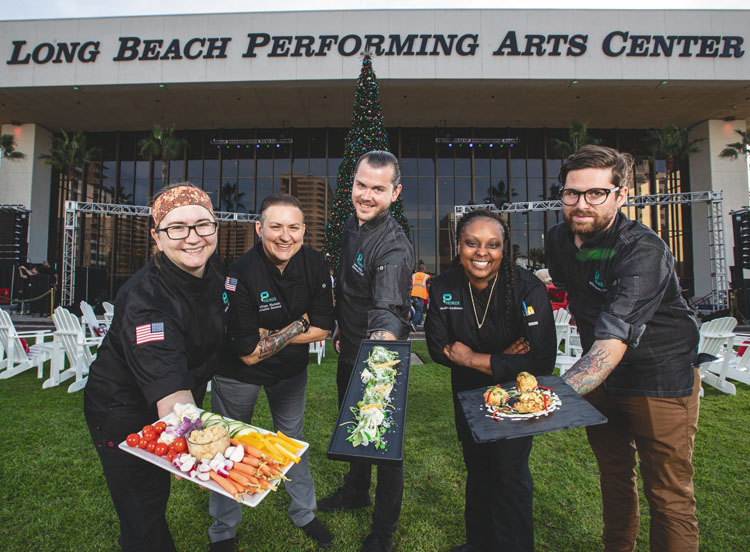 When a friend told Chef James Miller that he should join him in the kitchen of the Long Beach Convention & Entertainment Center, Miller was skeptical. As a passionate and creative chef who had spent the last 10 years touring Southern California's fine dining scene, Miller wasn't quite sure large-scale gastronomy was the right fit for him.
"You think convention center, you think grey chicken and dry, overcooked food," Miller recalled of his initial reaction. Still, he felt like he was ready for his next move and decided to take a chance. Going from executive chef at a fine dining restaurant to sous-chef at the convention center would be considered by some as a step down, but Miller saw the potential of the new position. "I saw it as a lateral move, because I saw potential to grow in a place like this," he said, "because of the size, the volume that we do, the names that come through here, the bookings that we get. A lot of exposure."
After taking over the role of executive chef at the center this year, Miller set out to modernize the way convention centers and their clients think about catering options. "In my experience, I've been to a few conventions before I started working here – the style of food they're doing is probably 10 years behind whatever new restaurants are doing," Miller said.
It doesn't have to be like that, the 30-year-old chef argued:  "A smart chef can make a beautiful menu and a beautiful execution of a menu without spending a big chunk of change." By using local products and carefully planning menus, he aims to create modern, high-quality dishes at a price point that is reasonable for large groups.
To keep his menus fresh and surprising, Miller regularly seeks out advice from outside of his own kitchen. "I work very closely with a lot of my old chefs and colleagues in the restaurant industry, and try to stay up with the trends," Miller said. The creative flair Miller picked up during his culinary training and his professional experience in the restaurant industry helps set his work apart from more conventional competitors, the chef noted. For instance, Miller once set up a bar serving prosciutto- and sage-flavored cotton candy paired with orange flower smoke-infused old fashioneds.
Scaling up his ideas and techniques to serve larger groups was a challenge at first. "It's such a large venue; our kitchen is probably a good quarter of a mile away and up three flights of stairs," Miller said. "All of that takes a lot of timing and skill, something that I had to learn here."
Depending on the occupancy level of the 15  food retail locations throughout the center, Miller and his team often cater several different events at once. From plated banquets to buffet style mixers, Miller said he works closely with each client in putting together a catering experience that fits their needs. "I work very closely from day one with the sales person to try and create a menu that our guests are going to love," he said.
Looking toward the future, Miller envisions more open-format dining arrangements that allow guests to mingle, and a greater diversity of menu options. "I'd like people to be more open to trying new things," the chef said. According to Miller that means: less surf-n-turf or chicken, starch and veggies, and more outside-the-box, locally sourced menu items.
By presenting guests with unexpected dishes like quid ink risotto with seared diver scallops, yuzu beurre blanc and a paquillo pepper foam, Miller is confident that his cuisine is helping the center succeed. "The venue brings the guests in, the food keeps them coming back," he said proudly.