For many years – even before I was elected to the city council in 2009 – Long Beach residents have been talking about a "Downtown Renaissance" that always seemed to be just over the horizon. New restaurants, retail and services, cleaner streets, improved public safety and expanded special events were all part of our vision.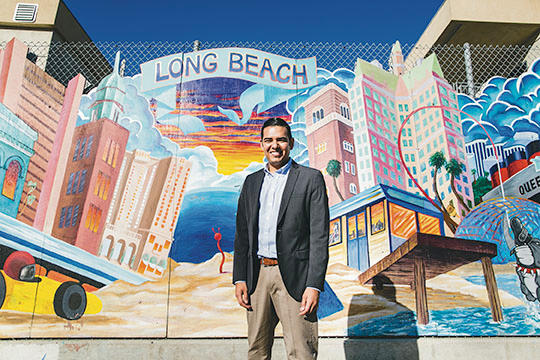 Now, after many years of hard work by our community, we can confidently say that the Downtown Renaissance is here.
For our city to succeed, we need a thriving downtown. In just the past 18 months, hundreds of millions of dollars in new investment have poured into Downtown Long Beach. More than $60 million has been invested at The Pike alone, with new national brands including Nike, the Gap, Forever 21, H&M­ and Columbia Sportswear either already open or opening in the near future, and Restoration Hardware expanding what is already its most successful location.
At the other end of downtown, new residences with ground floor retail will bring thousands of new residents, and with them new energy, creativity and spending power. My goal is to see at least 4,000 new residential units built in the next 10 years. We need new residents living, shopping and spending money downtown to support our local economy and ensure downtown succeeds.
Meanwhile, we're investing more than $6 million in improved streetscapes along Pine Avenue, including new pedestrian amenities, as the first major improvements to our main downtown corridor in nearly a quarter century. And events like Live After 5, Twilight Walk on Pine, Summer and Music, Taste of Pine and many others – including, of course, the Toyota Grand Prix of Long Beach – have brought new life to the area, bringing big crowds downtown and providing quality entertainment to residents and visitors.
And, of course, we will soon see a brand new civic center, which will not only create construction jobs, but will provide an iconic hub for our entire community, as well as new residences and retail in the center of downtown. In addition the new center will include a new central library, new Lincoln Park, and a new headquarters for the Port of Long Beach.
Average annual household income in downtown also went up by almost $20,000 over the last decade, and home values have more than doubled.
And, there is much more to come.
City Place is being completely transformed, with local architecture and design firm Studio One Eleven taking the lead to create a new, modern urban commons. The Queen Mary Land Development Task Force has been formed and will be advising the city and the new operators about how to best utilize the 40-plus acres around the ship. Dozens of properties formerly owned by the Long Beach Redevelopment Agency are ready for sale and development. Many new residential projects are in the works, and new businesses continue to open all over downtown.
The cycling event, Beach Streets, returns to Long Beach for a second year in spring, this time in the downtown area, and a huge new music festival is being planned for fall. Street improvements, including additional bike lanes, will improve traffic flow and make life easier for pedestrians. And millions of more dollars will be invested in new construction this year.
None of this would have been possible without the great community partners we have. In particular, I want to thank Vice Mayor Suja Lowenthal, who will leave the city council in 2016, for her leadership downtown and her hard work to make many of these changes possible.
I also want to thank the Long Beach Area Convention & Visitors Bureau and the Downtown Long Beach Associates for the outstanding work they do every day to promote our downtown. They've been indispensable partners.
Thanks to the Business Journal for devoting an issue to downtown, the heart of our city, and for the opportunity to speak to your readers.