Ballot Initiatives Could Hurt California Business Climate
Seven ballot initiative proposals could threaten California's business climate, according to the California Chamber of Commerce (CalChamber). They include:
– Implementing a 1% income tax surcharge on all income over $1 million to annually raise more than $2.5 billion for health care programs
– Implementing a split roll property tax requiring nearly all commercial and industrial properties to be assessed at full market value and reassessed every three years thereafter
– Repealing limits on rent control
– Establishing price controls for privately-run kidney dialysis treatments
– Requiring businesses to provide consumers, upon request, with a copy of any personal information accumulated, and allowing consumers to opt out of having their personal information collected
– Repealing excise tax increases – which have funded road infrastructure repairs – and subjecting further increases to voter approval
– Breaking California into three separate states.
Proposed Legislation Addresses Declining Small Businesses Loans
In the next few weeks, the United States Senate will vote on Senate Bill 1255, the "Economic Growth, Regulatory Relief, and Consumer Protection Act," which changes financial regulations for regional banks so they can better serve small businesses. The legislation aims to address the low number of loans given to small businesses owners, which have decreased by 41% since the 2008 financial crisis, according to the Federal Deposit Insurance Corporation (FDIC). Click here for more information.
PayPal Settles Charges Of Failing To Disclose Information To Consumers
PayPal has settled with the Federal Trade Commission over allegations that the company did not disclose information regarding fund transfers and privacy settings to users of its Venmo application. As part of the settlement, PayPal must cease misrepresenting any of its services and disclose information to consumers about its business practices. The settlement includes a requirement to obtain a biennial third-party assessment of PayPal's compliance with the agreement for 10 years.
Housing Crisis Tied To Slowing Growth In California
Earlier today, the California Apartment Association released two industry reports on Northern and Southern California by Los Angeles-based Beacon Economics. The reports found that slower labor force growth in California has coincided with an increasing cost of living. "That is not to say that California won't grow. It will. . . . But California will fall short of its potential until it crafts long-term supply-oriented solutions to the chronic problem of high housing costs and low housing affordability," the Southern California report stated. The situation must be addressed by increasing the housing supply, it concluded.
Dignity Health – St. Mary Medical Center Appoints New St. Mary Foundation President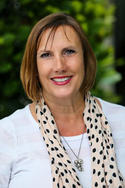 Dignity Health – St. Mary Medical Center has announced the appointment of LaRae Mardesic Bechmann as president of the St. Mary Foundation. Bechmann has more than 20 years of experience in executive fundraising. She most recently served as senior director of development for Providence Little Company of Mary Medical Center, where she managed development, external relations, capital campaigns and programs for volunteers. Bechmann was born at St. Mary Medical Center and currently lives in Rancho Palos Verdes.