Forced to shut down for much of last year because of the coronavirus pandemic, small businesses in Long Beach and across the world struggled to stay afloat. The collateral damage was inevitable, and while many businesses managed to survive the stay-at-home orders, not all of them did.
In an attempt to centralize how it assisted businesses through the crisis, Long Beach announced last November that it was launching a new program called BizCare as a kind of one-stop-shop for small business owners.
So one year into the program, I was curious to learn how successful it's been in its mission.
The program's website shows that it's assisted 771 business owners, visited 907 business sites, answered 1,029 emails, took 6,188 calls and engaged 24 community organizations to date.
Those numbers are helpful, but I also wanted to get a better sense of just how the city assisted all those businesses. I reached out to Long Beach's Economic Development Department and spoke with Business Development Officer Eric Romero last week.
First, Romero said, the website numbers were pretty up-to-date, but some had grown since they were posted. The team has now visited 956 businesses, for example—though only 734 of those visits led to connecting with the business owner, which comes out to a roughly 77% success rate.
Still, he said, Long Beach's commitment to meeting business owners where they're at—physically, but also in other ways, like reaching out in Spanish, Khmer or Tagalog for those who don't speak English—has been fruitful.
That's clear in part based on how the BizCare program has evolved throughout the public health crisis.
"We started with our BizCare hotline," Romero told me. "We just needed to stand up a call center to respond to a variety of questions, mostly about health orders at the time, so: 'Can my business operate? If so, in what capacity?', 'What rules do we have to follow?', and it grew once we had those local, county, state and federal resources available, to answering questions about that."
The hotline, though, was only accessible to those who knew about it. So as Long Beach prepared to roll out its own small business grant programs, Romero said BizCare staff "knew it was important for us to reach small business owners that have not historically been connected with the city."
The next phase of the program, then, was to create pop-ups focused in underserved areas, particularly Central, North and West Long Beach.
"We're really aware of the digital divide," Romero said. "So we knew that we needed to make scanners, printers and internet available to help people complete and submit applications" for assistance.
Four days a week, BizCare staff posted up in front of parks and libraries. At first, the program was supposed to last through the end of 2020. But the pop-ups were useful enough that they're still going strong—and while the program's website says they're slated to end Dec. 31, Romero told me they will continue on indefinitely in the new year.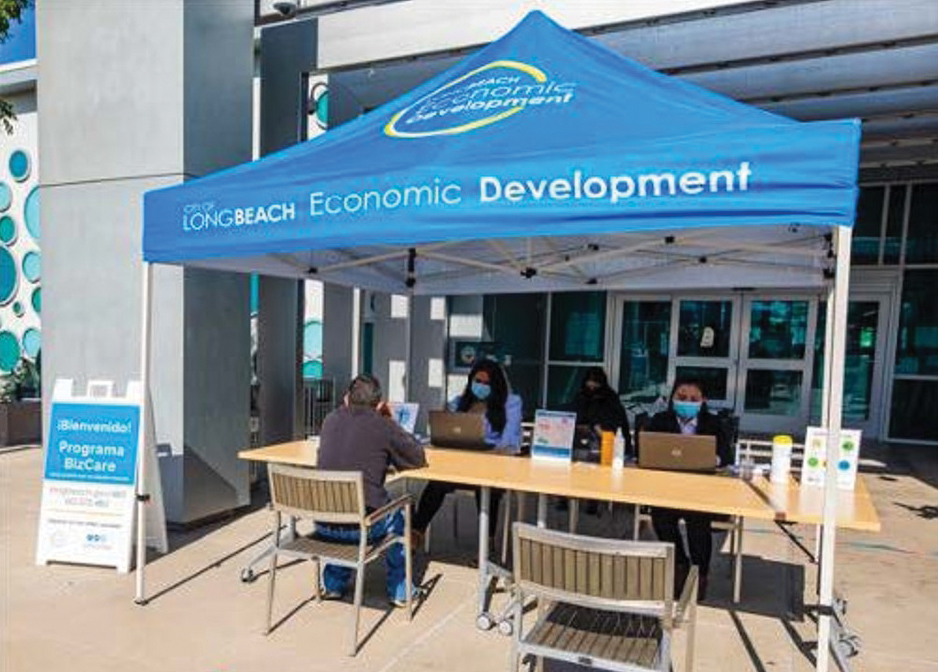 With funding coming soon for the Long Beach Recovery Act, for example, "the BizCare team is going to be extremely important in ensuring that we prioritize equitable distribution of resources in Long Beach," he said, "and I imagine that this program will likely become a core service for the Economic Development program going forward."
That doesn't only apply to the pop-ups. The BizCare program has expanded its services throughout the pandemic to include outreach teams that visit business storefronts and partnerships with organizations that have long-standing relationships with underserved communities.
Beyond providing information on regulations and grants related to the pandemic, the BizCare team is now also assisting small businesses with issues regarding licenses, taxes, fees and more.
The program, though, hasn't only focused on how the city can help business owners. Through a grant-funded partnership with Long Beach's Pacific Gateway Workforce Innovation Network, people who were unemployed have been able to join the BizCare team.
"Through Pacific Gateway, they were able to start interning with the Business Development Bureau, and were getting some great hands-on learning experience in supporting businesses," Romero said, "and we've actually kept them on beyond the workforce development grant, and they've become members of our team."
And BizCare will continue to change and expand along with businesses' needs.
"This will continue to be an iterative program, so as we continue to learn about the needs of small business owners and assess those needs, we'll ultimately try to design resources to support them," Romero said. "I think we've done a good job with this BizCare program. It's going to keep evolving over time, and we want to continue to engage with small business owners.
"As we work through this economic recovery, it's still a challenging time," he added. "It's going to be a team effort."