Plenty of Americans mull the idea of entrepreneurship, but perhaps there is more incentive to own a business if you are a woman, according to data from the 2019 American Express (AMEX) State of Women Owned Business Report. Geri Stengel, AMEX research advisor, told the Business Journal that the rate of growth for women-owned businesses is two times faster, on average, than all other businesses in the country.
Between 2014 and 2019, the number of women-owned firms increased by 21%, per AMEX's report, which utilizes data from the U.S. Census Bureau's Survey of Business Owners and changes in Gross Domestic Product. The business growth rate is determined by the number of people it employs and the revenue it generates. According to AMEX, women-owned businesses represent 42% of all businesses nationwide.
The statistics fare just as well when you view them at a more local level. Despite a slower rate of women-owned business growth compared to the national level, California is still ranked 11 compared to the other 49 states, Stengel said. California is estimated to have 1,582,174 women-owned businesses, the report shows. All told, these businesses employ 1,093,823 people and garner $235,877,771,000 in revenue. In Los Angeles County, the women-owned business growth rate is 22%, Stengel added.
There are various factors as to why women-owned businesses have seen significant growth in recent years, but primarily the success of starting a business is all determined by circumstance, Stengel said. She explained that some women become entrepreneurs out of necessity, whether that need derives from an inability to locate employment or trying to create another revenue stream to pay for certain expenses. Stengel dubs this "necessity" entrepreneurship.
Other aspiring business owners enter entrepreneurship because their workforce policies at their current place of employment does not accommodate their caregiving responsibilities or does not offer enough freedom to do their business work. This is "flexibility" entrepreneurship, Stengel said. The AMEX report shows that both of these types of entrepreneurship are "driving" the high 2019 numbers.
Another reason why women entrepreneurship may have thrived in recent years is an increase in accessibility to statewide resources, such as the Small Business Administration, that offer training programs, consultations and other services to aid an aspiring entrepreneur's quest to implement their concepts. Stengel said this is a trend that has benefited both men and women.
"They provide knowledge and connect women to different financing options," Stengel said. "As part of the training, you typically learn about many different things. You'd learn to research the business, you'd learn to price your product, how to market, how to hire people. And they are going to connect you to the right kinds of financing options for your specific situation."
With AMEX's findings in mind, the Business Journal reached out to some local women business owners to learn more about their paths to entrepreneurship and the background of their establishments.
Crystal Early – 3 Women, 433 E. 1st St.
Growing up as part of a low-income family in Anaheim, Crystal Early would frequent the thrift store, where her single mother would often buy affordable clothes for the two of them to wear. These stores were home to all sorts of unique and vintage apparel, which all served to inspire her fashion sense.
Over time, she developed an appreciation for not only adopting a vintage wardrobe, but creating it. Learning the seamstress trade, she soon became a regular at flea markets and thrift stores, selling her own unique styles to the community. "It just comes to me naturally," Early said. "It's my God-given gift based on necessity. It allowed me to express myself and not be defined by my economic circumstances."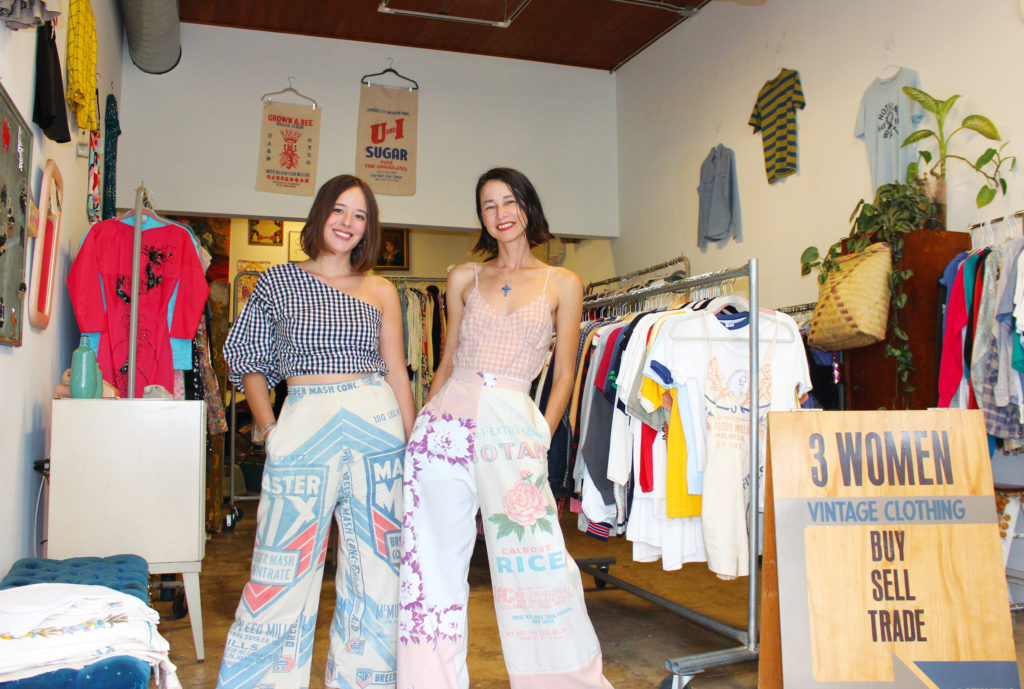 Early began selling at flea markets when she was 21 years old. Now 40, she is owner of 3 Women, a Downtown Long Beach establishment that specializes in the development of sustainable clothes from vintage rice, flour and feed sack fabric. The store opened in February 2018, about a month after the concept for 3 Women came to life through a collaboration with her business partner, Natalie Mumford, and other friends.
Prior to opening the store, she had permanent spaces selling vintage clothing at the Rose Bowl Flea Market and the Long Beach Antique Market, although Early said she has traveled throughout the region to sell her works.
Currently, 3 Women is running a Kiva Loan campaign to collect more funds, which will be used to gather materials for the variety of accessories sold on-site. The tote bags, pants, dresses, jackets and more that are created using rice bags and other unique materials requires extensive research to locate, she said.
Early made the decision to quit her full-time job to pursue her passion of creating vintage clothes. She has been self-employed for three years, only recently becoming a brick-and-mortar entrepreneur with 3 Women. And although she admits there are challenges in being an entrepreneur, she wouldn't have it any other way.
"You have to be very innovative [when] self-employed," Early said. "It's not easy like it is when you work for someone else. Nothing has shattered my idealism as much as being self-employed, but I mean I have that drive that an entrepreneur needs to keep going. It's not easy, nor do I want it to be easy, because I'd be pretty bored and unfulfilled."
Ilda Turcios – Lila's Studio Beauty & Barber, 2604 E. Anaheim St.
Celebrating her 51st birthday this month, Ilda Turcios is from the Mexican state of Jalisco. Now a Long Beach 2nd district resident, Turcios has operated Lila's Studio Beauty & Barber for more than 14 years.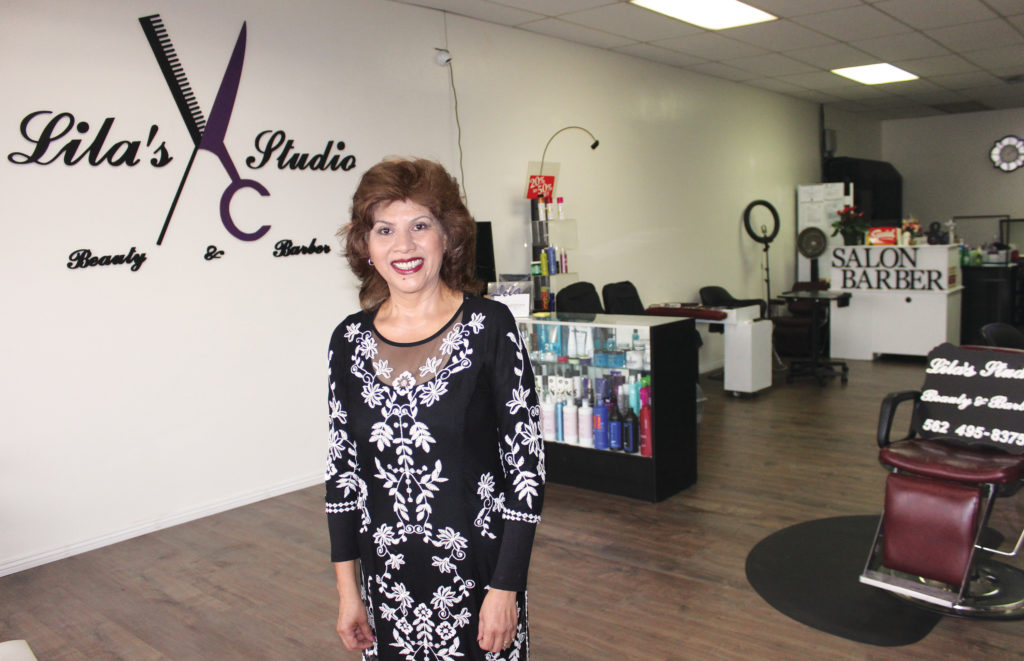 Turcios is a licensed cosmetologist with 29 years of experience. In her 20 years of living in Long Beach, she said she has seen the city grow as a touristic and diverse community. As such, the city's approach to its economic and developmental progress allows aspiring and existing entrepreneurs a more efficient way to "move forward," she said. "It's amazing to have this opportunity, to be a woman and to have this business," Turcios said. "I feel like I support the community through my work, and it's my passion to do so."
Despite having nearly three decades of experience in cosmetology, Turcios said she is constantly reading articles and searching for ways to learn about new trends or new techniques. She also frequents cosmetology expos, such as a recent one in Las Vegas and the "International Salon and Spa Expo," an annual event at the Long Beach Convention Center that takes place in January.
The salon's current location in the Zaferia Business Association district has been in operation for three months. Prior to relocating, the shop was on 7th Street in downtown. The decision to move was a long time coming, she indicated. Many of Turcios' longtime clients were complaining about the lack of parking in the downtown area. In this new location, her shop has a dedicated lot for vehicular parking.
"I've been in this business for many years, and the clients who know me continue to come here," she said. "But it's also a group of new clients [and] new neighbors. It was all about making our customers feel more comfortable."
Turcios does have hopes of expanding the operation outside of Long Beach. Currently, she runs the shop with her daughter, Blanca, and another barber. She also receives support from her husband.
As parting advice for aspiring entrepreneurs, she encourages them to persist until they reach their desired result. "Faith is the key to life," Turcios said. "Everything is possible if you create a goal and pursue the steps necessary to reach that goal. . . . It's important to not surrender. You just have to do it. Go step by step and be firm in what you have to do."
[Note: This interview was translated from Spanish to English.] 
Lisa Ramelow – La Strada, 4716 E. 2nd St.
Lisa Ramelow's father, Arden Boyd, opened La Strada in 1993 with a partner to simply "create a place where he can go to lunch every day," she joked. Specializing in Italian cuisine, La Strada has since become a fixture in Belmont Shore.
Soon after it opened, Boyd asked Ramelow if she'd be interested in helping out with the restaurant. At the time, Ramelow was in a difficult place in her life. Her husband had recently passed away, and she had two very young kids to care for – a 2-year-old and a newborn. "But when my dad asked me to help, it was actually really good for me to finally do something," she said, indicating that she was not coping well with her tragic circumstances. "It helped lift me out of a sad situation."
Joining the business in 1994, she learned from other coworkers the basics of being a server and restaurant employee. A year later, Boyd offered her a chance to work as La Strada's full-time owner. Although she had no prior experience as an entrepreneur, she decided to commit to her dad's offer and took a chance, in the process learning how to be an effective business owner. "I went to seminars [and] I read books," she said. "There was no internet back then. . . . Restaurant seminars I went to taught me all kinds of things."
She also learned from various mentors how to effectively market her restaurant. Usually one to prefer being behind the scenes, Ramelow soon learned it was necessary to be more of an extroverted owner to engage better with her customers.
Ramelow, 61, said La Strada has about 22 employees. The Italian restaurant has remained at the same location for 26 years. Although there are no plans for expansion, Ramelow intends to run the restaurant indefinitely.
She said the key to the restaurant's success has been the culture, which emphasizes treating employees and customers like family. Perhaps more importantly, she attributes the success to her community of mentors and her own perseverance.
"You don't have to be great at any one thing," Ramelow said about becoming a better business owner. "You just have to be good at a lot of little things. And you have to be willing to learn and overcome things that are hard for you. . . . I've had lots of ideas that didn't work for my business, but a lot of them have. It's just about overcoming your fears."