The Millennial generation is often looked to as the harbinger of the future: the future of tech, the future of finance, the future of giving, the future of politics, and so on. And it's no wonder. The generation makes up the largest living cohort in the United States, and is the most diverse, highest-educated generation ever in America.
Last week, the National Women's Business Council (NWBC) tackled another "Millennials are the future" topic by issuing its latest report, "Profile of Millennial Women: The Future of Entrepreneurship in America." While the title suggests that Millennial women are the future of entrepreneurship in America, the details of the report find that they face more roadblocks than men their age, and many of the same quandaries women who went before them have experienced. It also found that Millennials in general are more risk averse to entrepreneurship than older generations.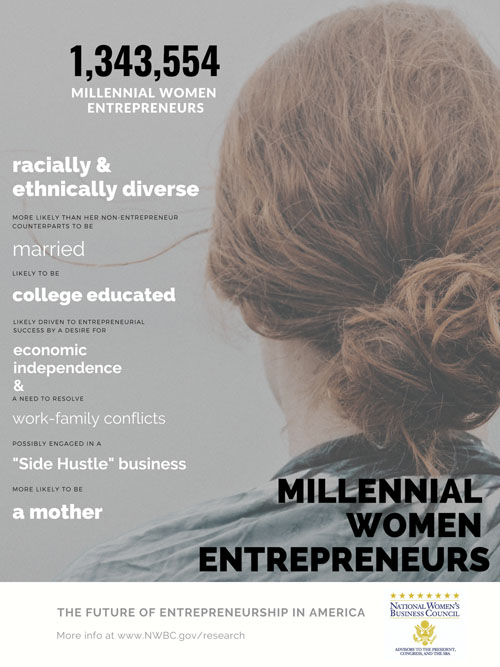 The report relied upon data from the 2010-2014 American Community Survey and the 2012 Survey of Business Owners and Self-Employed Persons, both conducted by the U.S. Census Bureau. It also utilized focus groups of Millennial men and women in the technology industry for an up-to-date perspective. The end result, according to the report, is an "account of Millennial entrepreneurship from a gendered perspective, profiling the newest generation of entrepreneurs and learning about their experiences first hand."
In a phone interview, Nina Roque, the NWBC's executive director, explained why her organization decided to create the report. "There's a lot of talk about Millennial entrepreneurs in general, but how are women faring in that greater category?" she queried.
The NWBC's decision to convene focus groups of Millennials in the tech industry was purposeful, given trends in the industry and in education. "The reason was really because there is such a high growth in that field," Roque said.
The report found that while Millennial women are the most likely generation of women to hold a degree in a STEM field, there is no corresponding data to show that an increasing number of them are starting firms in STEM industries, she explained. "Women entrepreneurs are missing out on that growth, on the revenue that high growth firms generate," she said. "Why is that? Is that because they don't have the mentorship, or they don't see themselves in that field? What's going on?"
Roque highlighted some of its key findings about the characteristics common among Millennial women pursuing their own businesses. "Millennial women entrepreneurs are the most educated entrepreneurs that we've seen pretty much in any lifetime; 36.4% of Millennial women entrepreneurs have received an associate's degree or higher. That's very remarkable," she said.
"Millennial entrepreneurial women are more likely to be mothers and have children than their non-entrepreneur counterparts," Roque noted. "A lot of Millennials become entrepreneurs because they don't want to be constrained to nine-to-five work [hours], and they want more flexibility for their families. . . . That has been a factor for entrepreneurship for many generations, but we're seeing it again for Millennials." She pointed out, "A lot of people don't necessarily think of Millennials that way. They think of Millennials as getting married later in life, being more independent. But they still are going to entrepreneurship to resolve some of those work family conflicts."
The report's findings around the gendered experiences of Millennial entrepreneurs found that women tended to hit more hurdles than men.
The report's authors wrote that its findings presented a different picture of the Millennial entrepreneur than has often been depicted in the media. While, for example, the founder of MiLLENNiAL Magazine has stated that 60% of Millennials consider themselves to be entrepreneurs, data suggests that this figure isn't representative of reality, according to the NWBC. Less than 5% of American Millennials currently run a business, and they start fewer businesses than older generations did at the same age, the NWBC found.
The greatest roadblock to entrepreneurship appears to be financial risk. The NWBC's report cited data illustrating that the number of students who borrowed money for education increased 89% between 2004 and 2014, and that average debt balances grew 77% in the same time period. This led the NWBC to investigate whether Millennial women might be forgoing entrepreneurship in lieu of traditional employment because of concerns regarding financial risk.
To find out, NWBC asked focus groups in Los Angeles, Boston and Denver comprising Millennial entrepreneurs working in the technology field. The organization found that the financial impacts of the Great Recession on Millennials had more of an influence on women's risk tolerance than on their male counterparts. Women were more likely to say that having student debt was incompatible with entrepreneurship and were also more likely to say that they would pay off their debt before starting a business. Interestingly, men with student debt were more likely "to take a 'head in the sand' approach to handling their student debt."
More women than men who had started businesses told the NWBC that having a "side hustle" – Millennial slang for a secondary side job – was an important tool to start their businesses.
Access to capital is a struggle for Millennial women, as it has been for prior generations of women in business. In fact, NWBC's report referred to the gap in access to capital between male and female Millennials as "tremendous." In 2017, the report stated, women business founders received just 2.2% of total venture capital.
NWBC's focus groups revealed that both male and female Millennial entrepreneurs in tech found it most important to secure a "traditional" mentor to help gain start-up capital – "in this case, an old white male presence." Men and women in mixed-gender business partnerships "reported that in meetings with funders, women received questions about the business that put them on the defense whereas men received questions that promoted the business idea. . . . women felt particularly strong about this and described inappropriate social questions such as their marital status and their plans for children."
Roque noted that one way to address the roadblocks identified by Millennial women who participated in the focus groups would be to increase mentorship opportunities for women entrepreneurs. "What our focus group shows is that Millennial men tend to have more mentorship and role models of men who are open to taking risk in business," she observed. "We would definitely like to see that more for women entrepreneurs as well. That's not just across Millennials, that's across all generations," she said.
At 31, Roque is a Millennial. As executive director of the NWBC, she leads a non-partisan federal advisory council charged with serving "as an independent source of advice and counsel to the President, Congress, and the U.S. Small Business Administration on economic issues of importance to women business owners," according to the organization's website.
The council itself is made up of eight small business owners who Roque said are "diverse in terms of political party, sector, race and ethnicity." She noted, "These are women who are established entrepreneurs. . . . It is very important to the council to support mentorship opportunities on the state level, the local level, but also when it comes to the federal government."
The NWBC is assisted by the Small Business Administration, and works closely with the SBA, the White House and Congress on issues related to women and entrepreneurship, Roque said. "We are very cognizant of the fact that we do need to have mentorship. It's very important for Millennial entrepreneurship, specifically, because we are the future of entrepreneurship."