EJ's Pub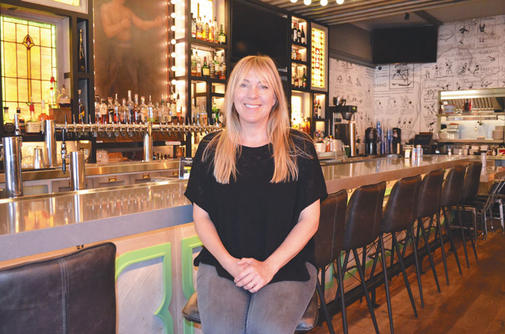 In her four years as general manager of the Bixby Knolls location of EJ's Pub, formerly EJ Malloy's, Corrie Matthews has overseen new trends implemented at the restaurant. "We just started doing a whiskey and scotch list about a year ago," she said. "We offer three samples of flights that are really popular. A lot of people aren't sure about scotch and whiskey, but they get a chance to have a taste of three different ones and see which one they like the best. We're happy with our list now. We have a lot of people who don't just order Jameson anymore." Matthews also commented that the restaurant, which offers standard pub fare such as chicken wings and nachos, has expanded its menu to traditional Irish and English dishes. In the past six months, it has added bangers and mash, which Matthews described as "super high-fat sausages" from Ireland. "They're called bangers because if you cook them too long they burst open," she said. "We have our own Jameson gravy that's really good too. People are willing to try different food nowadays." EJ Malloy's has been operating in Long Beach for 26 years. The Bixby Knolls location opened in 2001 and changed its name to EJ's Pub in 2017. According to Matthews, a catering service will begin in the next two months. "I love menu-building, writing recipes – and buying liquor's pretty cool, too," she said. EJ's Pub is located at 4306 Atlantic Ave. For more information, visit ejspubbk.com or call 562/424-5000.
The Cog and Crank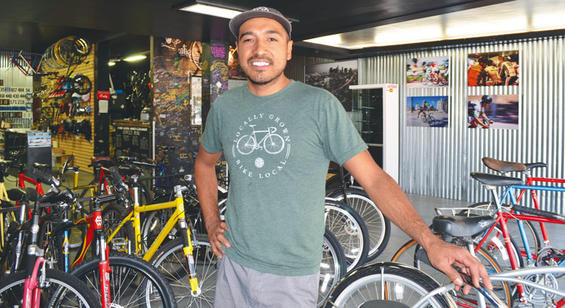 Guillermo Gonzalez, owner of bike shop The Cog and Crank, was part of the Long Beach cycling community long before he opened his store four years ago. "I have friends in the industry who race, one on a semi-professional level," he said. "They invited me out for rides. One thing led to another, and I saw that one of the local [bike] shops here was going out of business. I offered the owner some money for some tools and bikes and just ran with it." The Cog and Crank offers tune-ups and accessories such as helmets, saddles, bags and chains. Gonzalez sells new bikes and refurbishes old ones. He described his favorite part of the business as "seeing the reaction on people's faces when they realize their bike is almost like new again." He added, "It brings a warm spot to my heart." One of the main reasons Gonzalez decided to open his own business was his experience receiving subpar service at other bike shops. "My motto is to treat everybody's bike like it was my own, and everybody will be satisfied," he commented. Gonzalez enjoys bringing his passion to the community. "Usually, we see our city through cars. Out on a bike, you get to explore more if you have the time," he said. "I like the open air and seeing a different view of my city." The Cog and Crank is located at 4250 Atlantic Ave. For more information, call 562/424-7433 or visit thecogandcrank.com.
Salon Medusa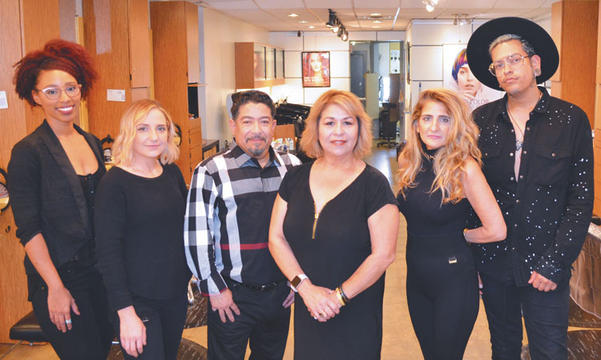 Salon Medusa owner Silvia Quinones started out as a hairstylist for her two younger sisters as a kid. "College just wasn't the thing for me," she said. "I went to Vidal Sassoon Academy and loved it." After working in Beverly Hills for 15 years, she began her career at Salon Medusa as a stylist. She then bought the business in 2008 after the recession hit. Services include cuts, coloring, hair extensions and perms. Quinones said her favorite part of the business is being able to give her clients what they want, even if they are unsure when they come in. "They come in and sit in my chair and we may do coloring, we may do cutting. I have to look and see and feel what we're going to do," she said. "Half my clients never know what they're coming in for. I'm usually the one who tells them what they need." According to Quinones, one aspect of Salon Medusa that sets it apart is the fact that clients receive counseling before their appointment to match them with the right stylist.  "We get tons of compliments on that," Quinones said. "Our clients really appreciate that they're paired with someone for their hair type, not just who's available." To help mentor her stylists, Quinones holds monthly workshops on different services. "Nobody can get enough of the hair coloring classes," she said. Salon Medusa is located at 4232 Atlantic Ave. For more information, call 562/427-7977 or visit salonmedusalongbeach.com. Pictured from left are: Hairstylists Erin Chavez, Ana Eastwood and Eddie Padilla; Quinones; Hairstylists Kelly Hocking and Blue Waters.