Murphy's Pub at the Belmont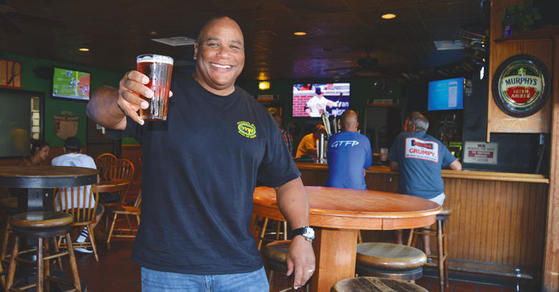 Jeff Cozart began working at the Belmont Athletic Club in 1985 as a racket stringer two days per week. He worked his way up to general manager of the facility, including Murphy's Pub, which was opened on St. Patrick's Day in 1983 by original owner John Doyle. "Health comes in many forms, and it's not just physical but also mental and emotional health," Cozart said. "He saw it as a place for people to congregate and relax and socialize, which is healthy. It just turned out to be a nice thing, not just for our members but also to open it to the public." The pub is located above the fitness facility at 4918 E. 2nd St. and has seven employees. Cozart became the principal partner of the business in 2012 when Doyle retired, allowing an employee stock option program. The pub serves up more than 70 different beers from around the world, most of which are included in the world beer punch card tour – a challenge to drink 70 beers (not all at once – come on, people) to earn a bronze plaque on the Hall of Hops wall and a T-shirt. "[The pub] just feels comfortable and welcoming to everybody. I see that, whether it's someone who comes in for the first time or the vast number of regulars that we have that come in." For more information, visit www.murphyspublongbeach.com.
Z Fabrique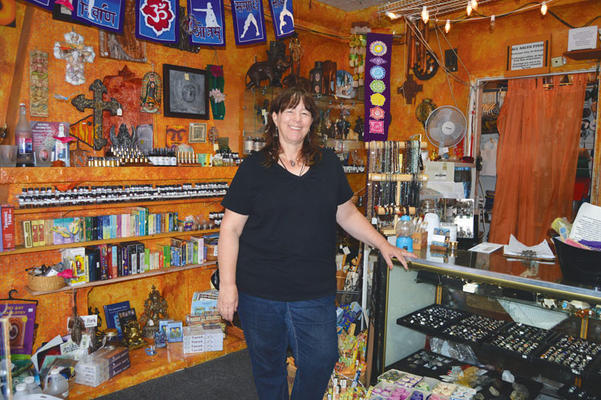 Though she celebrated the 25th anniversary of Z Fabrique at its current location at 191 Argonne Ave., owner Nancy Scott said the business started in 1985. She explained that in the '80s she had friends in the Peace Corps in other countries, which led her to travel and begin bringing back items from around the world. "I had tons of stuff sitting in the garage, and one day somebody asked if they could buy something as a gift. And the next thing I knew it was changing and morphing into the store and I'm selling stuff from all over the world," Scott said. "We still have a lot of stuff from all over – Africa, India, . . . Central and South America. Different cultures." With the help of two part-time employees, Scott sells incense, candles, gemstones and crystals, books, clothing, home decor and furniture, and religious and spiritual items. "It's more of a New Age kind of store. I think that your home is a sacred space, and when you walk through your door it should be composed that way," Scott said. "The outside world falls away, and once you get inside, it's your quiet respite where you can relax and chill. So we sell stuff to kind of make you feel that way." For more information, visit www.zfabrique.com.
McCarty's Jewelry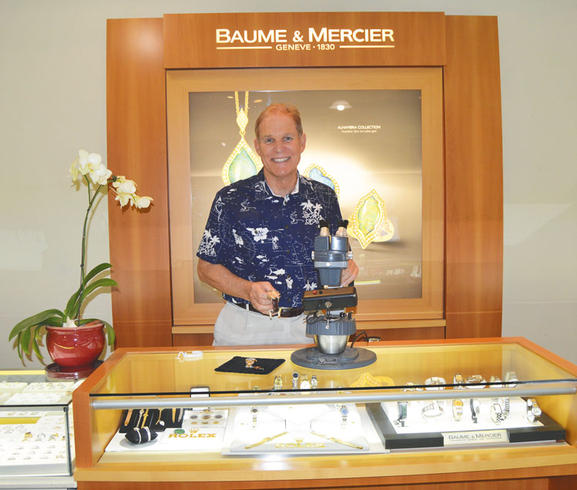 Established in 1932 in Belmont Shore, McCarty's Jewelry has only changed ownership three times. In 1963, the McCarty family sold the business to Bob and Ann Weeks, who would then sell the business to Frank Rooney and Gary Borden in 1982. Current owner Page Henley became a third partner in 1988 and took over sole ownership in 2000. "I think we offer some of the best personal service that people enjoy having," Henley said. "Jewelry is used to support a relationship as a symbol of love and caring and commitment. Having been here a long time, customers put their trust and confidence in somebody they know gives them good service at a fair value." The store was originally located up the street where Chase Bank is now located, having moved to its current location at 5011 E. 2nd St. in 1958. Henley said he has four employees and carries products ranging from below $200 to tens of thousands of dollars. "I feel like the kind of personal contact we make with people is kind of lost today with a lot of the very commercial stores and corporate stores," Henley said. "What sets us apart is the personal touch and getting to know about the people personally, caring about them and considering them part of the family." For more information, visit www.mccartysjewelrylb.com.
Born Free Children's Boutique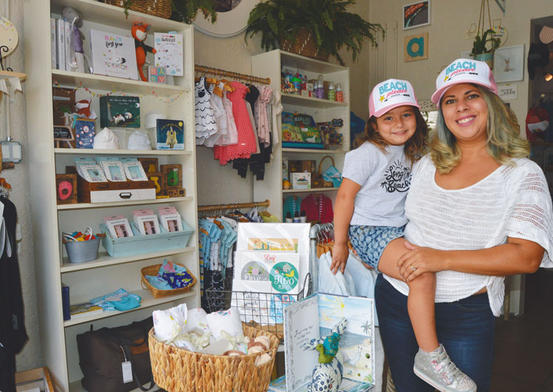 After falling victim to California's teacher layoffs, Marina Hernandez decided to open Born Free Children's Boutique in Belmont Shore on May 1, 2014, despite a lack of business experience. "It was one of those things, if you don't know any better, you just have to jump in feet first," Hernandez said. "I've been here three years, so it's been a good experience and I'm hanging in there. I'm really proud of the business." Located at 191 Park Ave., the store's main focus is eco-friendly – sometimes locally made – children's products, such as toys, clothing and gifts. Hernandez explained that when she was pregnant with her daughter, Luna (pictured with Hernandez), she had trouble finding eco-friendly products and did research online to learn all she could, which ultimately led her to open her business. The Belmont Shore community is very supportive of small, local businesses, which Hernandez said she is grateful for. "A lot of our business is just talking to customers and excellent customer service and just sharing stories with the community. It's nice for me too because I have a daughter that's 5 and now a son that's 2," Hernandez said. "It's fun to talk to other moms and hear what they've done. That's been really cool for me." For more information, visit www.bornfreeboutique.com.
Lasher's Kitchen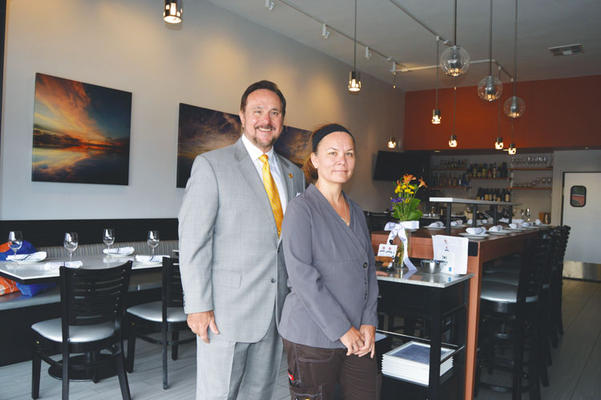 From 1997 to 2012, Ray Lasher owned and operated Lasher's An American Restaurant on Broadway, a location that has since become The Attic. For the last five years, Lasher worked as a restaurant consultant. However, on May 1, Lasher returned to the restaurateur lifestyle when he opened Lasher's Kitchen at 5295 E. 2nd St. in Belmont Shore. "We're thrilled with the reaction that we're getting," Lasher said. "So many of our old customers that live in the East Long Beach area have been coming in, and they are so excited that we're back. I'm amazed at the memory and brand recognition of Lasher's." The restaurant serves up items such as cranberry glazed meatloaf, fried oysters and karaage chicken served in a waffle bowl – all creations of executive chef and business partner Raquel Jubran, pictured with Lasher at the restaurant. "She is brilliant," Lasher said. "She has brought marvelous recipes here, a great sensibility to the kitchen, and [she] produces some really fun and exciting dishes that we think are very unique to 2nd Street." Lasher said he has 22 employees and recently started serving lunch during the week and brunch on weekends. He said the company has plans for individual box lunches and will soon offer takeout, as well as delivery service through Grubhub's LAbite. For more information, visit www.lasherskitchen.com.
American Vintage Barbershop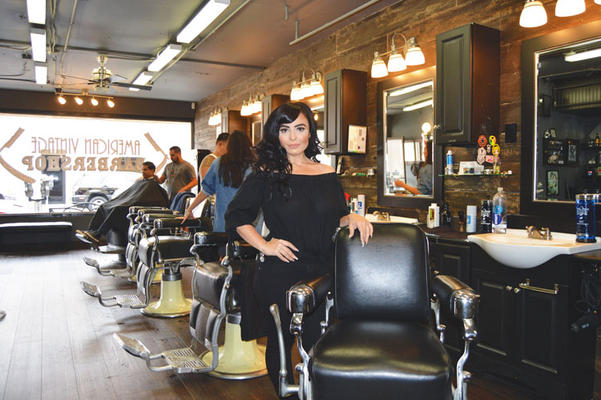 In 2011, Annie Gomez and her husband Carlos opened American Vintage Barbershop at 203 Covina Ave. shortly after getting married. Three years later, the couple opened a second shop in Whittier. Carlos passed away two years ago, and Annie has run both businesses ever since. "There's a lot of sentimental value that comes with keeping the shops open," Gomez said. "It's something that my husband worked really hard to accomplish. I'm just here keeping his legacy alive, basically." Seven barbers work at the Long Beach shop, which has cold beer and water available for customers upon arrival. Carlos was the barber of the family, so Annie's responsibilities are all on the business side. Having started their lives together in Belmont Shore, Annie said it is important to her for the business and its tight-knit staff to be active in the community, such as annual participation in the Christmas parade, attending events like Stroll & Savor and frequently patronizing local restaurants and businesses. "We are one big, happy family. It's a very uplifting environment. The barbers we have like to joke around, and you have fun in there while you're getting your haircut," Gomez said. "We're all in this together. We're all keeping American Vintage Barbershop open together and doing our part to keep what Carlos had going." For more information, visit www.americanvintagebarbershop.com.
Runners High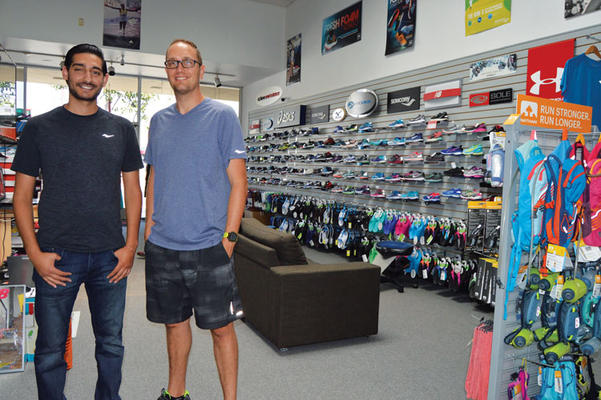 During the mid-2000s, Joshua Dutt began working at Runners High, a specialty running and walking store. After several years, Dutt purchased his own business in Whittier, which he sold after one year to purchase the two Runners High locations in 2011. "I love the specialty part of it – being able to help somebody through . . . the problems that are more common, that you don't realize footwear makes a difference," Dutt, pictured at far left with store manager Andy Reeves, said. "We have a scan where we watch you walk, we watch you run. And based off your arches, we can bring out shoes that work for your body, for your mechanics." The stores are located at 5338 E. 2nd St. in Belmont Shore, where it has been since the early 1990s, and 6416 E. Stearns St. near Cal State Long Beach. Runners High focuses on specialty walking and running shoes, as well as track spikes, forgoing sports cleats. The stores also sell activewear, energy products, inserts, braces – everything a runner needs. "We do it for the right reasons. None of our employees are commission based because we want to make sure we're selling you the right thing, not just trying to sell you something. Our goal is to make sure that you're enjoying your shoes and make sure that they are working for you." For more information, visit www.runnershighcalif.com.