Salon Soma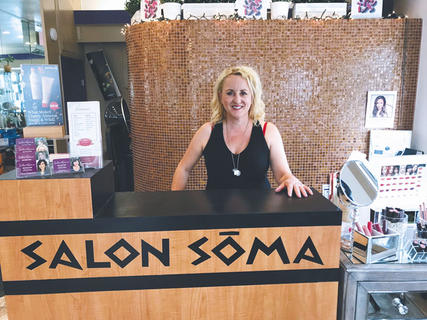 Salon Soma owner Tula Trigonis began experimenting with hairstyling due to her own bad experiences in the stylist's chair. "When I was little, I had very curly hair. It was always butchered," she said. "So I started cutting my own hair, my brother's hair and my dolls' hair." When she grew older, her parents encouraged her to become a business owner, and she saw hairdressing as an opportunity. After attending California State University, Long Beach for a couple of years, Trigonis took a year off to attend the Career Academy of Beauty in Seal Beach. She worked as a hairdresser for six years before she got a chance to purchase her current space in Belmont Shore. In addition to cuts and coloring services, Salon Soma offers waxing, makeup application, weave extensions and eyelash tinting and coloring. Trigonis said her favorite part of the business is the personal connection she has with her clients. "I've seen people get married and divorced, have a couple of kids," she said. "You really become a part of all these people's families. You see them go through life just like you are. It's really amazing that they trust you with their personal information." According to Trigonis, the fact that the industry is always changing is what makes it exciting yet challenging. "One thing I pride myself on is that I've tried to stay trendy and current," she said. Salon Soma is located at 203 Glendora Ave. For more information, call 562/987-4799 or visit salonsoma.com.
Domenico's Italian Restaurant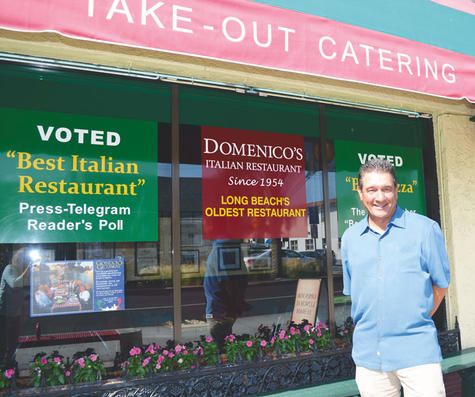 Mike Rhodes, the owner of Domenico's Italian Restaurant, started out in the restaurant industry "the old-fashioned way" by working as a cook when he was in high school. "I moved my way up the ladder pretty quickly," he said. "By the time I was 19, I was the general manager of a restaurant." He eventually worked his way up to owning 14 restaurants. "I sold my interests in those companies in the mid-1990s," he said. About 15 years ago, Rhodes got the chance to take over Domenico's when the former owner wanted to retire. "I loved the fact that it was an iconic restaurant in Belmont Shore and had very loyal customers." The oldest restaurant in Long Beach, Domenico's opened in 1954. "Domenico's is a very special place," Rhodes said. "It's so close to a lot of families who've spent birthdays here and special occasions. I can't tell you how many people I've met who've had their first date or gotten engaged here. It's a big part of the community." When he took over, Rhodes expanded the hours to include lunch. Domenico's serves Italian fare including a selection of soups, salads, pasta, pizza and sandwiches. According to Rhodes, it was one of the first restaurants to serve pizza in California. "We're famous for our pizzas," Rhodes said. "One particular pizza that's a bestseller is the ground pepperoni. We actually grind the pepperoni on our premises." Domenico's Italian Restaurant is located at 5339 E. 2nd St. For more information, call 562/439-0261 or visit domenicosrestaurant.com.
Sweet Threads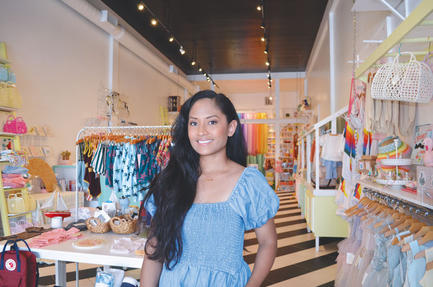 Shella Garcia, the owner of children's clothing store Sweet Threads, got her start by selling her wares out of a Volkswagen bus at Long Beach flea markets. Garcia's background is in the fashion industry, as a product developer for denim companies. "I knew I wanted to become my own boss at some point. I had a [business] partner at the time who had the idea of doing kids' clothes. I love vintage, so we kind of collaborated. We knew there wasn't a big market for vintage kids' clothing yet," she said. Garcia opened her first brick and mortar store on 4th Street in 2013. She decided to relocate to her current Belmont Shore location last August. "I started the business before I became a mom. Now it's even more rewarding," Garcia commented. Sweet Threads carries clothing and shoes for infants and children up to about 10 years of age. It also has a selection of bags and accessories such as hats, jewelry and sunglasses. In addition, the shop has its own in-house, vintage-inspired clothing line called Paush. "That does really well," Garcia said. "It's really unique and special." The store also hosts events, such as story time and indoor picnics. "I'm so happy I'm able to offer something like that for the community," Garcia said. "My motto is, 'when everybody's going right, I go left.' I don't want to do what everyone else is doing." Sweet Threads is located at 4812 E. 2nd St. For more information, call 562/439-7933 or visit shopsweetthreads.com.