Ruby Tuesday Bead Company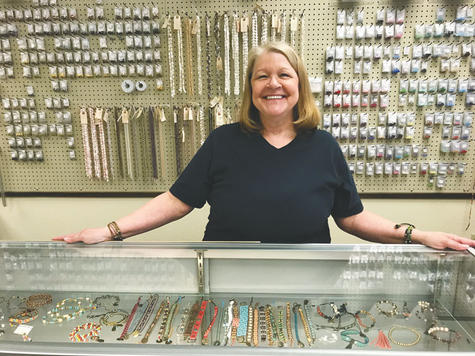 Ruby Tuesday Bead Company owner Connie Haywood started out as a jewelry designer. "I had a lot of extra inventory, so I opened a bead store," she said. The name of her shop came from a pseudonym she used as a designer and the Rolling Stones' song by the same name. Haywood, who has been in business for 17 years, still makes jewelry samples to display as inspiration for customers. "I've always been crafty, ever since I was young," she said. Her products include beads made out of various gemstones and the materials needed to assemble jewelry, such as chains, cord and clasps. She said her favorite part of running the business is the "creativity" and the ability to "give other people ideas and have them go from there." Haywood said that jewelry styled after Mala prayer beads, traditionally used in Buddhism, is now a popular fashion trend. Macramé, a form of decorative knotting, has also made a comeback. "Everybody is [also] layering several different bracelets at one time with charms and chains," Haywood said. "Everything's reinvented every year into something new." Ruby Tuesday holds regular classes for various levels. "We have fun, mini-workshops on Saturdays," Haywood said. "For example . . . we're making a macramé bracelet. We do those in three sessions. They almost always sell out. People like those quick projects now. We're all so busy." Ruby Tuesday Bead Company is located at 1766 Clark Ave. For more information, visit: www.beadstrands.com or call 562/498-2700.
Beach City Deli & BBQ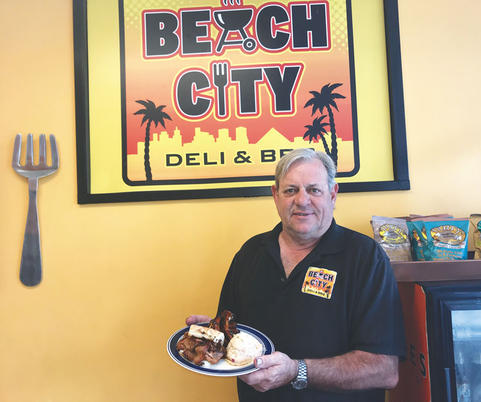 Beach City Deli & BBQ Co-owner Mark McKim, who grew up in Pennsylvania, moved to Long Beach in 1977 to join some friends in the city. "It all started nine years ago," he said. "I couldn't find a sandwich in town that I liked, so I figured I'd better open up a place myself." He opened his first location in San Pedro. When the conditions of his lease for that store changed, he closed the store. By that time, he had opened a second location in Long Beach, which was about four years ago. Beach City Deli & BBQ offers a variety of hot and cold sandwiches as well as barbeque. McKim said the barbeque beef brisket sandwich is a top seller. Other specialties are the baby back ribs and the 6-Way Italian, a sandwich with six Italian meats: ham, sopressata, mortadella, capicola, salami and prosciutto. "We [also] have the most authentic Cuban-style sandwich in town," McKim said. This toasted sandwich includes house-made slow-roasted pork loin, ham, Swiss cheese, pickles, mustard and mayonnaise.  McKim said his favorite part of owning the business is seeing his customers happy. "We get a lot of positive feedback," he said. "If it wasn't for that, I wouldn't continue because you don't get rich in this business. You have to get some emotional nourishment from it. It can't be all financial because it's hard to run a small business and make a lot of money." Beach City Deli & BBQ is located at 1714 Clark Ave. For more information, visit www.beachcitydelibbq.com or call 562/676-6753.
Nails BB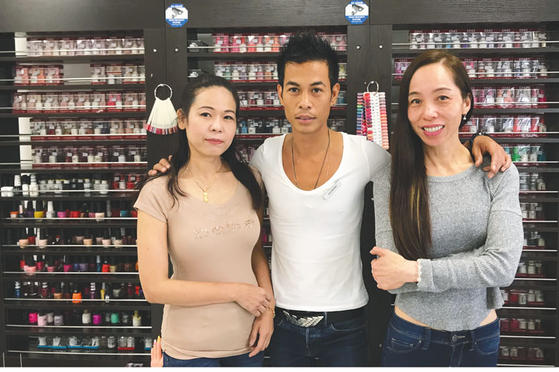 Kat Dinh, co-owner of Nails BB, moved to the United States from Vietnam when she was 12. After having lived in several different states, she moved to California about four years ago to join her cousin, Elaine Eliptico, and Eliptico's husband, Kelvin, in starting a business. "At first, we weren't looking to go into nails, we were looking into [opening] a print shop, but there are too many of those around here, like Staples and FedEx," Dinh said. They decided to open a nail salon since Elaine had worked in one for almost 20 years. "Instead of working for others, why not have others work for us?" Dinh remarked. "We were driving by and saw that this space was available," she said, referring to the location off of Atherton Street and Clark Avenue. "We took a peek and thought it would be the perfect nail salon. Within a month, it was off and running." In addition to manicures and pedicures, the salon also offers eyebrow waxing and gives customers the option of a mini-facial while they are having their nails done. "We love this place because it's isolated from other nail salons," Dinh said. Although she paints nails from time to time, Dinh is mainly responsible for customer service. "I love all the people who come here," she commented. Pictured from left are co-owner Elaine Eliptico, manager Raymond Le and Dinh. Nails BB is located at 1720 Clark Ave. For more information, call 562/588-9353 or visit www.nailsbb.com.