Family Floors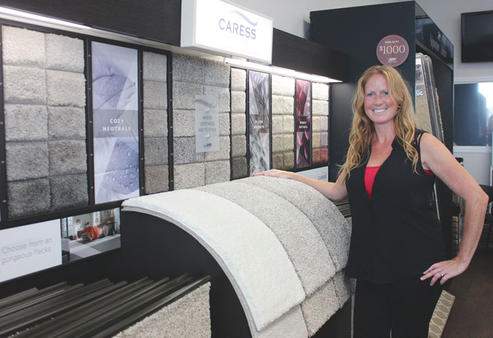 Jay and Melissa Glatman opened Family Floors, a flooring company specializing in carpet, hardwood and vinyl tile and plank flooring, eight years ago on East Spring Street. Jay's grandfather started in the flooring business in 1952. Three years ago, the couple opened a second location in Westminster, along with a warehouse. "We're very competitive with everybody," Melissa said. "I love the customers and dealing with people on a daily basis." The couple has 13 employees who rotate shifts between the two locations, with Melissa managing in Long Beach, while Jay manages in Westminster. In recent years, Melissa said carpet sales have declined but are coming back up with the introduction of waterproof carpet. However, she explained the big seller is the vinyl tile and plank floors because they are waterproof, kid-proof and pet-proof. In contrast to their big-box competitors, Melissa said Family Floors is a community-based store. "We treat everyone with the same respect, we give great service, great prices, we take care of our customers. Family Floors is based on a good, honest handshake. We don't hide anything in our bids. Everything is straightforward." The store is located at 6447 E. Spring St. For more information, call 562/506-0505 or visit www.familyfloorslb.com.
Paw Shoppe Pet Center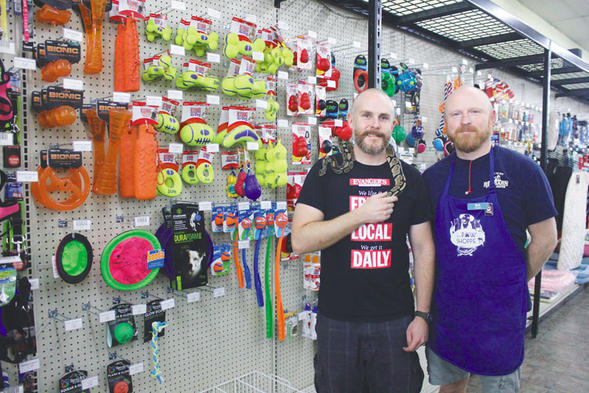 In November 1977, Paw Shoppe Pet Center opened on the border of Long Beach and Lakewood near the intersection of Woodruff Avenue and Carson Street. In the mid 1990s, the store was relocated to its current location at 6416 E. Spring St. Bobby Bilderback began working at the shop around 1992 and in 2004 took over as owner. Bobby married his husband Ted in 2014 and the two have been operating the shop together ever since. "We're one of the few actual pet stores left in existence. A lot of places are going out of business," Ted said. "There are a lot of feed stores around but not a whole lot of places that will carry animals anymore, even feeder animals." The pet store does not carry dogs but sells cats, birds, reptiles, rabbits and even the occasional chicken. The store also sells everything a pet would need, from food to cages to toys to grooming supplies. The couple said the vision of the shop has always been to be community oriented and educational for customers. "You get more with a pop-and-pop pet store. The customers, the community votes for what's in here. If they don't like it, it doesn't stay," Bob said. "We don't have a corporation that tells us what to sell. We sell what the community wants, what they like, what they suggest." For more information, call 562/425-5131 or visit www.pawshoppepetcenter.com.
Gatsby Books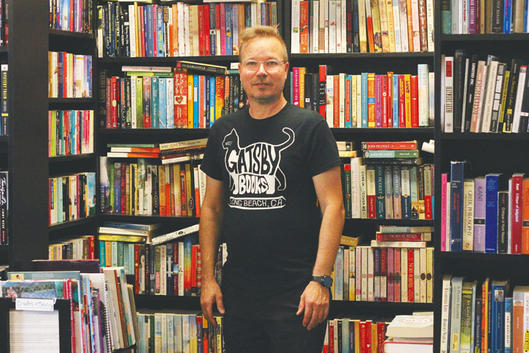 Seven and a half years ago, Sean Moor realized his dream of opening his own bookstore. After filling his garage with books, then a year and a half of searching for the right location, he opened Gatsby Books at 5535 E. Spring St. "Any time I've had the chance to travel somewhere else, I always go to the used bookstores in town. I've always been on the hunt for things," Moor said. "I don't really collect books as much as I used to. I'm just more into the idea of putting the books back into the great stream of books and passing them on to other people." With around 20,000 titles, Moor explained that his store has the best curated selection of used books for a store its size anywhere in the country. Many of the books are donated but new copies of best sellers and new releases are also stocked. Moor said he tried hard to create a "third living room" type of space, which has resulted in book club meetings, poetry readings, children's events and even a wedding. "I believe a town without a bookstore is really a town without a soul. Right now we are the last American Booksellers Association independent store in the city," Moor said. "So we're not leaving. We're going to stay until the last breath because Long Beach has to have a soul." For more information, call 562/208-5862 or visit www.gatsbybooks.com.
Jax Bicycle Center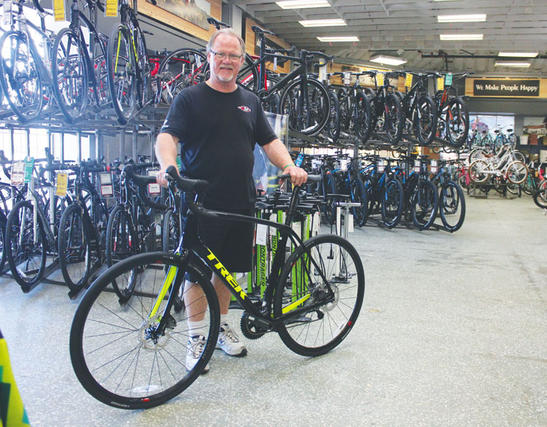 Jax Bicycle Center opened near the intersection of Bellflower Boulevard and Spring Street in 1971 by Jack Salem. He moved the store to its current location at 3000 N. Bellflower Blvd. in the mid 1980s to create a state-of-the-art bike shop in the larger space. In March 1999, Dave and Liz Hanson bought the Long Beach location from Jack. "Making people happy, that's my favorite part," Dave said. "When you can see that you've made a connection with somebody and they have a smile on their face and they are leaving the store pleased, that's the pinnacle of being in business." The couple now owns 10 bike shops in four counties, four of which were opened by Jack. The Long Beach shop has 12 employees and offers full-service repairs and maintenance, as well as selling new and used bikes, accessories and apparel. Dave explained the shop strives to provide a 24-hour turnaround on work that comes in, which his team is able to accomplish on most jobs at this point. "Poor health, more people are obese, more people are on medication, more people are not exercising, our roads being full of cars, our smog levels being high – cycling can fix all of those things," Dave said. "Long Beach has been wonderful in embracing cycling and doing more for our cyclists. It's a wonderful community built around serving its citizens and I'm proud to have a store in Long Beach." For more information, call 562/421-4646 or visit www.jaxbicycles.com.
Grounds Bakery & Cafe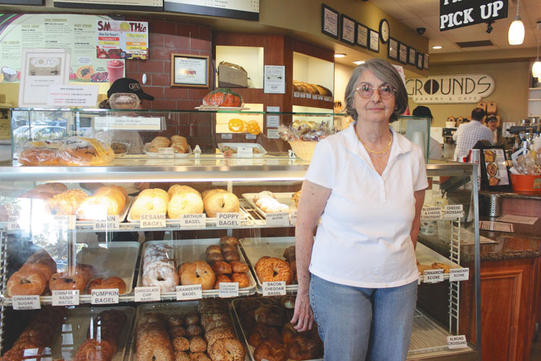 Regina Walter immigrated to the United States in 1990 from Brazil, where she was an attorney, to join her sons, Ronald and Rodrigo, who already lived in the country. In 1993, Regina opened Grounds Bakery & Cafe at 6277 E. Spring St. "We're basically a 24-hour operation. We make the dough and we bake everything here," Regina said. "When we open at 5 a.m., everything is fresh baked. There are no leftovers from the day before. Everything that's left from the day before, we sell half price or donate." Recently, Regina allowed Ron to step up and take charge of the business and its 34 employees, though she still works mornings to chat with longtime customers and assist with orders. She said the bagels and cupcakes sell well but that made-to-order sandwiches are always the best seller. Regina explained that it has always been difficult competing with fast food chains and that she faced discrimination for being an immigrant and a woman in a male-dominated society. However, she said customers in the area have always been loyal. "This part of Long Beach is kind of a small city. Everybody knows everybody," Regina said. "A lot of the kids in the old days would call me grandma. It's kind of a family, even with the employees. We've had an employee here since day one, 25 years. That tells you something." For more information, call 562/429-5661 or visit www.groundscafe.com.
Seascape Inc.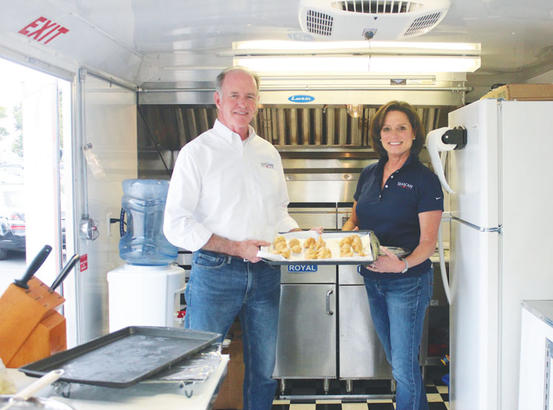 After long careers in various sectors of the food industry, Kim Schneider and Brian Dunn formed Seascape, a frozen breaded and battered seafood and vegetable provider for restaurants. Twelve years ago, the partners began operations out of a shed at Dunn's home in Long Beach. In 2007, the business relocated to its current site at 6200 E. Spring St. "We really like working with restaurant chains. They're always looking for the next thing. We just can create right alongside them," Schneider said. "The chefs have their own ideas and collaborate on those and develop products that are going to work for them – take some labor out of their kitchens, bring in a lot more consistency and food safety." Along with fish, shrimp, calamari and mussels, the company coats green beans, zucchini, cauliflower, jalapenos, tomatoes, and pickles, and makes onion rings and falafel. The partners have three employees and a small, mobile research and development trailer where they perfect the breads and batters. "We're working on a new tagline: "The Craft of the Crunch." We're OK with fried foods, and most people are, especially vegetables because people are trying to get away from potatoes and French fries and things like that. Something that's fewer calories, that's a little bit healthier but still tastes great and is craveable. So that's where our coated vegetables come in." For more information, call 562/421-6200 or visit www.seascapeinc.net.
Howard Lee, DMD, Inc.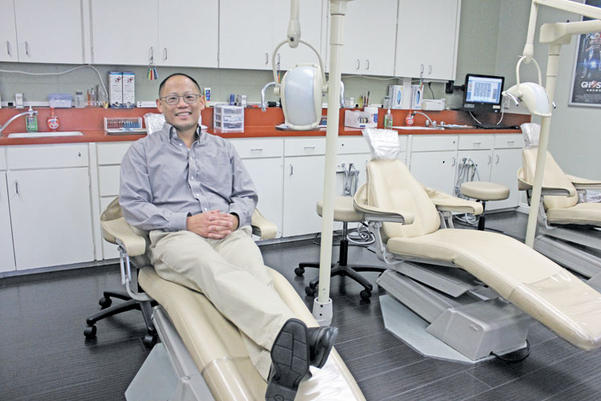 Orthodontics specialist Dr. Howard Lee completed his residency in 2007. In 2009, one of his former professors was preparing to retire and asked Lee to take over his practice, located at 6330 E. Spring St., which he did. "I always wanted to go into the health profession and I had a great experience with my childhood dentist," Lee said. "I completed dental school and actually worked with my childhood dentist in Chicago for three years." The practice sees about 40 patients per day, which Lee explained is not uncommon in orthodontics. He suggested that children be examined at the age of 7 because certain conditions are best treated early. Additionally, he said advances in technology make treatment more accessible and desirable to adults who did not have the means when they were younger. Though he did not have braces as a child, Lee is currently treating himself with Invisalign®. "The patients who come in, some are concerned about their smile and they don't like to smile too much. Just seeing the change in their attitudes toward themselves and their smiles when we're done, that's really rewarding," Lee said. "And just the ability to get to know the kids and support their causes, whether they are playing sports or in Girl Scouts or Boy Scouts – you have the ability to develop friendships with your patients and their parents." For more information, call 562/421-9439 or visit www.drhowardleesmiles.com.