The Village Grind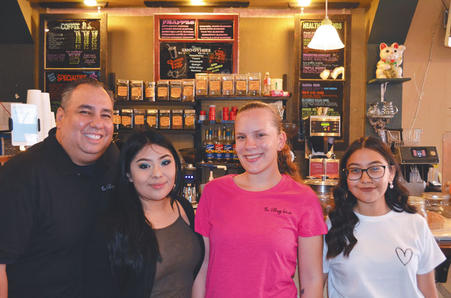 When Richard Saldana took over The Village Grind in 2006, it had about one-fourth of the offerings that it does now, he said. "I think they only had about four sandwiches. They didn't have a lot of equipment, there were no fridges; there wasn't much of anything," he remarked. "It was a very small coffee and pastry place. It's kind of evolved over the years." The former teacher bought the shop on the recommendation of a friend who thought it was a good opportunity. Saldana said it's the customers and employees who make the venture worthwhile. "For a long time, I didn't really have any employees," he said. "Running a business by yourself is boring. Having people to work with makes it fun to come to work." In addition to different styles of coffee, The Village Grind offers healthy smoothies, homebaked goods, wraps, paninis and salads. "It's hard running a business with food and coffee, where the trends are always changing," Saldana said. "Nothing really sticks for a long period of time. You've got to read into things and see what other people are doing." Saldana's customer base includes neighborhood regulars as well as tourists from as far away as England, Australia and Canada. He said he would like to open a second location soon. Saldana is pictured here with his staff, from left: Barista Lizbeth Jacinto, General Manager Nancy Abreu and Barista Jocelyn Jacinto. The Village Grind is located at 443 E. 1st St. For more information, call 562/432-4033 or visit www.thevillagegrind.us.
Paper Crane Studio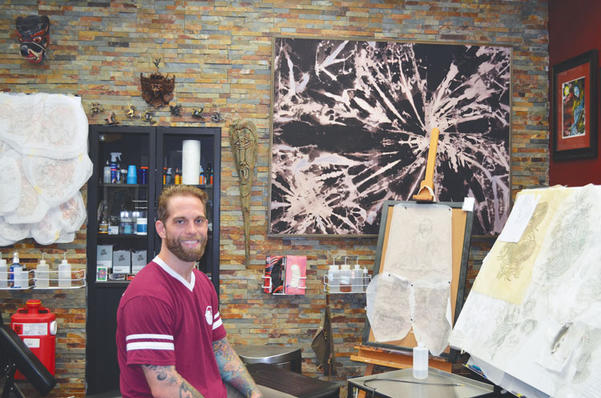 Paper Crane Studio Owner Mikey Vigilante became interested in tattooing while attending art school. "I got into tattoos when I was 19," he said. "I was into the punk rock scene." Vigilante was living in Michigan, but came to Long Beach to practice the craft in a larger talent pool. "The style I wanted to pursue was Japanese," he said. "I thought I had a better environment to flourish in that style out here." Vigilante said he does not pre-design any of his images, and that each is a result of a collaborative process with his clients. "I try to feel out what my clients' tastes are to try to examine what they want and what suits them," he commented. "I'll do some sketches on the body with markers, then I'll take a tracing of what I've sketched and take a photo of it. I'll go home and then over the course of usually a month or so, I'll design it." Vigilante said his favorite part of tattooing is the connection it brings between him and his clients. "I like that it's permanent and that every piece has its own set of challenges," he said. "The skin is different on every person. It's a living canvas. I'm at my most zen and relaxed when I'm tattooing. That's when I clear out my head." Paper Crane Studio is located at 530 E. Broadway. For more information, visit www.papercranetattoo.com or call 562/999-1454.
Envy Beauty Studio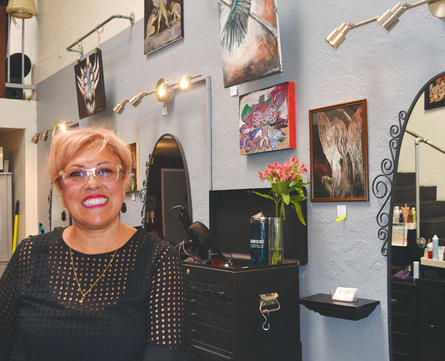 For Envy Beauty Studio Owner Stephanie Stomp, hair styling is a family affair. "My mother was a hairdresser and my grandmother owned a hair salon, so I used to work in the salon sweeping and cleaning," she said. "When I got out of high school, I didn't want to go to college, so I went to beauty school until I figured out what I was going to do. Thirty years later, here I am, doing hair." Stomp thought about leaving the industry until she started teaching for a hair care company in 2004. "At that time, I didn't own a salon, and I learned a lot about running a business," she said. "The ability to be able to teach and share my knowledge reignited me." Stomp originally opened her shop in Belmont Heights but decided to move to the East Village five years ago. "I live here and I love it. I love that I can walk everywhere and that I know all my neighbors," she commented. Stomp's most popular requests are for balayage, a style of hair coloring that aims for a blended look, and ombré, a two-toned coloring style that is darker on top and lighter on the bottom. She also said many customers prefer bright dyes such as pinks and purples. Stomp said meeting people from around the world is her favorite part of running the business. Envy Beauty Studio is located at 314 Elm Ave. For more information, call 562/433-9946 or visit www.envybeautystudio.com.