The Broken Comb Barber Shop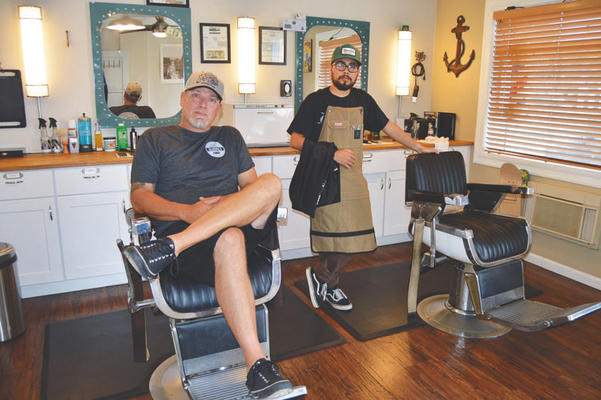 After relocating to Long Beach in 1998, Jeff Farley spent years tending bar in the city and working random construction jobs. Farley began helping the owners of Razorbacks Barbershop and was eventually coaxed into attending barber school. "I worked at Razorbacks for five and a half years, and I opened my spot here," Farley said. "I've been a professional barber for seven and a half years. I came up in that shop and built a pretty good clientele." The Broken Comb Barber Shop has been open at 2205 N. Lakewood Blvd. since April 15 and has not slowed down since. Farley rents out the second chair in his shop to Danny Leon, and between the two barbers, the shop has about 100 clients per week for haircuts and straight razor shaves. The shop's name is derived from an old Irish superstition in which finding a comb on the ground is a bad omen because of their connection to banshees. According to legend, the only way to break the omen is to break the comb. "We're not trying to be famous. We're just trying to be good barbers. I don't want the cliche rockabilly shop. I don't want the cliche punk rock shop," Farley said. "I just want to be the good neighborhood barber that everyone loves." For more information, call 562/294-6220.
Points Of Light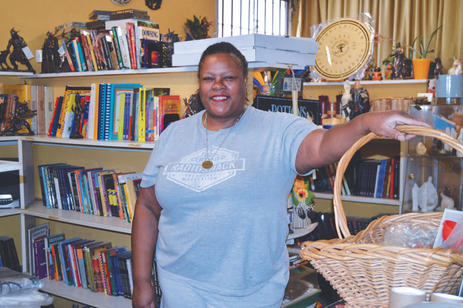 After apprenticing at another shop, Rhapsody Hooks opened Points of Light, a metaphysical store, at 4358 Stearns St. on October 31, 1995. Hooks began practicing Wicca because it's an earth-based religion that focuses on nurturing, caring and understanding, as well as being femininely inclined. "I am a ridiculously honest person. If you need somebody to stroke your ego, I'm not your girl," Hooks said. "But if you want to get down to the nitty-gritty, if you want to actually resolve an issue, then we'll talk." Aside from selling metaphysical products such as candles, crystals, stones, herbs, incense and oils, the shop has a reader and a reiki healer, offers seminars, and teaches runes and tarot reading, development and meditation. As an elder high priestess of Ptah and Sekhmet, Egyptian deities of the Kemet religion, Hooks said the most important service she provides is her knowledge base and candor. She explained that she teaches Wicca because it is a good introduction to the metaphysical world and allows for other religions to be practiced simultaneously. "Points of Light is not like any other store, even any other metaphysical store," Hooks said. "A lot goes on here. A lot of compassion, a lot of love – sometimes tough love." For more information, visit www.pointsoflight.com or call 562/985-3388.
Corked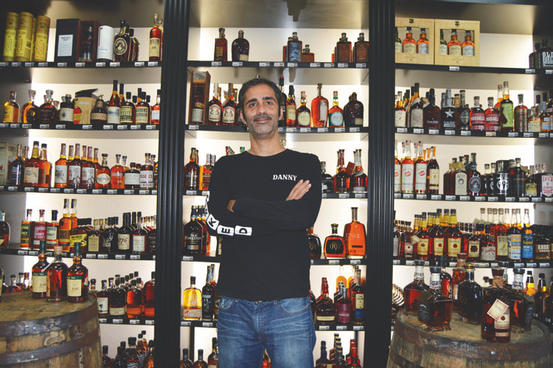 While attending the University of California, Los Angeles to become a lawyer, Daniel Dib's father passed away. This changed the course of Daniel's life. Dib went to work for his then-fiancee's father at a liquor store for $10 per hour. Before long, Dib was running his own store in Bel Air, which he quickly sold to open Stearns Liquor at 4360 Stearns St. in 2011. He opened a second location at 4100 Atlantic Ave. in 2015 and changed both store names to Corked in August 2016. "Craft beer has always been our thing," Dib said. "We did add a nice wine cellar. And whiskey and bourbon has always been a passion of mine, and we expanded upon that." Dib now has five employees at the Stearns location and boasts between 1,500 and 2,300 craft beers at any given time, as well as about 400 wines and 600 whiskeys and bourbons. "The craft beer community in Long Beach is amazing, and many of them have become my friends and are who I hang out with," Dib said. "It's funny, that interest and that passion kind of takes over, and you'll be surprised who can be friends with who when you have a love for craft beer." For more information, visit www.corkedonline.com.
Blondie's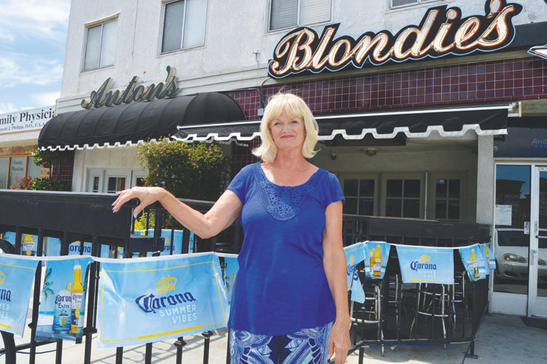 Nancy Barling bought a building near Lakewood Boulevard and Stearns Street in 1986 and opened Anton's Design Salon next door to the Copper Door, a long-standing Long Beach watering hole located at 2259 N. Lakewood Blvd. When the bar's lease was up, the owner did not renew. Barling decided to renovate, and she reopened the bar as Blondie's on Valentine's Day in 1998. "It's hard to believe it's been that long. It goes by quick," Barling said of the bar named for her old nickname. "It's a tough business, but it can be a lot of fun too. You meet a lot of people. It's a lot of work, but it's a good business." Barling has five bartenders, and her niece helps her with management duties. Opening shortly after the city banned smoking in bars, Barling said the outdoor patio has been a huge success from day one. The bar offers daily drink specials, has a pool league three nights per week and shows sports on the numerous TVs. Barling said she will also sometimes raffle off tickets to Dodgers or Angels games. "We just try to keep active in the community because we're in kind of an odd location. But it's always worked out really well, so I can't complain." For more information, call 562/498-2661.
House To Home Furniture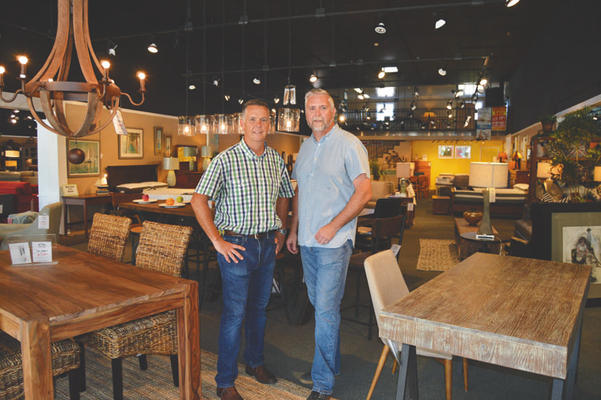 In 1967, Gregg Munro's parents opened Wall Units on the corner of Lakewood Boulevard and Stearns Street. In 1992, the family took over the building across the street and opened Munro's Furniture, eventually opening a second location in Costa Mesa. The Great Recession forced the family to close the businesses, but selling furniture was in their blood. Gregg and his brother Kent opened House to Home Furniture at 2198 N. Lakewood Blvd. at the original store location, leasing the building from their parents who retained ownership. "Neither one of us had ever done anything else as far as jobs go," Gregg said. "We'd been working in the business since we were 14 years old." The family-run store is just under 20,000 square feet, and the brothers currently have eight employees. Gregg said the store's best-seller since opening has been Stressless Recliners and that the shop specializes in custom and special orders. "Most stores nowadays when you walk in, the sofas and things come in one fabric or finish, at best maybe two or three choices," Gregg said. "Whereas we have sofa lines with over 800 fabrics to choose from, so we can kind of customize it to fit your needs." For more information, visit www.house-to-home-furniture.com.
Encore Hair Studio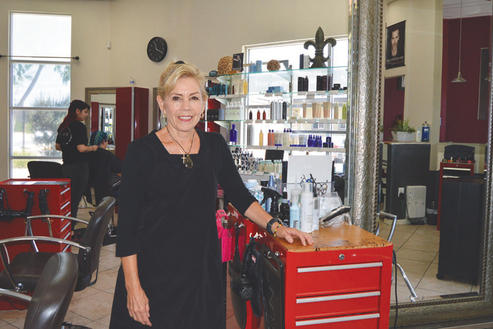 After owning a hair salon called Hair Werx on the corner of 7th Street and Ximeno Avenue for 20 years, Karen Dodge relocated her business to 2200 N. Lakewood Blvd. The salon was renamed Encore Hair Studio and has been operating at its current location for the last six and a half years. "I just love doing hair," Dodge said. "It's instant gratification – communicating with people on a good level, a happy level." The shop offers haircuts, styles and colors, as well as eyebrow threading, nails and eyelashes, basically everything other than facials, which Dodge said there is not space for in the shop. Dodge said that the new location near the popular breakfast joint The Potholder and a busy animal hospital has been great for business. Between her and 10 employees, Dodge said the shop sees anywhere between 200 and 250 clients per week. Six months after opening Encore, Dodge said she brought on partner Anthony Escoto to help run the shop. When asked what her favorite aspect of owning the hair salon is, Dodge said, "The interaction with the people – the clients, the stylists, the reps. It's not always rosy, that's for sure, but it keeps it interesting." For more information, call 562/597-8961.
The Potholder Cafe P3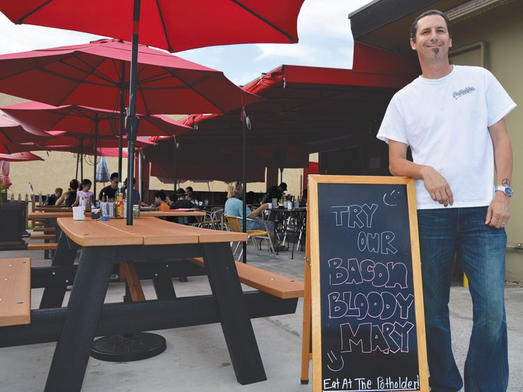 The Potholder has been a Long Beach staple for breakfast and lunch since 1973, as far as current owner Kevin Pittsey can tell. He began working at the original location at 3700 E. Broadway in 1993 as kitchen manager. After earning a degree in food service management, he was promoted to general manager and eventually bought the restaurant in 2004. In 2012, a second location was opened at 301 W. Broadway, and in 2015, P3 opened at 2246 N. Lakewood Blvd. "I live nearby and know that spot well from being the old OK Burger, and then it was a vegan eatery for a while," Pittsey said. "I knew it was a tough spot, but I also knew that there were no good breakfast places anywhere in that area. It's surrounded by residential for miles." P3 offers the same menu and prices as the other locations. However, a majority of the seating is on the large patio, which seats between 80 and 90 people, while inside seats about 20, according to Pittsey. "You can literally park and walk onto the patio with your dog or whatever and never feel like you're actually in a restaurant," Pittsey said. "It doesn't feel like a restaurant. It just feels like a large patio at a park or something." For more information, visit www.thepotholdercafe.com.