Anthelion Helicopters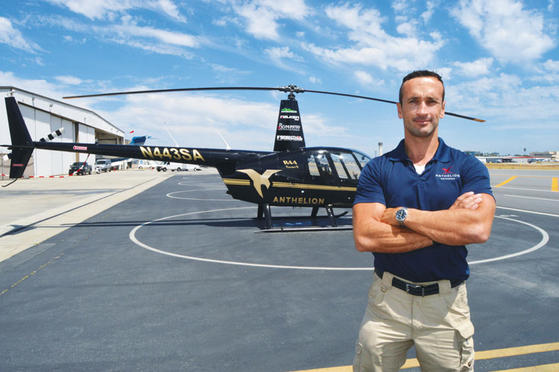 Co-owners Alex Chaunt and Nina Keefer recently celebrated the three-year anniversary of Anthelion Helicopters, a tour agency and flight school located at 3200 Airflite Way. The pair met while working for a different company and decided to open a facility, keeping in mind and rectifying issues they encountered in their own experiences. "We're not going to sacrifice, and we're not going to be chasing that bottom dollar at the expense of the customer, which we found quite prevalent in aviation," Chaunt said. The company offers helicopter flight training, pre-routed and custom tours, aerial photography and cinematography flights (including an aerial photography workshop for beginners), and charter flights, the company's most recent addition. Anthelion has grown to employ more than 10 people and operate nine helicopters. "Whenever I go up with someone . . . that has never done it before, I see that wonderment on their face. I find that fantastic. You've really done something with them that's going to last a lifetime," Chaunt said. "We offer the flight demos at $99. It's accessible. You can wake up and say 'I want to fly a helicopter today,' come and do it, and off your bucket list it goes." For more information, visit www.anthelionhelicopters.com.
Catalina Flying Boats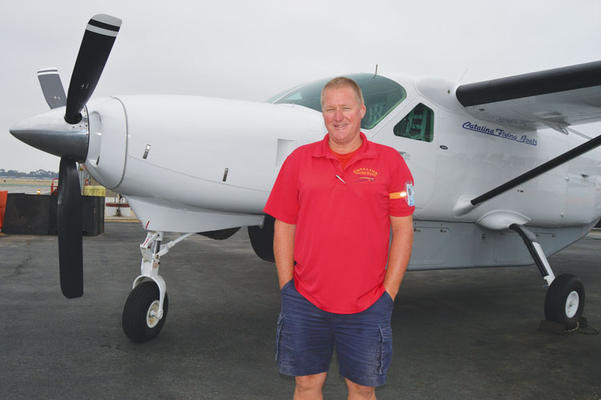 Long Beach-based airfreight service company Catalina Flying Boats began operations in 1982, flying cargo from Long Beach to Catalina Island. Jad Davy, director of operations, started with the company in 1984. He explained that his father ran a seaplane service to Catalina in the 1970s and 1980s and that he was raised on Catalina, which gave him all the reason he needed to start with the company. "We've had contracts with UPS and FedEx for over 30 years," Davy said. "We fly it over and deliver it to the house. We're a one-stop shop." However, Davy explained that much of the company's business comes from the transportation of island restaurant goods, namely food. Located at 3215 E. Spring St., the company flies between eight to 12 trips per day, six days per week. Davy said the company has been flying the Douglas DC-3 aircraft since 1992 but has recently upgraded to newer aircraft. "We evolved with the seaplanes then got out of the seaplane business and went to land-based airplanes. We got out of seaplanes and went to BE-18s, then we got into the DC-3 world. And now we are getting out of the DC-3 world and into the Cessna Caravan." For more information, call 562/595-5026.
Aeroport Deli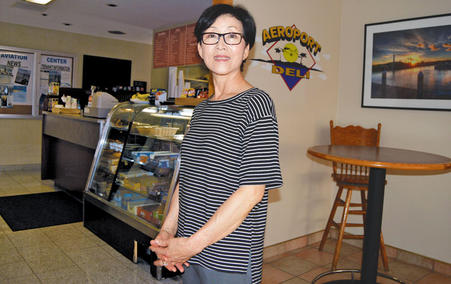 Holly Yu purchased the Aeroport Deli 12 years ago after deciding to leave her former position as an accounting manager for a manufacturer. "I was looking for my own business, but I had limited money," Yu said. "I was looking at the newspaper and saw a 'for sale by owner,' and it was a pretty good project. So I came and had an interview with the landlord, and then I took it." Aside from her love of cooking, Yu explained that she was interested in a food-centric business because there is never a risk of overordering inventory – anything extra she takes home and cooks for herself. Monday through Friday, Yu arrives at her deli, located at 3333 E. Spring St., at 5:30 a.m. to prep for a 7 a.m. open. She operates the eatery with the help of only one employee. One of her best-selling dishes is her chicken cutlet, made fresh daily along with all her other menu items. "I like the City of Long Beach. It's pretty big. At the airport especially, it's secure for a woman-owned business," Yu said. "Also, I like the people of Long Beach. I really appreciate my customers. They are always friendly to me and trust me and encourage me." For more information, call 562/981-9903.
The Pilot Shop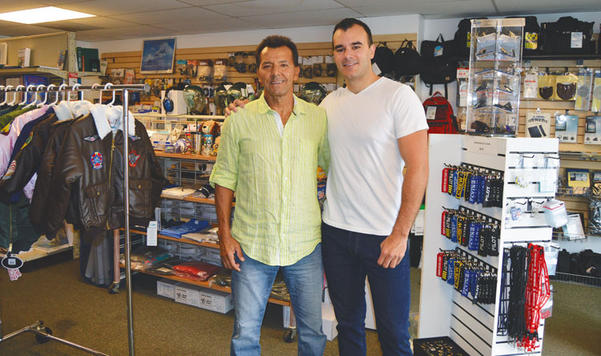 For the last 25 years, Fernando Molina has owned and operated The Pilot Shop at Long Beach Airport. Located at 2601 E. Spring St., Molina operates the store with the help of his son, Fernando Jr. (pictured with his dad). After purchasing the shop from a friend, Molina said he expanded the store and began offering more items. "I used to be the only guy that had charts and maps, but now with [technology], I don't sell much [of those]. But it used to be the bread and butter for the business because every pilot needs them," Molina said. "Now it's general. I sell a lot of Bose headsets now. They are the most expensive headsets." The store carries everything a pilot needs – from books to apparel to software to parts and everything in between. One of the latest additions to the business is plane rentals, with the planes still owned by a former flight school operator. "It's been a great time – all 25 years – seeing all the big changes the airport has been through," Molina said. "I have had the chance to meet a lot of people, not only at Long Beach Airport, but the shop is well-known everywhere." For more information, visit www.longbeachpilotshop.com.
Advanced Detail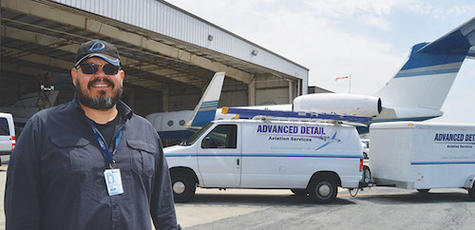 After working as a fueler for a fixed-base operator at Long Beach Airport for a decade, Rick Morales decided to go into business for himself. The Salvadoran immigrant, who moved to Long Beach at age 5, opened Advanced Detail 17-1/2 years ago. "I was just intrigued by aviation," Morales said. "We do everything that has to do with the cosmetics of the airplane. We don't do anything mechanically." Located at 4310 E. Donald Douglas Dr., Advanced Detail provides cosmetic upkeep for aircraft, including high-end fabric cleaning, wood polishing, exterior and interior paint touch-ups, exterior washing and more. Morales said he currently has six employees and that the company is mobile, with crews that take vans to various operators to maintain aircraft. He explained that 90% of the company's business is local to Long Beach and that the rest is at other airports, such as Los Angeles International, John Wayne and Van Nuys airports. "What I love about owning the business is the flexibility that I have and the people that I meet," Morales said. "Aviation is such a large community, yet it is so small and everybody knows everybody. I meet a lot of great people." For more information, visit www.facebook.com/advanceddetail.
Ads That Fly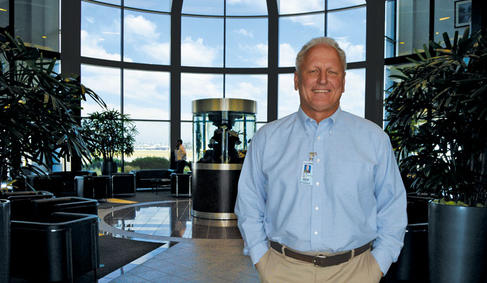 In May 1984, 29-year-old Long Beach native Bob Dobry opened Ads That Fly for business in Chino. Three years later, he relocated to 3275 Airflite Way in Long Beach, where the company has operated ever since. "I've been flying since I was 18 and just stumbled on it purely by accident," Dobry said. "Here we are 33 years later – we have nine banner-towing aircraft, a wonderful clientele base, great employees. We've been very fortunate." Dobry said as a child he would build model airplanes and as a teen began taking flying lessons after a co-worker – a keeping-up-with-the-Joneses scenario. After being a sales rep for more than a decade, Dobry decided to venture out on his own. Today, Ads That Fly has eight part-time employees, with 90% of business coming from large companies such as radio stations and beer companies, flying banners past beaches all summer long. However, Dobry said his favorite jobs are the personal messages – marriage proposals, birthday greetings and graduation banners. "The people just go crazy when they see their name in the sky. We just get a lot of joy, a lot of satisfaction out of seeing these people full of joy – that person becomes the star of the show." For more information, visit www.adsthatfly.com.