MOBÜL: the mobility store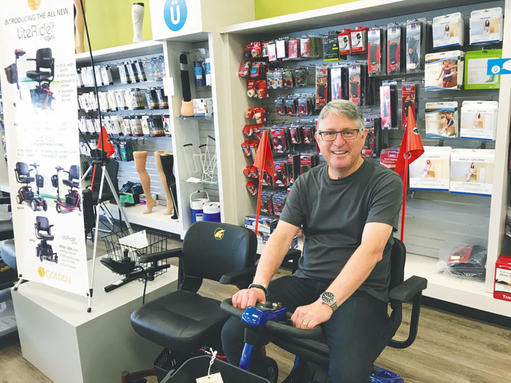 Wayne Slavitt, founder and CEO of MOBÜL: the mobility store, was inspired to start his own home medical supply business after a dissatisfying experience shopping for his mother and mother-in-law. "I felt like I was imposing on the staff. I asked a couple of questions and was handed a brochure and told to go home and read it," he said. "I got to thinking that there had to be a better way. There should be a nicer experience, better product selection and a staff that's more interested in helping." MOBÜL offers a range of mobility aids and home medical equipment such as walkers, wheelchairs, scooters and handrails for the shower. Slavitt said he enjoys giving customers a positive experience amid their pain and frustration. "Every day we're thanked for being so kind and for offering really great advice," he explained. "We are given a gift to help people. Most people who come into our store don't want to be here. They come in because someone broke a hip, someone had a stroke, or has Alzheimer's or Parkinson's disease. . . . Our job is to make them feel wanted and that we care about them, because we truly do." Slavitt said the generation that is now aging into his shop has different demands than those of the past. "They're much more active and they want fashion and style," he remarked. MOBÜL: the mobility store is located at 2153 N. Bellflower Blvd. For more information, call 562/343-7333 or visit mobulstore.com.
Bai-Plu Thai Cuisine & Sushi Bar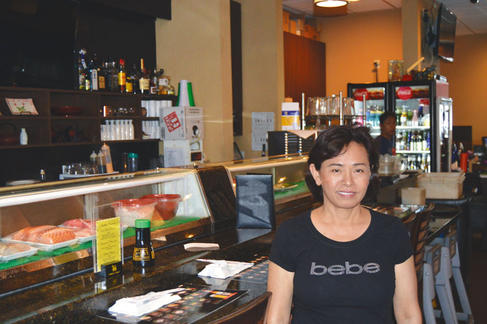 Bai-Plu Thai Cuisine & Sushi Bar owner Tara Thairatanakul owned a tofu factory in Chai Nat, Thailand, before deciding to emigrate to the United States. After losing money on the stock market, she wanted to make a fresh start. "When I came to America, the restaurant business was the only way I could go," she said. "I couldn't work in any other business." Thairatanakul was working in a restaurant kitchen in Oxnard when an opportunity came up to become a server in a Thai restaurant in Los Angeles. From there, Thairatanakul went on to work at Hollywood Park Casino. "I wanted to learn everything," she said. "If you want to be successful in life, don't ever think, 'I don't want to do that.' Learn as much as you can." When Thairatanakul discovered that Aki Sushi Bar & Bai Plu Thai Restaurant, located 1626 E. 7th St., was for sale, she purchased the business. "I closed for a month to remodel everything," she said. "The first day I was open, a lot of the old customers were lined up outside." Ten years ago, Thairatanakul opened a second location in Los Altos. Both restaurants offer a selection of Japanese and Thai food, including sushi, soups, noodles and rice dishes. "My sushi is fresh, my Thai food is fresh," Thairatanakul said. "When you order it, I make it." Bai-Plu Thai Cuisine & Sushi Bar is located at 2119 N. Bellflower Blvd. For more information, call 562/343-2651 or visit baipluthai.com.
The Bagelry & Bistro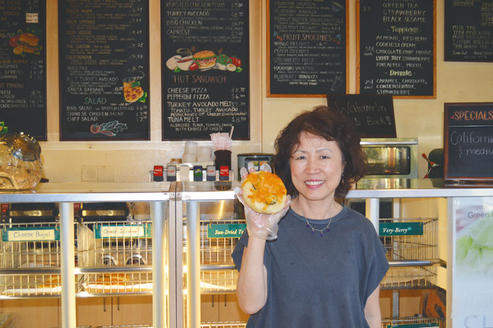 Mirae Lee, who owns The Bagelry & Bistro with her husband Jung Ho, has worked in the restaurant industry since emigrating to the United States from Seoul, South Korea. After earning her bachelor's degree in her native country, she moved to California with her family to join her brother. "My parents wanted us all together," Lee said. In addition to the bistro, Lee also owns Saladish, a healthy eatery in Rancho Palos Verdes. She also previously owned a Popeye's franchise in Carson, which she gave up five years ago. The Lees took over The Bagelry & Bistro in 2004. "My son wanted to go to private college, so I wanted extra income to pay for his tuition," Lee said. "I was looking for businesses and this one was for sale." Lee said she was attracted to the location's outdoor patio, which students from the nearby California State University, Long Beach use to host meetings. In addition to bagels made from scratch, the bistro offers a selection of soup, sandwiches, smoothies and coffee drinks. One of her bestsellers is the "Palm Spring," an open-faced bagel with cream cheese, tomatoes, onions and avocado topped with lemon pepper. The Californian, a sandwich with lettuce, tomatoes, onions, turkey, avocado and sprouts, is another popular choice. "It makes me happy when people enjoy the food," Lee said. The Bagelry & Bistro is located at 5514 E. Britton Dr. For more information, call 562/430-6924 or visit bagelandbistro.com.