Sharrion James Salon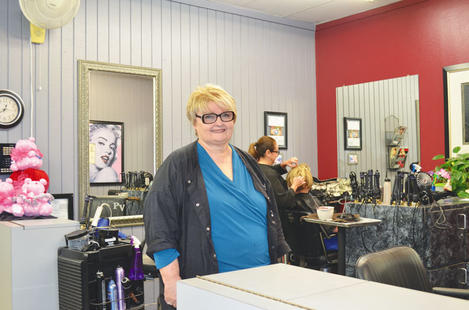 Sharrion James Salon Owner Sharrion Johnson started her career as a bookkeeper after she finished high school. "I did not like it," she said. "It just wasn't me." Johnson decided to make a change by earning a cosmetology license, and continued to work during the day while attending school at night. "I was always good at doing hair," she said. "Even in high school and junior high, I was always doing people's hair." Nine years later, Johnson and her sister-in-law bought a salon where Johnson worked full-time. She later took it over when her sister-in-law retired. "I love doing hair; it's a deep passion for me," Johnson said. "You meet people every day and get to make them feel special. It becomes like a big family." Johnson said hair painting and balayage, a style of hair coloring that aims for a blended look, are her most popular services. "Those were in style when I was younger, so it's funny to see how everything circles around," she said. "I've been doing hair since the 1960s, so I've seen everything evolve." One of Johnson's favorite services is styling older women. "My mother and I were very close and I always felt sad for the older ladies who thought that many salons didn't want to serve them," she explained. "That stayed in my heart. I luckily have a big enough salon to fit wheelchairs." Sharrion James Salon is located at 3587 N. Los Coyotes Diag. For more information, call 562/421-8958.
Dempsey's Sports Bar & Grill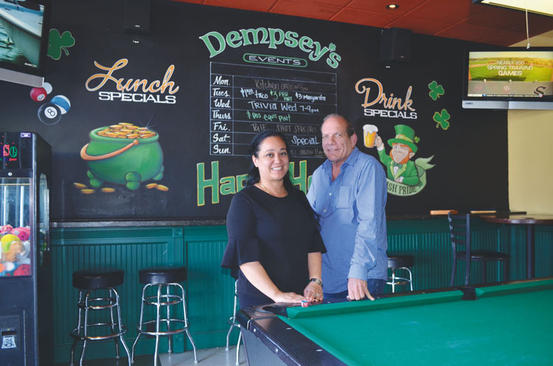 Dempsey's Sports Bar & Grill Owner Joseph Adornetto stumbled upon the bar 12 years ago while his construction company was remodeling the shopping center where it is located. Adornetto met with the owners of each business to explain the remodeling process, and he found out the bar was for sale. "When I took the place over, it was close to bankruptcy," he said. "It was a total disaster. With my construction knowledge and design, I completely altered it. I took sales up 500% in 30 days, and the place has never gone backward since." General Manager Jennifer Lewandowski (pictured here with Adornetto) has worked at the bar since around 2003, before Adornetto became the owner. She started out as a bartender, and now manages the day-to-day operations. "I enjoyed getting to know people while bartending," she said. "I kind of made it seem like a little home and family. I enjoy the smiles on people's faces. Most of the time, when people come into the bar, it's to celebrate." The bar's specialty is a breakfast shot: a shot of whiskey with butterscotch, and a shot of orange juice with bacon pieces in it. The menu also includes hamburgers, sandwiches, wraps, salads and burritos. Dempsey's Sports Bar & Grill is located at 3583 N. Los Coyotes Diag. For more information, call 562/421-0111.
Center Stage Dance Academy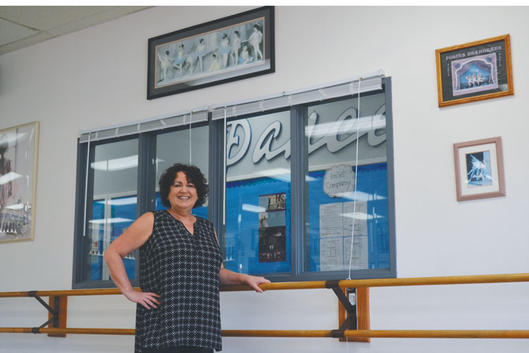 Center Stage Dance Academy Owner Leslie Clifford started tap dancing at age four. She performed in a tap company as an adult and now, as a teacher, introduces others to her passion. "The kids are my favorite part," she said. "Everyone asks why I teach, and it's the faces." The studio has been open for 25 years, and it is Clifford's first and only business. After working in several Orange County dance studios, she decided to open a studio in Long Beach with a friend. "We looked for a studio in a residential area that was close to a lot of schools," she said. Ten years into the operation, Clifford became the sole owner. Center Stage offers classes for students ages 3 to 18. In addition to ballet, jazz and tap, kids also have the opportunity to take hip hop and voice lessons. "A lot of people are here for ballet since ballet is the basis of dance," Clifford said. "We also have a preschool program where kids take ballet and tap together. That's pretty popular." The academy hosts one annual dance recital for all the classes. The more advanced students also perform a holiday show at Knott's Berry Farm. "We're really a family-oriented business," Clifford said. "We take pride in the fact that we know all of the kids and are interested in their lives." Center Stage Dance Academy is located at 3418 Los Coyotes Diagonal. For more information, call 562/497-1181 or visit www.csdalb.com.