Buono's Authentic Pizzeria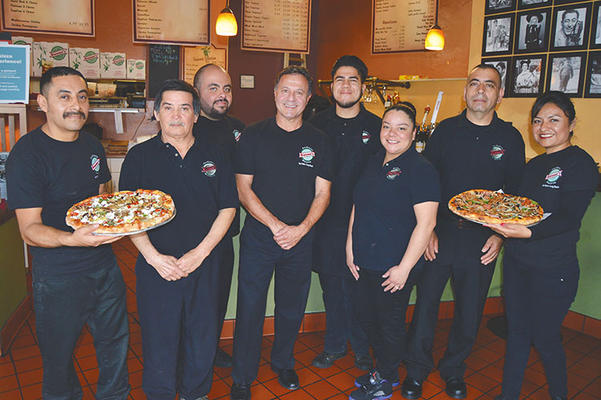 At the end of 1980, Frank Buono decided to invest in and grow his family's San Pedro business, Buono's Authentic Pizzeria, by expanding with a second location at 401 W. Willow St. in Long Beach. At the time, Buono was considering transferring colleges. But when an Italian deli on Willow Street went up for sale, he decided to leave school and buy the deli. His best friend at the time was a general contractor, and the two transformed the deli into another Buono's Authentic Pizzeria. A few years later, Buono took over the family business, running both locations. In 2004, he opened another location in Downtown Long Beach. "We are your neighborhood pizzeria. We are casual family dining. And the food is off the charts fantastic," Buono said. "The theme of every menu item is authentic Italian . . . made from scratch." "We love being here in Wrigley," Buono said, noting that the area is very diverse and has two strong neighborhood associations. Buono's will be the first restaurant in the Wrigley area to have a parklet – outdoor dining built over parking spaces – sometime this summer, he noted. When asked what he likes best about his work, Buono said: "The many friendships with our wonderful customers and the family like bond with our amazing team." Pictured from left are Buono's staff: Roberto Quintana, Arturo Tovar, Ernie Gonzalez, Frank Buono, Edgar Ruiz, Tania Callejas, Constantino Bermudez and Maribel Lopez.
Long Beach Finest Barber Shop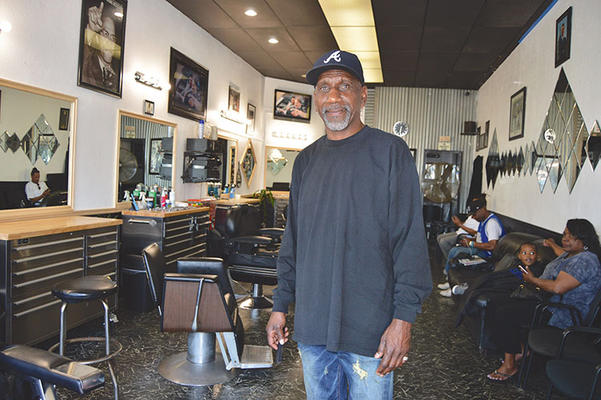 For two decades, Long Beach Finest Barber Shop has been run by a group of four friends. In 2006, the shop relocated to its current site at 327 W. Willow St. Three of the partners are Long Beach locals, and the fourth has been a resident of the city for years. "We all just got together one day and said let's do this, and we did it. We [had] seen that there was a need for it in our neighborhood, in our community," Amroel Allen, one of the partners, said. "We all grew up around here, so we all said instead of working for anybody else we just came together. That's why it's called Long Beach Finest." The shop caters to men, women and children. One of the four partners is a woman, which makes female customers more comfortable, Allen, who is pictured, explained. He said he enjoys the diversity of the city most and explained that the shop complements the surrounding neighborhood. "We're original. We are diverse enough that we can deal with anything that the city brings to us because we are all from the city," Allen said. "We're special. Come in and give us a try. I guarantee that you'll like the service."
Flow LBC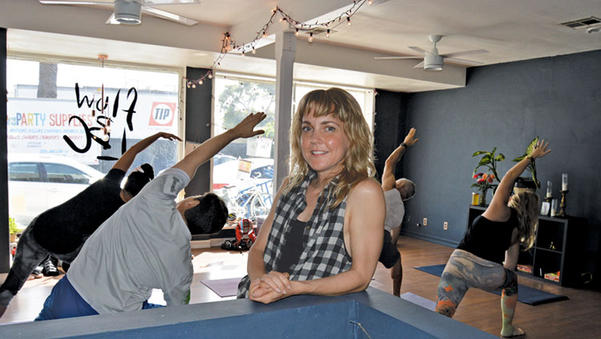 Ramona Magnolia first discovered yoga while pregnant with her daughter in 1995. At the start of this year, she celebrated the opening of her first studio, Flow LBC, located at 700 W. Willow St. Magnolia explained that she never intended to open a studio because she had heard horror stories; however, her brother provided the opportunity for financing, and she accepted. "What sets [my studio] apart is, I think, there's a sense of deeper connection with the students," Magnolia said. "It's more intimate – a sense of community and personal attention to your practice – because it's a smaller space, and it's not like we are just pushing one class after another." Magnolia's studio offers yoga seven days per week, as well as a class called Kid's Movement, which combines art, yoga and games for children. Magnolia also offers private yoga lessons, art therapy and offers art classes for children and adults with autism. Four other instructors offer various classes and workshops at the studio. "I think Yoga is important because it helps you deal with everyday life. It helps decrease stress. It helps with anything you have going on," Magnolia said. "It just brings clarity to your mind and brings comfort to your body."
Fox Coffee House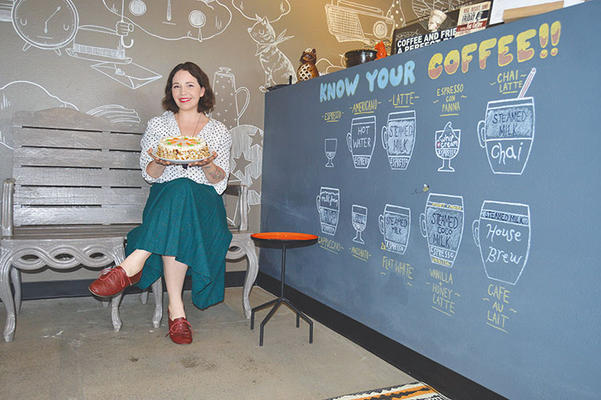 Mary Gallagher has dreamed of opening a coffee shop since she was 16 years old. Just over 10 years later, she achieved her vision by opening Fox Coffee House at 437 W. Willow St. in 2015. "I come from a Colombian family, and coffee is kind of a big deal," Gallagher said. "We would always drink coffee together, and it was kind of like a bonding thing." From day one, Gallagher has worked to ensure her business is an asset for the community, rather than just another coffee joint. Fox Coffee often hosts local club meetings and open mic nights, she noted. A former behavioral therapist, Gallagher invites people with special needs to work in her shop twice a week to gain on-the-job training. All the items on the menu at Fox Coffee are Gallagher's original recipes, including drinks, vegetarian dishes and vegan baked goods. "All of our baked goods are recipes that I have made from scratch. It is something we're really proud of," she said. "I am hoping that we can become a little more known for our baked goods." Although it is tempting to open another location, Gallagher said she is focused on growing her business in Wrigley and making it a positive force in the community.
A Castle Of Books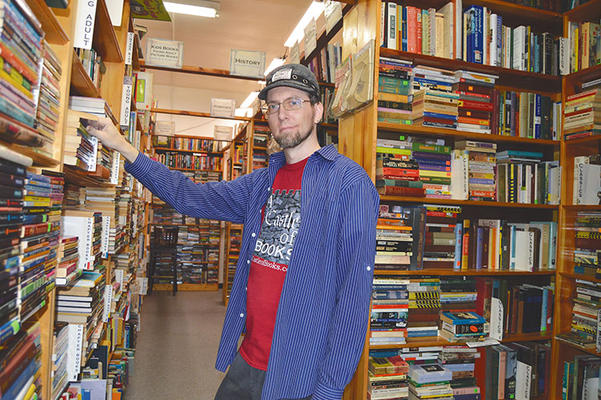 In April, A Castle of Books will celebrate its 10th year in business. The used and rare bookstore has moved a number of times over the years and recently relocated from Bixby Knolls to 484 W. Willow St. Although owner Aric Castle is still in the process of setting up the store, it has been open for business since January. "I was hoping there would be some sort of synergy with the antique store, the CD store and the game store that are right on the street as well," he said of the store's new digs. "And it's still only two miles from the other location, so I'm hoping our old customers will be able to find us easily enough." Castle had worked in bookstores since high school until he set up shop for himself. "I have always liked books since I was young," he said. "It always felt like something I was going to do." A Castle of Books mostly sells used books but also offers comic books, music, movies, games, toys and more. Castle purchases items from people looking to sell or trade, and he also accepts donations. "It's always fun to get something in that you have never even heard of or didn't expect to see," he said.
Greens Wrigley Boutique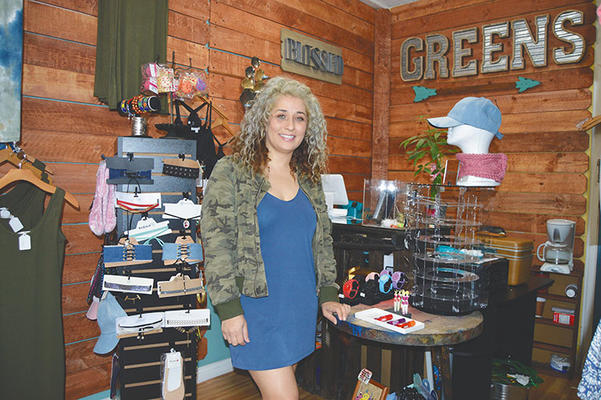 After owning a salon in the Bixby Knolls area, Long Beach-local Sandy Linares closed up shop and moved her family to the Wrigley area, where she opened Greens Wrigley Boutique a year and a half ago. "I have teenage daughters, and we wanted to do something together," Linares said. "We are buying clothes constantly, so we thought about opening a business together. So it's all a family thing. Mainly just us all working together and teaching them a little bit about working at a young age." Located at 700 W. Willow St., the store focuses on women's clothing and accessories, with much of the merchandise being purchased in Los Angeles's Fashion District. Linares said she tries to keep the shop fresh by changing up products weekly and buying from different vendors. She said she enjoys the sense of community in the area. Whether it's between customers or surrounding businesses, Linares said she loves the connections that have developed as a result of opening her business. "I just love the area. It seems to be growing," Linares said. "I can see the difference in the community. People are wanting to see it nicer. I'm really happy about that. People really take pride in Wrigley."