CH Topping & Co.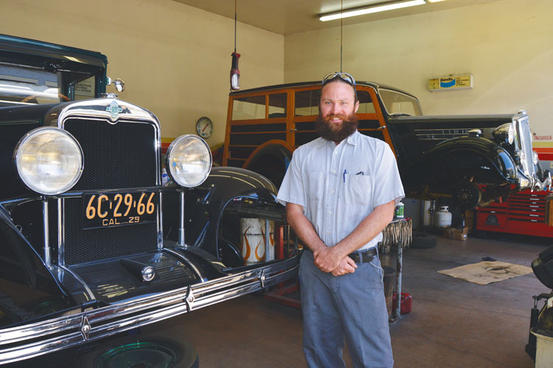 Now located in a 1925 brick building at 520 W. Esther St., CH Topping & Co. has operated in Long Beach since 1931. Vince Bunting, a self-described "gearhead for life," took over the business in 1980 and continues to run the business solely focused on brakes. When asked what the most rewarding aspect of owning the business is, Bunting said, "Probably fixing problems that can't be fixed. Most people that go elsewhere have their brakes done and have four-wheel disc and have these custom cars and spend all this money, and then they don't work." He said his shop works on many vintage and specialty cars but that he and his four employees also do a lot of fleet work, industrial equipment (including punch presses, laundromat and dredging equipment) and parts for stores such as O'Reilly Auto Parts and NAPA Auto Parts. He explained there is nothing brake related that his company cannot do in-shop, making his a true one-stop shop. "I'll never be able to own an old Ferrari or a '29 Packard or a Duesenberg, so it's nice to drive something I can never afford," Bunting said. "It's satisfying to fix something that nobody else can do. There's a satisfaction in finishing the job right." For more information, visit www.chtopping.com.
RTL Woodworks & Countertops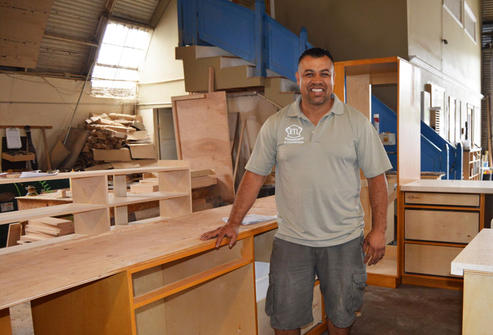 Rodrigo and Tania Lopez got married in 2002. One year later, they purchased a woodworking business, which had operated in Long Beach for several years, and turned it into RTL Woodworks & Countertops. "I went to Cal Poly Pomona for business administration, and she went to Cal State San Bernardino for business," Rodrigo said. "We both have backgrounds in furniture, so everything just came together and we decided to buy this business." The pair have 11 employees working in their shop, located at 1660 Hayes Ave., and in the field. Rodrigo said the company gets jobs throughout Southern California, including Catalina Island. The company builds custom kitchen cabinets, bathroom counters and storage, built-in shelving, media centers, buffets, hutches, side tables, bars, mantels and other wood projects. After bad experiences outsourcing stone countertop work to other companies, Rodrigo decided to add a countertop division to his company, which now accounts for 30% of sales and makes RTL a one-stop shop. "We work with anything. As long as it's wood and stone, we'll work with it," Rodrigo said. "The most rewarding part is the customer satisfaction. I like when customers are happy and recommend us to somebody else. That's how our business has been growing." For more information, visit www.rtlwoodwork.com.
Galaxy Scooters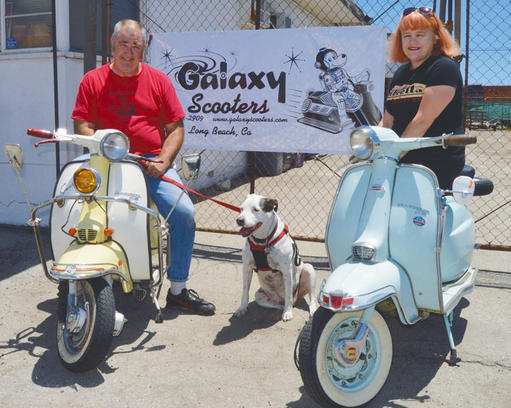 Four years ago, owner Kelley Bates and mechanic Tim Loungway teamed up to open Galaxy Scooters at 820 W. Esther St. "Tim has been a scooter mechanic since he was a teenager . . . and there were no scooter shops in Long Beach," Bates said. "So he started working on scooters around here, and then we just grew the business." Bates said the shop is a welcome relief from her work as a geriatric social worker. Though Galaxy specializes in vintage scooter repair and restoration, such as Vespa and Lambretta brands, the shop also works with modern models. Bates said scooters are ideal for Long Beach residents because of impacted parking throughout the city. Loungway said clientele ranges from daily riders to those who ride their scooter once a year. He added that the pair hope to grow the business into a scooter dealership. "When you fix a scooter and the person gets on it and rides it and they have a big smile on their face, you vicariously live through that moment of when you first got your scooter and were excited about it," Loungway said. "I'd like to see scooters become more of a staple in Long Beach, as far as travel." Pictured with Kelley and Tim is their best friend, Brooker. For more information, visit www.galaxyscooters.com.
City Foods Wholesale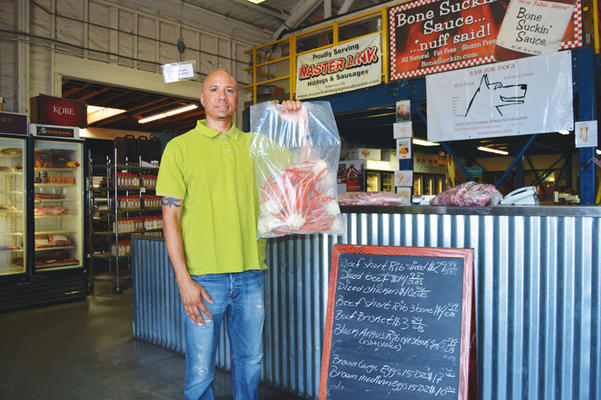 Jaime Espinoza said he was born into the meat industry, with a father employed as a meat trader. In 2011, Espinoza opened City Foods Wholesale at 711 W. 16th St., which features a variety of specialty meats. "When I started, it seemed like a good idea because everybody has to eat," Espinoza said. "There's quite a few people who want to try it, but they don't have an outlet to actually try it. So it seemed like something that would be fun to have for that wow factor." The store has more than 200 different types of meat products at any given time, according to Espinoza. The ever-changing product list often features items such as wild boar, buffalo, kangaroo, crocodile, turtle and alligator meat, along with more common meat products. "I've been in Long Beach a long time. I like the diversity here – it's sort of a melting pot of everything," Espinoza said. "Our niche is that there are so many items out there that people don't know about. What we like to do is offer you everything from lower income to upper income. The main thing is the variety that we offer. You can't get that variety at any grocery store."  The store is open to the public seven days a week. For more information, visit www.cityfoodswholesale.com.
Joyful Paws Pet Hotel & Daycare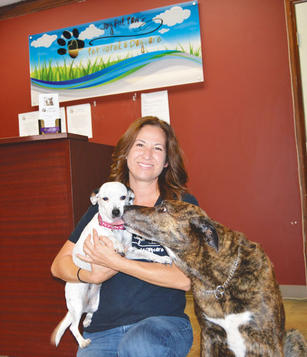 June marks the five-year anniversary of the opening of Shawnté Marquez's Joyful Paws Pet Hotel & Daycare. After spending a decade in corporate advertising, Marquez decided to pursue a career she was more passionate about. "I've always loved animals. As a child, I always had dogs and cats as a part of my family – naturally, I've always been drawn to them," Marquez said. "In high school, I was always the person the neighbors would call to watch their pets when they were away." Located at 1701 Fashion Ave., the 12,000-square-foot facility and its 12 employees can comfortably and safely accommodate up to 70 animals at a time, according to Marquez. However, the average is between 30 and 40 pets. Joyful Paws cares for dogs and cats, though Marquez said she has gotten requests for turtles, rabbits, birds and snakes. Indoor play areas include rubber and turf floors, as well as pools in the summer. "All of my staff goes through a 16-week course learning about dog language, body language, stress signals and also how to care for them in group play," Marquez said. "I might be one of the only facilities that actually puts my staff through that intense course of training." For more information, visit www.joyfulpawshotel.com.
Long Beach Ice Cream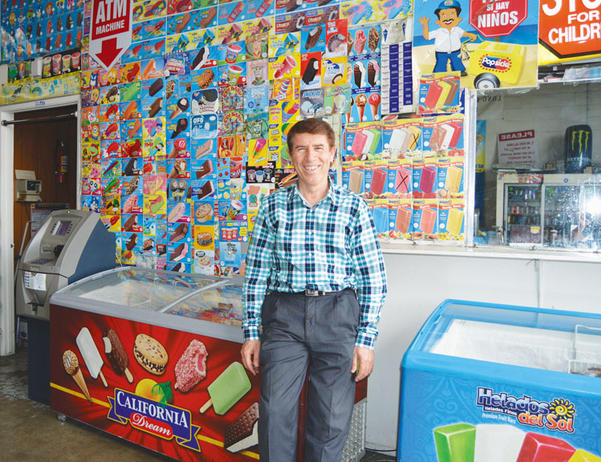 In 1992, after driving his own ice cream truck for more than three years, Bahram "Bob" Bakshi opened his own ice cream wholesale store, Long Beach Ice Cream. Bakshi is an Iranian immigrant who came to Los Angeles in 1985, where he would later enter the ice cream business. After driving his ice cream truck in L.A., Bakshi saw a hole in the Long Beach ice cream market. "There was no ice cream wholesale commissary here, so I decided to come and open here," Bakshi said. "I like it a lot because it's a good community and I like the city." Located at 1416 W. 15th St., the wholesaler now has two employees and does 80% of its sales to local ice cream truck drivers. The other 20% of business is with small mom and pop stores. His best-selling brand is Blue Bunny, famous for cartoon character ice cream bars with gumball eyes. "I love my job. I'm so satisfied with what I am doing. I serve the people who love ice cream – mostly it's kids," Bakshi said. "When I was a kid, I used to eat a lot of ice cream. So I like this business because I serve the kids mostly." For more information, visit www.longbeachicecream.com.