As 2020—a challenging year, to say the least—draws to a close, it seems the holidays and the joy they bring are more welcome than ever. To offset lost business and brighten the holidays, Bixby Knolls staple Rasselbock Kitchen & Beer Garden sold about 200 Christmas trees out of its outdoor dining area over the last two weekends.
"Everyone is tired of this year," said Joseph Stowers, server and now, Rasselbock tree expert.
"Last December, I wouldn't have said, 'Come next year, we'll be selling trees on the patio,'" said chef Keith Hartwig, who conceived the idea. "But it's been a year of twists and turns."
As coronavirus cases continue to reach unprecedented levels and more restrictions go into effect, businesses across the state are getting creative.
Hartwig recalled sitting down with owner Bjoern Risse and one of the eatery's managers to brainstorm ideas for additional revenue streams while the restaurant could not offer its full service amid the COVID-19 restrictions. Hartwig said his original idea was more of a joke involving a rental truck, a chainsaw and a drive up to Stanislaus National Forest.
But the seed was planted and the team moved forward, opting to buy trees from a wholesaler, rather than commit any felonies.
"We've been successful with our little market, Christmas is coming up and we've got this outdoor space, so we utilized it," Hartwig said.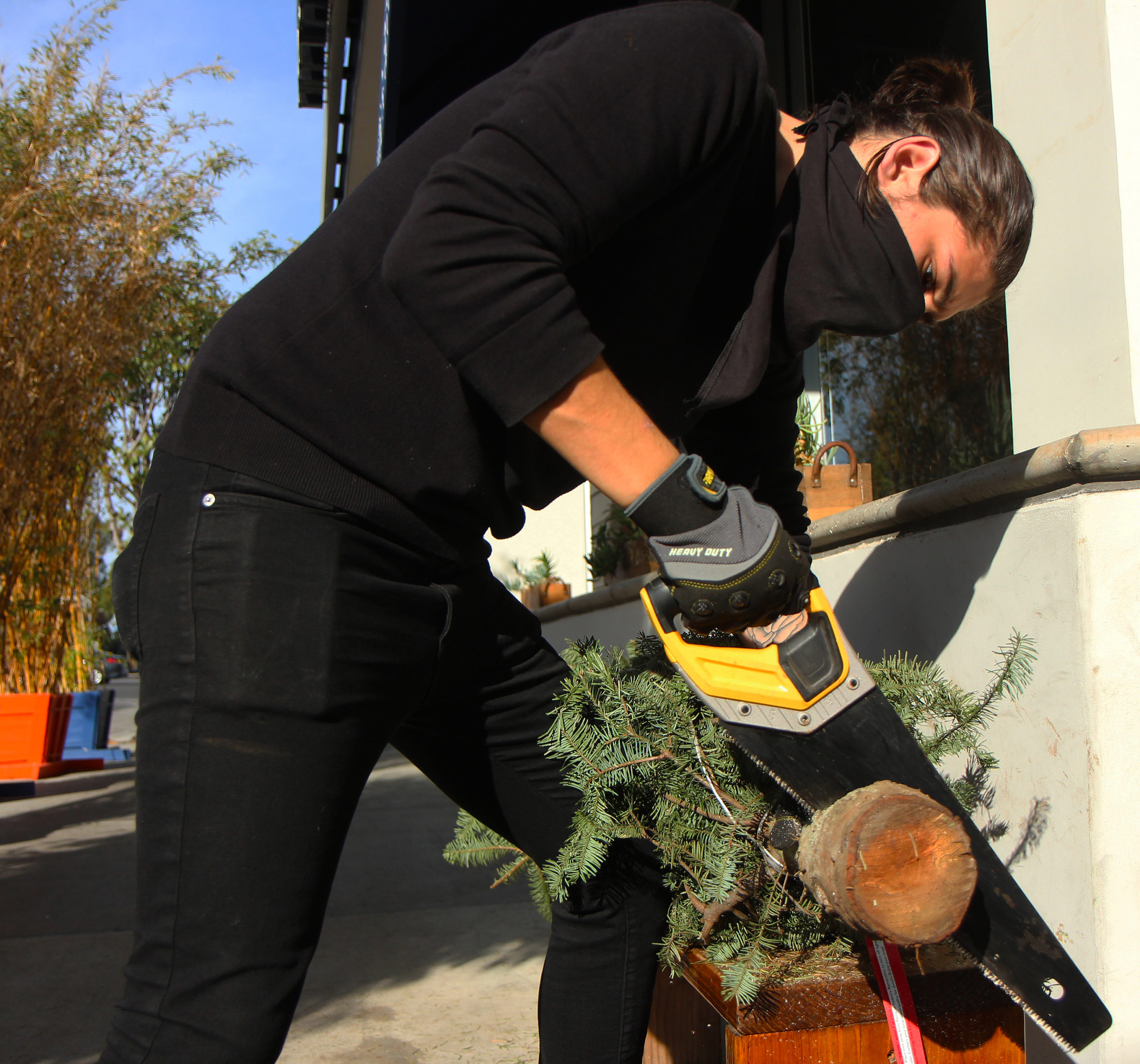 The community response was instantaneous, Stowers said. Aside from generating revenue in and of itself, the trees also boosted other sales at the restaurant, including to-go food and beer orders as well as sales from the mini-market set up inside.
Pierre and Jazmine Crus purchased their family tree—and two beers—from Rasselbock Sunday after being recommended by a staff member at the California Heights United Methodist Preschool, where their child attends.
"It's an opportunity for the community to give back to small businesses," Jazmine said, adding that many local shops give back to the community. "If we don't invest in our community, whether it's programs, services or businesses, they're not going to be here."
Pierre had lost his job early in the pandemic, putting the married couple in a difficult spot financially. Fortunately, he is back on his feet and eager to support businesses and their employees.
"I really know how it feels to be in the same position that a lot of people are in right now," Pierre said. "If we're in a position to tip a little extra or buy a tree from our local business, every little bit helps and we do what we can."
The restaurant received a third shipment of about 50 trees Sunday, which are for sale during regular business hours: 5-9 p.m. daily and noon to 3 p.m. Fridays, Saturdays and Sundays. If the trees sell out again, a fourth shipment may be ordered, Stowers said. Despite the extra work for Stowers, Hartwig and the rest of the staff, being able to bring a little holiday cheer to the community was well worth the effort.
"People want the holidays, they want the cheer," Hartwig said. "People just want to be happy and have a festive end of the year."
Editor's note: A previous version of this story said no more trees would be ordered but the restaurant received a new order or trees.