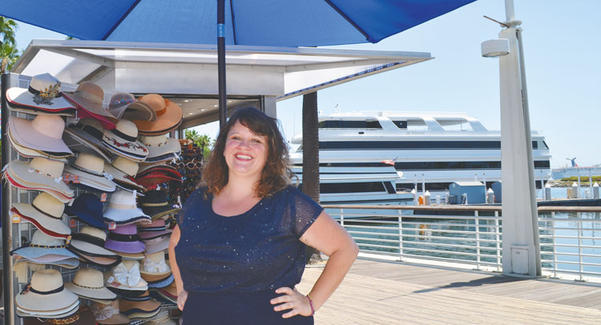 Second District Councilmember Jeannine Pearce, pictured at Shoreline Village. (Photograph by the Business Journal's Pat Flynn)
LBBJ: Do you feel business owners in your council district are happy with the direction the city is going?
Pearce: I definitely feel like businesses in my council district are happy with the direction it's going. From downtown to 10th Street, 4th Street, Broadway, we have been intentional about delivering on progress for every part of our business community. We have made sure that we are investing in our BIDs [business improvement districts]. We have made sure that businesses have a seat at the table when it comes to every discussion. In the beginning of my term, we launched the conditional use permit study and hired an outside consultant to work on that. Our business owners throughout the district have been involved in that process, and that's coming back to council in September after a lot of thought. We have also . . . been working on an entertainment overhaul to reduce costs, so [businesses] can open their doors to live entertainment more frequently. For places like on the Promenade and here at Shoreline Village, making sure that we are opening them up to busking, where people can come out and perform and create another layer of culture in our city. I feel overall the business community is really happy with the direction that we're going.
LBBJ: In your two years on the city council, how have you worked to build relationships with businesses in your district?
Pearce: I started with a transition team as soon as I was elected. On that transition team I had several business owners, from big businesses to small businesses. They have been a part of my advisory team every step of the way. I call them before items come up. I coordinate meetings with them. Every [city council] item that I have led, I have done after having coalition meetings with partners. A lot of them have my cell phone [number] and call me with any issue that comes up. . . .
In between Cherry and Alamitos [on 4th Street] is the next business corridor I am going to focus on. . . . Working with those businesses, the first step was a public safety meeting. The second step is we are going to be coming together every other month to put together a neighborhood street cleanup. We are doing power washing. Then we're going to start having meetings about what kind of BID they want to be a part of. Do they want to be their own BID? Do they want to join the DLBA or Retro Row? Having that ownership on 4th Street is going to completely change that block, so that when you're coming down the street you don't have that gap where you feel like it has been abandoned.
Any time we have a new business open up, I connect them with PD [the Long Beach Police Department] so they can go out and do a CPTED [crime prevention through environmental design] review. CPTED is where PD will come out and do an evaluation of how to deter crime. . . . Yesterday we put in a request for Bixby Park. We have had a lot of issues there. Obviously, the businesses around there are impacted by that as well.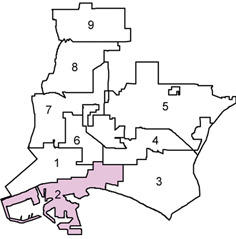 Map showing the 2nd District in the City of Long Beach.
LBBJ: What are businesses in your district telling you are their biggest challenges?
Pearce: My district is very diverse, from downtown to 10th Street. In downtown, our businesses want to talk about branding as an entertainment area. . . . Now that we have had such transformation in downtown, people feel more comfortable doing big events. That's one of our challenges – how do we balance out those events with the regular business that we have? . . . . None of us want to see the entertainment part go away, but we need to be sure we are doing it in a way that respects those who are here, both downtown residents and businesses. In our downtown, that is the biggest challenge.
On 10th Street and 4th Street, it's public safety. It's making sure people know there are businesses there and open. Retro Row, the biggest challenge we've seen there is the rents are increasing. . . . We had both the owner of inretrospect and the owner of Portfolio [Coffeehouse] in the same six-month period have their rent increase significantly, upwards of 20%. Those types of rent increases for small business owners when they are already dealing with the changes in the market are a death sentence. . . . One of the questions we are going to be asking coming up is, how are we balancing, especially in BIDs, to protect Long Beach businesses? It's not to say that we don't want to have new investment or new ideas. We are going to get a lot more of that because of the success of the city. How do we balance that and protect those people [who] are volunteers whenever they step out of their store?
LBBJ: As the elected representative in your district, what steps have you taken to make Long Beach business friendly?
Pearce: On 4th Street, I am really proud because the things we have done there have been around safety. People always crossed the street on 4th Street before we had a crosswalk, so we partnered with Luis [Navarro, owner of Lola's Mexican Cuisine and The Social List] to pull together funds to put the crosswalk in. The [new] festoon lighting is something the businesses have wanted for 10 years. It's branding and celebrating those areas. With Broadway, it's the same thing. The Broadway plan is a big deal. It's going to completely change the face of that street, and it has been important for those businesses because parking is so impacted. . . . I have also added 132 [parking] spots in that area. The businesses there will tell you they have noticed a difference.
Also, making sure that everybody's voice is heard and that they have a seat at the table. When the [city] did the polystyrene ordinance, we sat down with every business that we could. . . . Most cities don't work like that.
We have supported the port. Eighty percent of the port is in my district. Making sure that we are working not only to green our port but that we are doing it with an eye towards growing. I am really happy our port is seeing outstanding numbers like never before. The fact that we are going to have the largest Tidelands [Fund] transfer is a huge sign of how great our port is doing while being the greenest in the nation. It sends a great message around greening and business. . . .
The big things on my agenda moving forward are small business retention and community choice aggregation, which is something we as a city need to start talking about it. It's our choice on where we get our energy. Are we using solar? Are we using wind? Where does that energy come from? Are there incentive programs? How do we get small businesses to get solar? Anything we can do to reduce the costs for businesses while cleaning up our environment is a no brainer.
LBBJ: What sorts of businesses do you feel your district has a need for, and do you have a plan to attract such businesses?
Pearce: We've got great restaurants. I would like to see our local restaurants [incorporated] in some of our downtown big businesses. We have got the American Life hotel that is coming up on Ocean [Boulevard] and Pine [Avenue]. One of the agreements with them when we gave that approval was that if they had a local restaurant as their restaurant they would get a pass on some other things. Incentivizing hiring our local folks is really important, because we know when we have local restaurateurs they treat their workers with dignity and respect and they pay them well; they have health insurance. The other businesses I'd like to see in my district are creative businesses. . . . My pie in the sky [goal] is that we have some type of science center in the 2nd District by the end of my second term.
LBBJ: Is there anything you would like to add?
Pearce: The increase of walkability in the Broadway project is what's going to help those businesses even more. We also have a lot of open storefronts on Broadway, so now that we are fully staffed, one of the goals is going to be to help fill those but to do it with an eye to keeping the character of Broadway.