Due to the "one-two punch" of declining sales and increasing rent, vintage store In Retrospect, located on 4th Street's Retro Row, closed February 25 after six and a half years of operation. Another businessowner on the street plans to transform the space into a shop and collaborative space for artisans.
"We probably could've weathered one or the other," owner Chris Giaco said, "But both at the same time became an unsustainable situation." Giaco also serves as the president of the Fourth Street Business Association, a position he is stepping down from in May.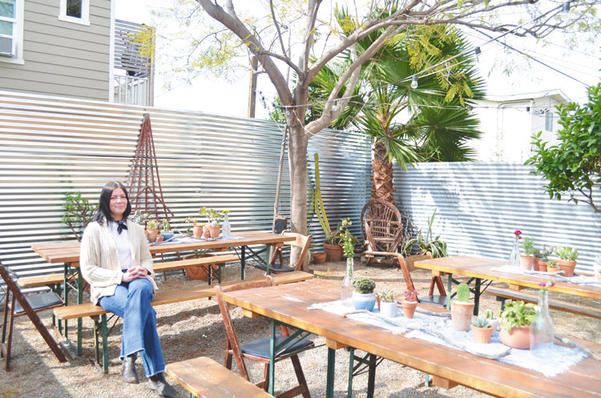 Melissa Carpenter, owner of The Hangout on 4th Street's Retro Row, relaxes in the shop's back garden. Carpenter is taking over the space next door, formerly occupied by vintage shop In Retrospect, and will continue to lease the garden area. She plans to re-imagine her shop into a platform for different vendors who will also host workshops in the garden. (Photograph by the Business Journal's Pat Flynn)
The neighboring store, The Hangout, which features clothing, housewares and other items will take over the 4,000 square-foot space. Store owner Melissa Carpenter said she is re-imagining her shop as a platform for several different vendors. She'd also like to host regular workshops with the artisans whose products are featured. Some of these will take place in The Hangout's back garden, which has an 11-foot worktable that seats 14. The shop will continue to operate in its current smaller space until it reopens next door on June 1.
"I go after the [vendors] who are creating from their own skillset, maybe doing things handed down from family tradition," Carpenter said. "We're focusing on creating an environment for people that's giving and warm. Almost like you're going to your own house."
One of these artisans is a horticulturist transitioning out of a corporate job as a footwear designer, Carpenter said. She has already held a few workshops on succulent care and cactus propagation at The Hangout. In the new space, Carpenter also plans to host a quiver maker to custom-make key chains and leather wallets on the weekends. A quiver is a container for holding arrows, bows or darts traditionally made out of leather, fur or other natural materials.
Carpenter described her quest to identify artisans as an "obsession," and said she is reaching out to artists all over the world. "They're all hand makers, nothing is mass-produced. . . . Everyone I bring in has a story. They may be transitioning from a corporate job, they may be a single mom, they may be learning [the craft] from their grandmother. . . . Everything is original, one-of-a-kind pieces."
Giaco plans to have a space in the shop as a book vendor. In addition, the store will include a lounge for visitors to listen to records and a buy-sell-trade section for vintage pieces. Carpenter envisions the latter designed like an old-fashioned trading post with a military tarp tent.
"Everything is hands-on," Carpenter said. "You get to feel the vinyl and smell the old book. All these things that were so important to me, I'm excited to make readily available in an environment where you can just hang out."
Carpenter is hosting a festival for the Amgen Tour of California, a professional cycling race, in the new space on May 13. This year's event takes place in seven stages from Long Beach to Sacramento,  May 13 to 19. Carpenter's celebration will feature a chopper bicycle show, local musicians, skateboard signings from local teams and a pig roast in the Hangout's back garden. "We're pulling from the core of Long Beach and interpreting the bike race as a way of celebrating movement and wheels," she said.
The event will be part of a larger 4th Street  celebration for the Amgen Tour. It is the last event Giaco plans to oversee as association president before his term expires at the end of May. The nominating process for a new president begins in a couple of weeks.
"I'm very attached to 4th Street. I've always been involved with the association even before I was president," Giaco said. "I have a vested interest in seeing that area do well and continue. Everybody was sorry to see In Retrospect go, as were we. It was just time to move on. . . . We're happy that a known store is taking that space. There was talk about it being subdivided, and we're glad that it's not. I think even the name 'The Hangout' will serve it well, since it's the largest store on the street.