Chris Steinhauser doesn't care about records. The outgoing superintendent of the Long Beach Unified School District recently announced his retirement, just a few months shy of attaining the distinct honor of being the district's longest-serving leader. 
After spending 56 years in the district, first as a student, then as an employee, the decision to leave his post didn't come easy, said Steinhauser. "I'm not ready to retire, I love my job," he said. "But it's just a good time for our organization."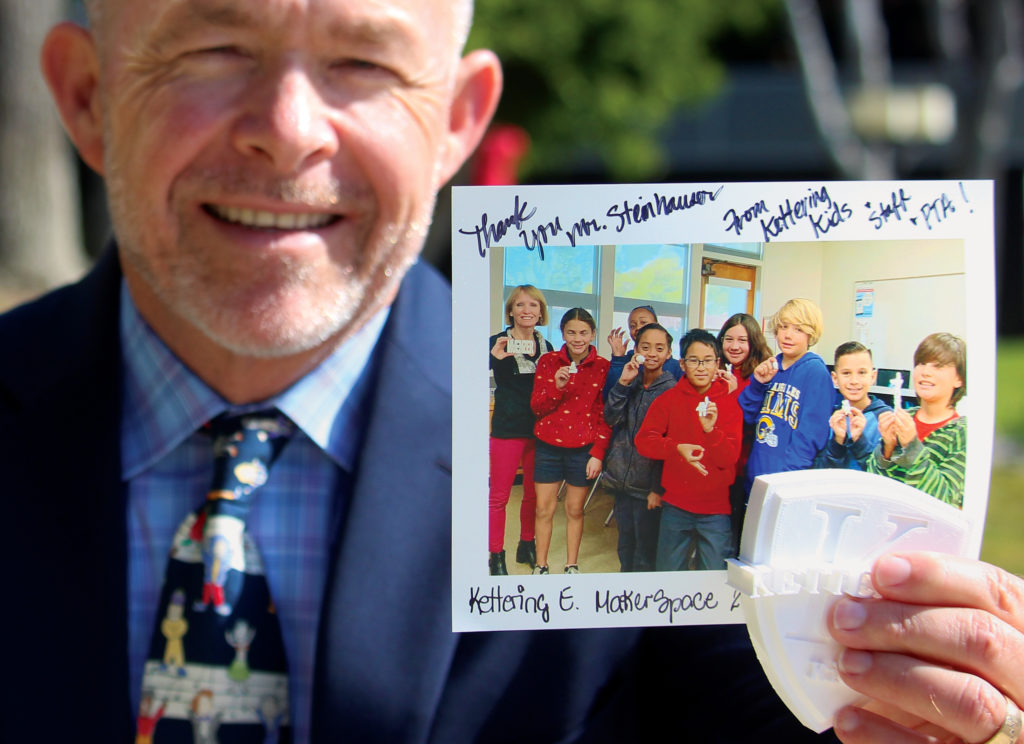 The district's Board of Education is hoping to find Steinhauser's replacement by May after agreeing to open the search to statewide candidates. A 20-member advisory committee that will include representatives from the board, Cal State Long Beach, teachers associations and other unions will be created to guide the process.
Under Steinhauser's leadership, the district has become a model for surrounding agencies, especially when it comes to narrowing the achievement gap between black and Latino students and their white and Asian counterparts. 
In 2018, LBUSD had a graduation rate of 85.5% for black students, far surpassing state and county rates, which were at 73%. The district's Latino students graduated at a rate of 84%, compared to 80% on the state and county levels.
The outgoing superintendent was cautious not to take too much credit for that progress, and noted that there's still plenty of work to be done. But the conditions are right to continue what has been achieved under his leadership. "I'm very proud of what folks have done and the culture that's here," Steinhauser said. 
He also made sure to point out that his retirement from the district is by no means a retirement from public education. "I'm a huge public school advocate. I believe it's the backbone of our democracy," Steinhauser said. 
Now, he's hoping to utilize his expertise to help grow opportunities for public school students across the region or even the state. What shape this effort will take or who's payroll he will be on in the future remains to be seen. 
"I've been approached by groups, but I haven't signed onto anything yet, because I make sure that what I do is really maximizing where I believe I can be an asset," Steinhauser said. "What I have to do is find [out] where I can help the public system grow."
While Steinhauser feels confident about the position LBUSD is in financially, the public system overall is feeling the pressure of rising pension liabilities, declining enrollment and the increasing cost of special education, he said. 
"One of my hopes and challenges would be: How can I help other school systems get through those tough waters like we've been able to?" he said. 
One guiding principle of Steinhauser's approach to financial planning has been to project revenues and costs comparably long-term: His administration relied on five-year budget plans. Consistency in schools' offerings to students was one primary objective of that approach. 
"We get one shot with our children," he said. "I have to make sure that what we do is good and is ongoing."
The increasing cost of living in Southern California and the Long Beach area will be one of the biggest challenges for the district, Steinhauser projected. 
"One of the big concerns I do have for the future is: how do my own employees stay here, live here, raise their families here. Because that's really, really important," he said. "That's how your community becomes better and stronger."
As for his decision to leave, Steinhauser pointed to an interaction with a student who had recently moved to the district from Watts. The student, who was on his way to college at the University of California, told Steinhauser that moving to Long Beach and going to school in the district had drastically changed his academic trajectory. How, he asked, was it possible that his opportunities and outlook changed so much by just a few miles distance?
"That's a great question, and that shouldn't be," Steinhauser said. "As an educator you say: how can we make sure that all kids, no matter what system they live in, have that opportunity?"