Whether it's the roaring sound of rock 'n' roll or the folksy melody of country, Madisyn Jeter immerses herself in all kinds of tunes. No matter the piece, Jeter finds something to admire in any song. "When I say I like all music, I like all music," she said. "I can always find something to appreciate about some kind of music. . . . It's my passion. It's kind of what keeps me going throughout the day."
Pursuing passions is one of the many focuses of Long Beach Community Action Partnership's (LBCAP) Leadership Academy Mentoring Program (LAMP). Jeter, who is 19, was one of 48 youth enrolled this summer in LAMP. The program offers leadership development in tandem with digital arts training in an effort to provide "self-sustainability" for low-income youth from ages 14 to 24, according to Darick Simpson, executive director of LBCAP.
Offered year-round, LAMP offers digital media courses to local teens and young adults as a type of "hook" to then also teach concepts involving critical thinking, leadership and etiquette, Simpson told the Business Journal. He said these classes teach basic life skills. "They are better prepared to matriculate into the mainstream of society, regardless of where they come from socioeconomically," he said of LAMP participants. "There's a lot about life these kids don't know. Digital media arts are the hook to get them here, but when they leave here, they are better prepared to go out into this world and compete and be confident in themselves as they compete. They have the talent to do so."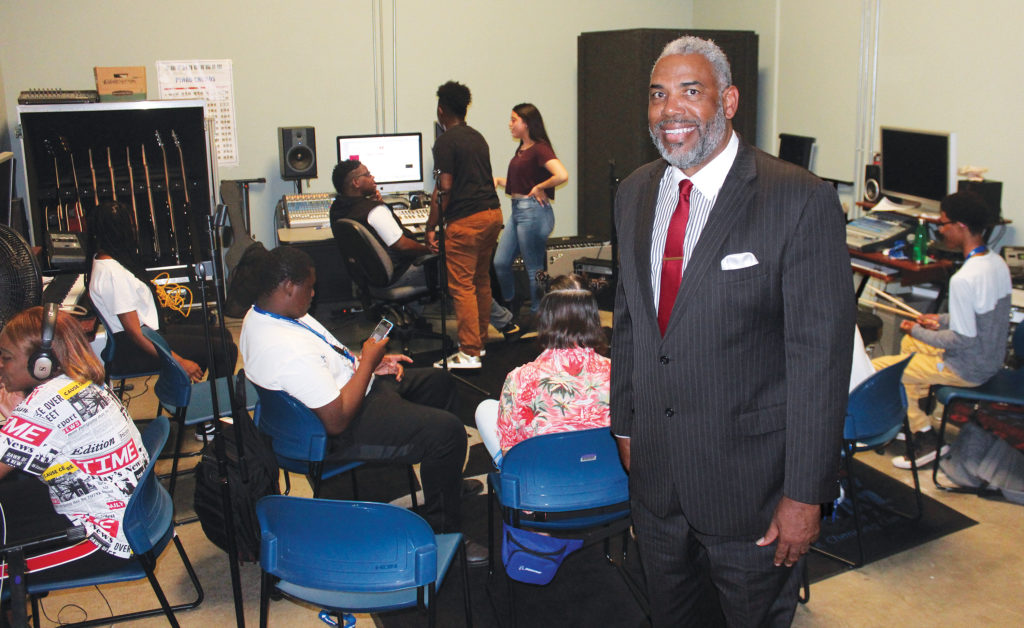 To be eligible for the free program, LAMP students must fall within a certain low-income range based on total household income and the number of people in a household, per U.S. federal poverty guidelines. "But if you see those students, there is no label on them," Simpson said. "They're just here and hungry to learn."
The U.S. Department of Health and Human Services funds LAMP through the Community Services Block Grant. Simpson said students who are just above the income threshold have opportunities to apply for grants through the Long Beach-based Josephine Gumbiner or Munzer Family foundations. He added that LBCAP is constantly seeking additional funding for LAMP to supplement the block grant monies and serve more students.
LAMP is separated into four disciplines: film and TV production, graphic design and screen printing, music production and photography. At the conclusion of their curriculum, students may earn up to a $1,000 stipend, a figure dependent on attendance.
LAMP's summer program began June 25 and concluded August 8, when students showcased their digital work from the session to friends, family and instructors in an event known as the Summer Showcase at The Grand Long Beach. Students attend LAMP classes three days a week during summer sessions and twice a week during the school years.
Ashley French has been a photography instructor for the LAMP program since early June. French remarked how quickly the students adapted to the intricacies of camera work and editing, skills that college students sometimes struggle to learn, she said. "These guys are all really naturally talented," she said. "Not only are they learning these skills . . .  but [also] other things like learning to make eye contact and shaking people's hands, and dressing appropriately and being a kind person to others," she noted. "So, if they go to a job interview, they have all these things in the back of their brain on top of having a skill – which I think is huge and what makes the LAMP program really special."
A graduate of the Renaissance High School For The Arts, Jeter has pursued her passion for music production in LAMP since summer 2017. She signed up for LAMP for the third year in a row not only because of the bonds she has developed with peers, but for the instructors who are encouraging of student input in projects. "They make it a point to make sure that youths know that their ideas aren't dumb," Jeter said. "And they listen. I think adults that listen are like the coolest people ever."
Kaitlynn Keang, a 14-year-old LAMP student focusing on graphic design, learned about the program from a sibling involved in the curriculum in 2017. Often doubtful of her own abilities, Keang said she had low expectations of her work when starting the summer session. As she began receiving encouragement from classmates and teachers, Keang started to realize that her work had value. The support derived from the LAMP program gave Keang the self-esteem to tell herself that "maybe I can do it."
Running parallel with the summer LAMP initiative is LBCAP's internship program for Public Access Digital Network (PADNET), Long Beach's public access television station. PADNET airs on Charter 32, Frontier 41 and online at padnet.tv.
The City of Long Beach awarded LBCAP the contract to operate the channel in 2012. LBCAP handles operational costs, while the city provides the capital dollars, Simpson said. Public, educational and governmental funding supports PADNET expenditures, in addition to other grants, earned revenue and donations.
Over time, PADNET garnered enough resources to offer classes and allow those with a membership to check-out video equipment and use editing software in the studio to create original content.
This year's PADNET summer interns are from California State University, Long Beach (CSULB), Long Beach City College and CSU Dominguez Hills. Out of 93 applications this summer, LBCAP selected seven interns to perform hands-on production work in the PADNET studio for college credit.
Stella Sanchez, a CSULB PADNET intern, said she did frequent camera work in the program, often going out into the community and interviewing public officials or gathering footage, also called B-roll, for a story. She also did graphic design and created banners or advertisements using Photoshop. "They don't limit the things that you can do based on whether you can do it or not," she said. "That's what I like; it's open-ended to learn and take your own skills and [then] apply them to what you do here."
Those interested in applying for the LAMP program or PADNET internships in the fall can visit lbcap.org and padnet.tv, respectively. PADNET applications are due August 19, and LAMP registration will begin in September. Simpson said LBCAP is seeking to expand its services in an effort to continue not only providing media instruction to youth, but to build up their self-esteem and self-image. "[These programs] give these kids hope," Simpson said. "It gives them an opportunity to believe in something that is real, and it doesn't evaporate, because what's real is their talent and their desire."