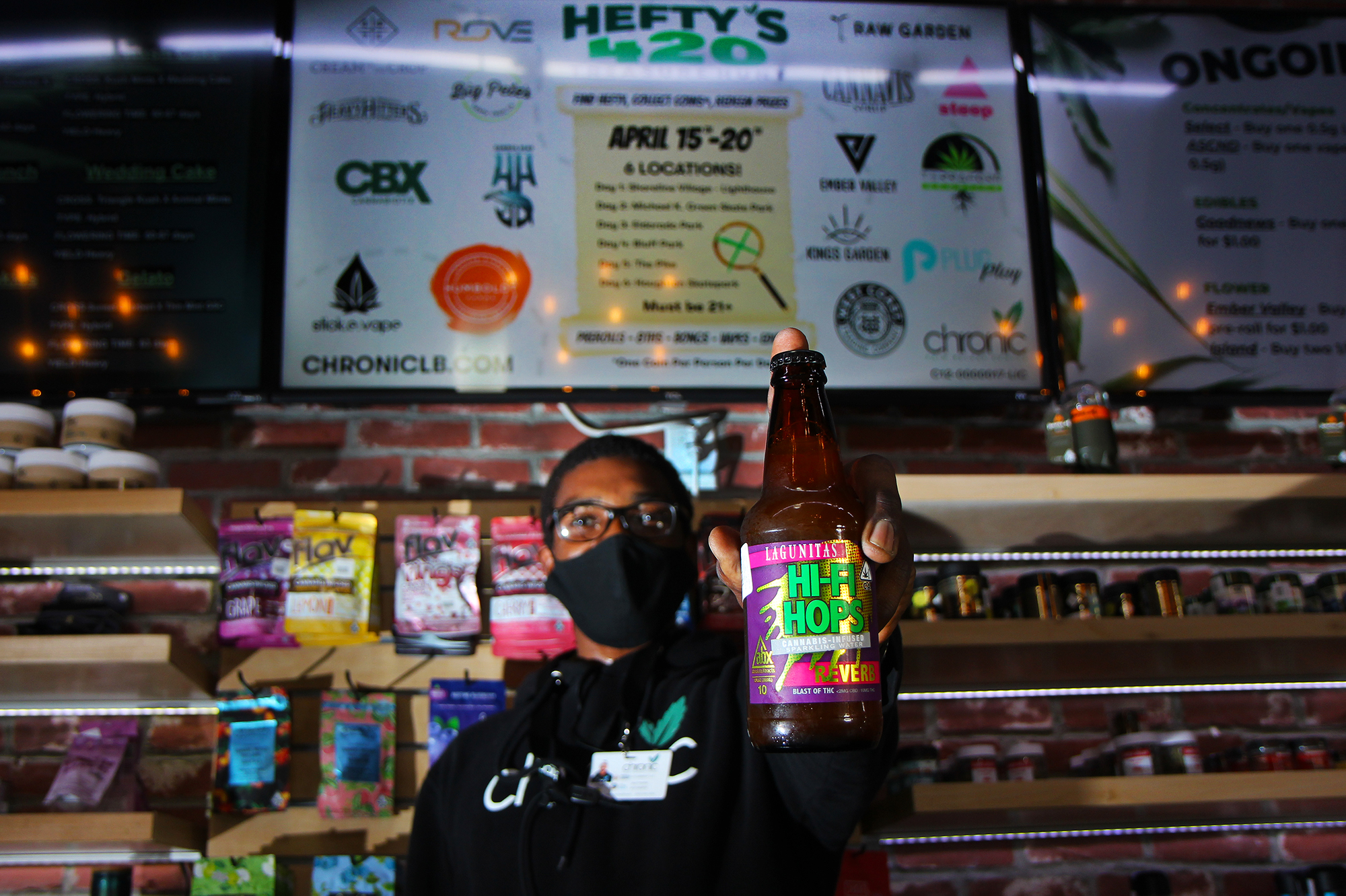 Cookies, gummies, brownies—edible THC products have been a staple among cannabis consumers since long before the drug was fully legalized in California in 2016. But as of late, a less well-known form of consuming cannabis has taken hold: THC-infused drinks.
While beverages still make up a small portion of the $4.4 billion legal cannabis market in California, an increasing number of brands are developing products in this segment, including a Canadian company with a new facility in North Long Beach.
Tinley Beverage Company, which is publicly listed on the Canadian stock exchange, recently purchased a 20,266-foot building on 59th Street, where it hopes to soon produce THC-infused drinks at large scale.
"When you say the words cannabis or marijuana, nobody thinks of drinking it," said Rick Gillis, Tinley's president for the Western U.S. region. Tinley and other companies are poised to change that. "We want people to come over to this industry that's now legal in California and enjoy it in a way that's socially acceptable."
Socially acceptable is a key term here. While other common forms of consuming cannabis, specifically vaping and smoking, might not be welcome in all environments, beverages are.
"You can't smoke in hotels, restaurants, airplanes—you can't," Gillis said. "Drinking is a little bit different. So what better idea than to build an industry in a category that everyone's quite comfortable with?"
Market data shows that the product category of THC-infused drinks is slowly picking up steam.
According to data from Seattle-based cannabis analytics firm Headset, sales of cannabis-infused beverages increased 40.3% last year compared to 2019 across all states where recreational cannabis is legal, meaning the submarket slightly outperformed in terms of growth the overall cannabis market, which increased 39.4% in the same time period.
While those numbers aren't exactly a sign of consumers' wholesale endorsement of the product category yet, investment from players in the national beverage industry indicates a growing interest in the market for cannabis beverages, experts say.
"There's a lot of hype and expectation, especially when it comes to the long-term opportunities," said Bethany Gomez, managing director of the cannabis-focused market research firm Brightfield Group.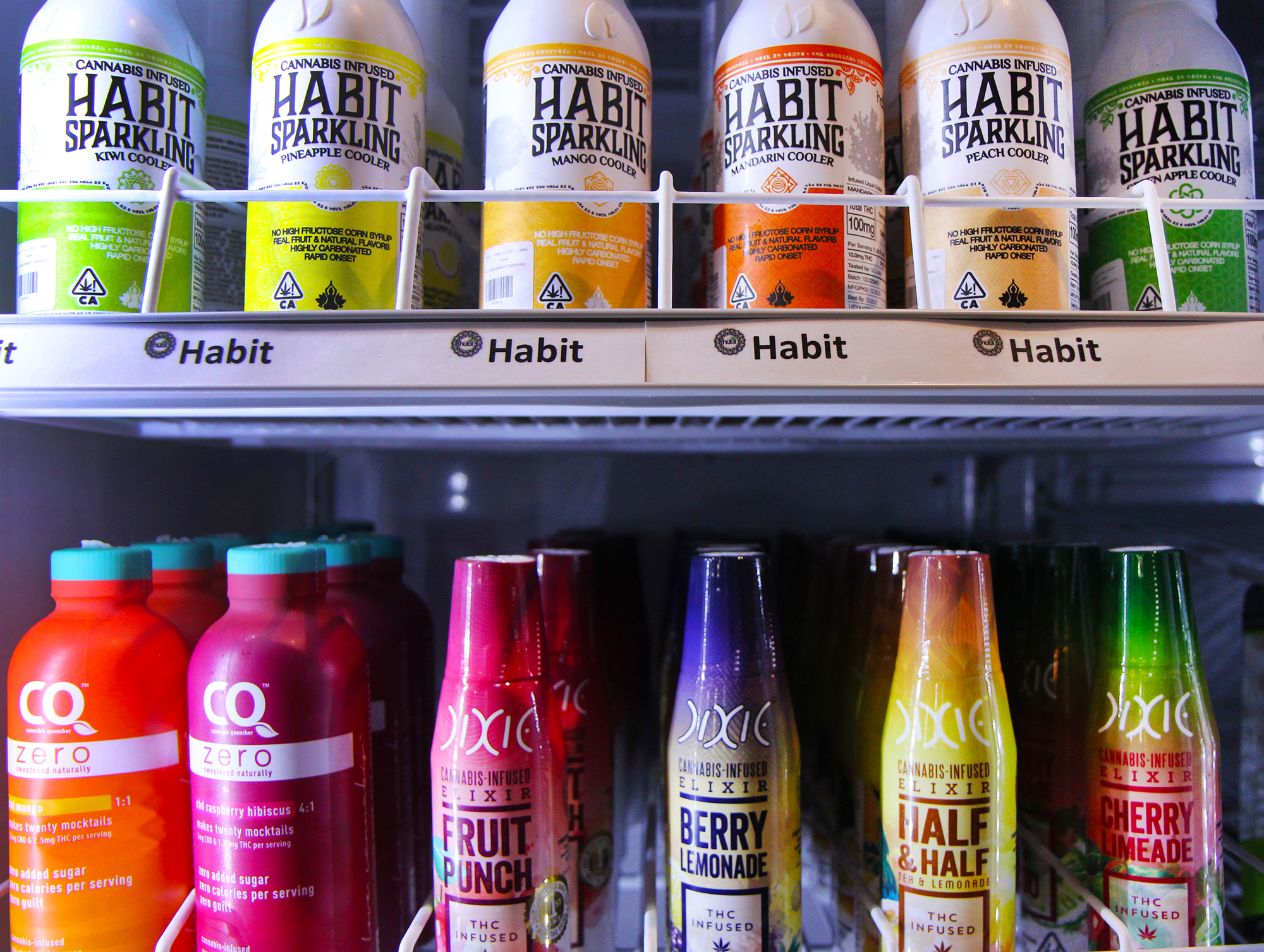 Gomez said she expects the cannabis beverage sector to clear the $1 billion mark by 2025.
The first sprouts of this can already be found at local dispensaries, where THC-infused seltzers, ice teas and alcohol-free beers are sold next to the actual seedlings of cannabis plants.
Elijah Avery, a lead cannabis consultant at Chronic Pain Releaf Center on the Westside said a lot of customers are curious about the dispensary's selection of psychoactive drinks. However, those conversations have also revealed some of the challenges toward establishing this new product category as a go-to among consumers.
"It definitely is growing in popularity," Avery said. But, "It's a product I have to explain a lot."
Like all edibles in the legal market, beverages are capped at 100mg of THC content, turning off some long-term consumers who are used to higher doses available in the illicit and pre-regulated market.
And even for consumers who are content with the lower dosage, the difference in onset time between beverages and edibles—drinks kick in more quickly than THC-infused foods—might take some getting used to.
The taste—some cannabis-infused beverages have a strong weed-like flavor—is another factor that's still being ironed out.
"There's a lot of work that needs to be done in terms of driving consumer adoption," said Gomez. "But there's growth opportunities."
Still, some bigger players, like Pabst Blue Ribbon and Lagunitas Brewing Company, have already taken the plunge and developed their own THC-infused drinks. Others might follow if the Biden Administration takes on the federal legalization of cannabis, something Vice President Kamala Harris supported during her time in the U.S. Senate.
"These large alcohol companies, who have been sitting on the sidelines, would then be able to jump in," Gomez said.
Until then, California will likely be a testing ground for companies eager to develop their own THC-infused beverages and nail their marketing approach.
"If you're going to test in a market, test in a very large one," Gomez said. "California is absolutely the market to do this in."