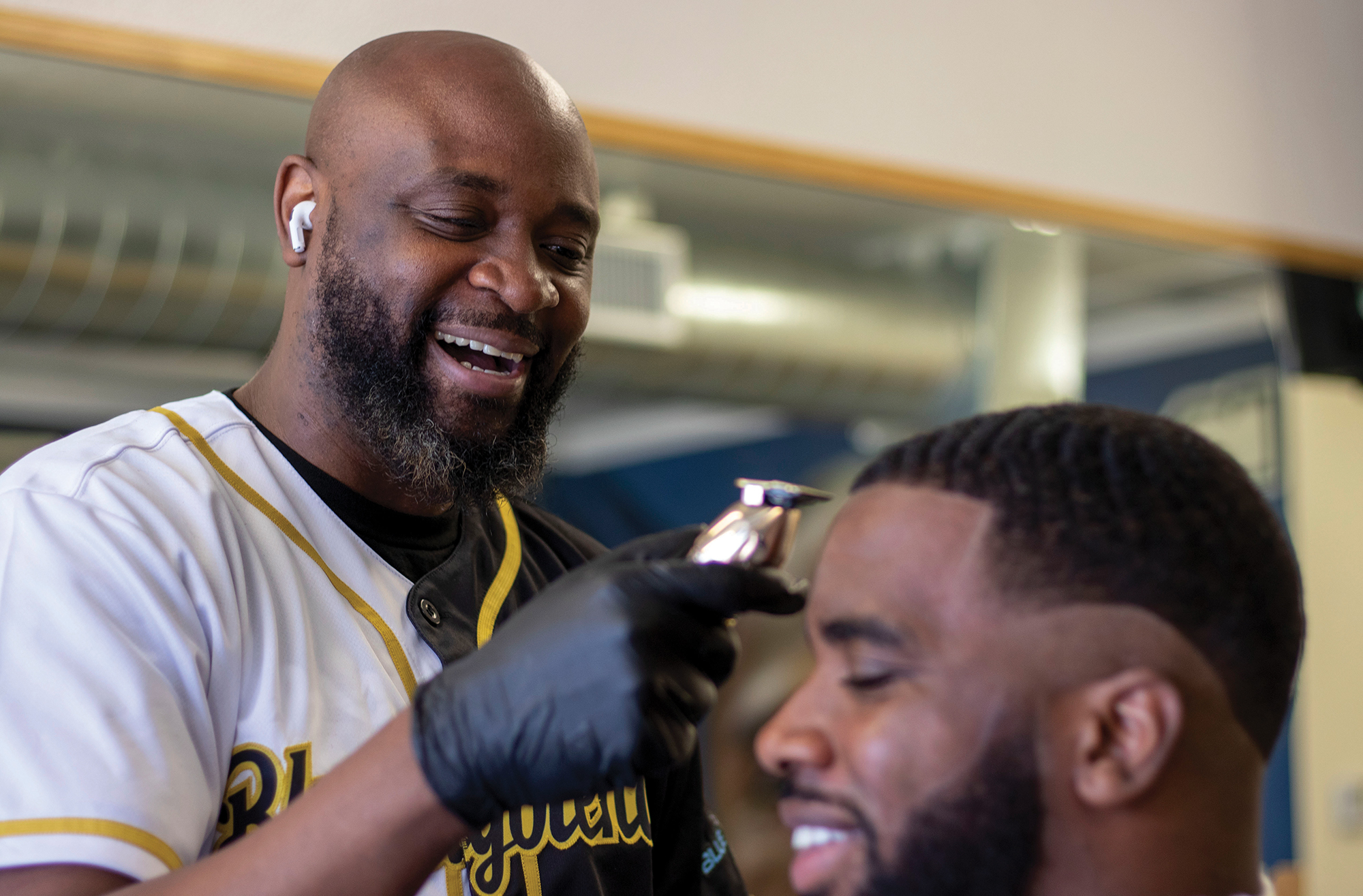 Award-winning barber Shawdee Wilson cuts the straightest lines, blends the smoothest fades, sharpens the strictest 90-degree angles, and carves intricate designs on any part of a cranium.
For years, his clients have remained loyal, citing his skills with the blades and clippers as well as his relatability.
"I can relate to almost anyone," Wilson said, having grown up on the eastside and westside of Long Beach and being open to talk about anything: Sports, politics, uncomfortable questions, you name it.
Wilson, 39, set up shop at Blue City Blendz in West Long Beach in May.
When he moved from Long Beach to Bellflower for a barber job two decades ago, Long Beachers followed him there. Wilson even earned himself an award from The Cut, a booking app, after booking 3,000 appointments for the year of 2020.
When an opportunity to work for the owner of Blue City Blendz on Willow Street between Seabright and Hayes avenues opened, Wilson took it.
"I'm happy to be back," he said.
On average, he cuts hair for 18-20 people a day, most commonly the taper and bald fades. He can take as little as eight minutes or as long as an hour, but the cuts are never difficult for this skilled barber.
"The cut's only hard when the client is hard," he said. "That's when the frustration kicks in."
Arizona State University football coach Prentice Gill, who recently visited Wilson, didn't seem to have any problems. Wilson gave him a bald fade, having received haircuts from Wilson on and off between living in Carson and Arizona for about five years.
The first time Wilson cut his hair, Gill's reaction wasn't important, even if he liked it. "It was about everyone else's reaction," Gill said with a grand smile, referencing the fans of his haircut on social media.
For Wilson, the transformations give him satisfaction.
Cutting hair takes a lot of concentration; Wilson lowers his head to inspect angles, habitually shrugging his shoulders to loosen any stiffness: "I like making people look different."
Love for the craft came to him as a young boy at 13 when he first picked up his older brother's clippers and tried a simple haircut on his friend. Since then, he was known around the neighborhood in Long Beach for "giving them those classic kitchen cuts."
For now, it's just Wilson and another barber at the shop, so they're quite busy, he said. Being a licensed barber, he also cuts women's hair too, of course. He hopes to bring in two more barbers in a few months, and it can't just be anyone.
"The process is more rigorous than you would think," he said, referencing the juggle between technique and personality. "You want to keep a positive vibe … You just want to make sure you're finding the right fit."
On a full day at the shop, there's usually jokes and good conversations. "In the barber shop, we talk about everything. We come here to vent."
The shop is adorned with blue paint dominating a mural of some of Wilson's role models and Long Beach landmarks, including Nipsey Hussle, the late Kobe Bryant and the VIP Records and 710 freeway signs. Long Beach singer and rapper Nate Dogg is also on there too, who Wilson said was a relative of his.
"What I'm doing is for the community, so that people have a place to relax, unwind, and AC," he added. "Good cuts, good vibes."