Hospitals in the Greater Long Beach area employ thousands of health care workers in the area, serving as central hubs for the industry. Through the end of 2019, top hospital executives feel the economic outlook for the health care industry is favorable, noting that they continue to invest in facility expansions and new programs. However, ongoing challenges are associated with care reimbursement, future compliance with state seismic requirements and labor negotiations.
John Bishop, president and CEO of two MemorialCare Health System hospitals in Long Beach – Long Beach Medical Center and Miller Children's and Women's Hospital – said that the outlook through 2019 is positive. "We're farther along than many of our peers with respect to population health, and we have set up the infrastructure to do what we really think is right, which is to keep patients out of the hospital and not be financially rewarded when people are sick," Bishop said. "We're investing in ambulatory surgery centers, freestanding imaging and primary care in a way that will enable us to practice not only preventive medicine, but to enable patients to have lower cost procedures in a more convenient venue with greater access."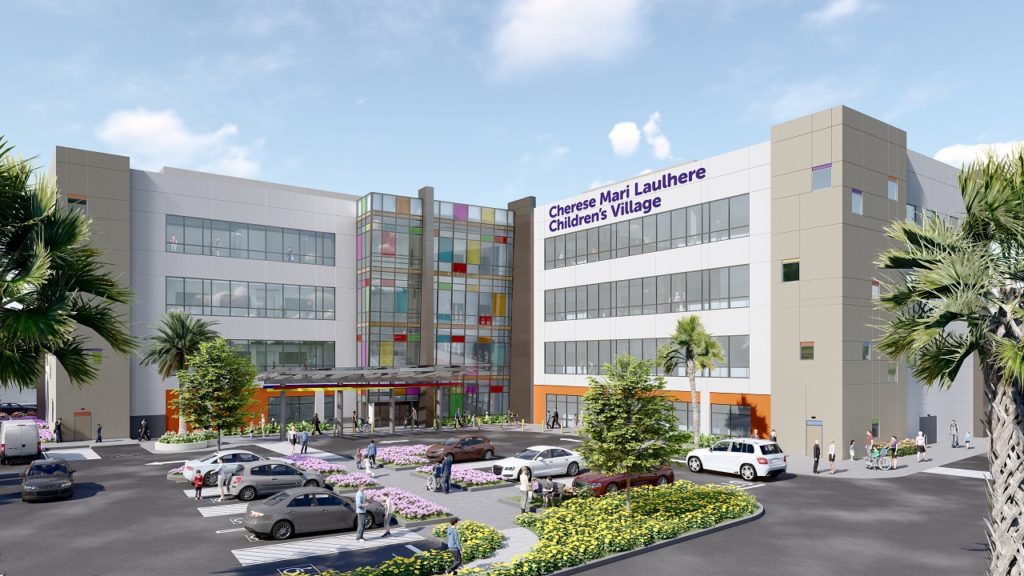 At the end of July, Miller Children's is breaking ground on a new four-story outpatient center for children, the Cherise Mari Laulhere Children's Village, where pediatric patients will be able to consult with multiple specialists in one place. "It has a lot of benefits because our children's outpatient specialty clinics right now are effectively decentralized," Bishop said. "It enables better communication for our physicians because many of these kids are very sick and need to see multiple specialists. Rather than driving from office to office, they can have one hand-off between physicians."
MemorialCare also continues to invest in new equipment at its Long Beach hospitals, including surgical robots. "We have a DaVinci robot that does general surgery and cardiac procedures. We have a Mako robot that does orthopedic procedures like knee replacements. And we just purchased an Excelsius robot that enabled us to do shoulder procedures," Bishop noted.
Dignity Health St. Mary Medical Center, located on the outskirts of Downtown Long Beach, is also investing in robotic surgery and other services. The hospital is working to become recognized by the state as a comprehensive stroke center, and recently launched a "hospitalist program" to provide 24/7 care to admitted patients, which "provides a favorable impact on a patient's length of stay and quality outcomes . . . [and] enhances existing services provided by our physician partners," according to hospital President and CEO Carolyn Caldwell.
Located adjacent to North Long Beach in the City of Lakewood, Lakewood Regional Medical Center is also investing in expanding its services. "We're working on beefing up our neurosciences program [and] moving to a higher accreditation level for our stroke program," CEO John Grah said. "We are [also] working on some activities to further enhance our cardiac services."
In general, Grah said the hospital is doing fairly well, but faces some challenges due to last year's closure of Community Hospital in East Long Beach. In part because of that closure, "We just keep seeing growth in our business and activities," he said. "High demand, and continued physician shortages of primary physicians have people using the hospital for health care."
According to Grah, the area within a five-mile radius of Lakewood Regional is about 600 to 700 physicians short per thousand residents. "And I would think in the Greater Long Beach area we're probably over 1,200 to 1,500 physicians short of what would be ideal," he said, noting that the lack of access to primary care leads people to use emergency rooms for that care.
"Hospitals are becoming, more and more, [part of everyday health care], not just a health care safety net; but we've turned into a kind of social safety net in [many] regards," Grah said. He cited California Senate Bill (SB) 1152, which passed last year and implemented new rules for how hospitals must discharge homeless patients, as an example. The bill requires hospitals to make arrangements for the care of homeless patients once they exit their doors. "It is adding some pretty significant cost, and there is no reimbursement there," he said. Grah expects SB 1152 to cost Lakewood Regional Medical Center as much as $750,000 annually.
Bishop also cited reimbursements as an issue. "Reimbursement continues to not go up as quickly from an inflationary perspective as expenses," he said. "So that forces us every year to have to become more efficient and have initiatives that enable us to effectively offset that inflation expense. So we need to have about $20 million in operating improvements every year just to stay in place from a bottom-line perspective." He explained, "The root of it is that governmental reimbursement, and by that I mean Medicare and Medicaid and Medi-Cal, don't give inflationary increases that keep up with expense increases."
Both Long Beach Medical Center (LMBC) and St. Mary Medical Center have experienced some labor upsets in recent months. As reported by the Press-Telegram, physicians who work on contract with St. Mary took a vote of no confidence in Caldwell in May after a dispute regarding contracts with anesthesiology providers.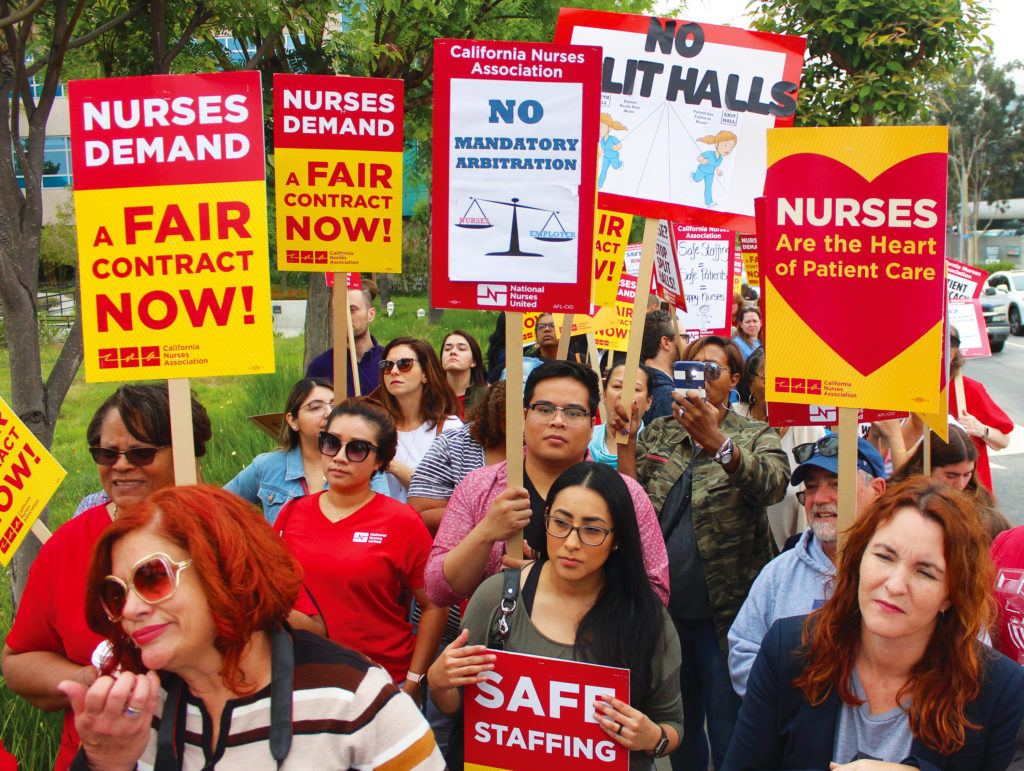 "Physicians are not employed by the hospital, instead they are independent practitioners," Caldwell told the Business Journal via e-mail. "St. Mary has contracts with medical groups to provide certain services. It is a standard hospital procedure to review contracts to ensure the best services are being provided to our community. We respect the confidentiality of the contracting process and look forward to working with our physician partners to continue to deliver high-quality compassionate care in a safe environment."
On June 24, nurses began picketing outside LBMC to inform the public about ongoing contract negotiations with the hospital, which began in January. In a press release, the California Nurses Association indicated that picketers were seeking to ensure the hospital complies with required nurse staffing levels, that it provides competitive wages and that nurses have whistle-blower protections.
"Unfortunately, we simply haven't made the progress that we had hoped to make because the union has not been willing to make progress," Bishop said of contract negotiations with the nurses. "They have not been willing to meet with us regularly enough and have not put meaningful offers on the table. . . . We haven't even begun speaking about economics yet, so it seems preliminary at best that they are doing a picket, but we respect their right to do that."
Another looming uncertainty for local hospitals, though a way off, is the challenge of meeting state-imposed seismic safety requirements. "We have done the necessary work to keep the entire facility open through 2030, and we are currently working with OSHPD [Office of Statewide Health Planning and Development] to identify if there is a way to keep the main tower beyond 2030," Bishop said. "All of our other buildings we're able to keep beyond 2030, so there is the potential that we would have to rebuild the main tower. And we have been planning and saving for that replacement if we ever get to that point."
One of the biggest factors in the outlook for the local health care industry is when Community Hospital will re-open its doors. The hospital closed in July 2018 after its former operator, MemorialCare, determined it would be too costly to retrofit it. But this March, the city reached an interim agreement with Molina Wu Network to take over operations of the hospital, with the city contributing $25 million over 15 years toward the cost to bring the hospital up to seismic standards. John Molina, partner in MWN, declined to be interviewed regarding the re-opening of the hospital, but Assistant City Manager Tom Modica told the Business Journal that he expected to reach a permanent agreement with the firm within two months.