In recent years, many communities have seen an influx of yoga studios and wellness centers, reflecting an overall greater push and emphasis on mind-body wellness. The idea of the health of the body being linked to the mind is not new, rather it is derived from ancient Eastern practices and medicine. Yoga, Tai Chi, meditation, herbs, acupuncture – among others – are all part of ancient Eastern healing.
"Most of our lives today, we're so distracted with technology and we're busy and we're moving very quickly," Dr. Daniel Hoover, founder of SOHMA Integrative Health Center in Long Beach, said. "What I've found in my practice as a teacher and as a doctor is that we simply need to slow down, find some stillness and the body will take care of itself. There's a stress response in the body. Slowing down takes us out of the stress response in the body and in the mind."
Hoover is a licensed acupuncturist and Tai Chi instructor and said in Chinese medicine it is believed that the mind must be restful in the heart for mental and physical health. He said one of his favorite quotes is, "The longest journey we ever take is from our head to our hearts." When people slow down, it reduces stress and allows the body to truly rest, digest, heal and grow, which has a profound impact on the mind as well as the physical body, as blood pressure and heart rate go down and circulation increases.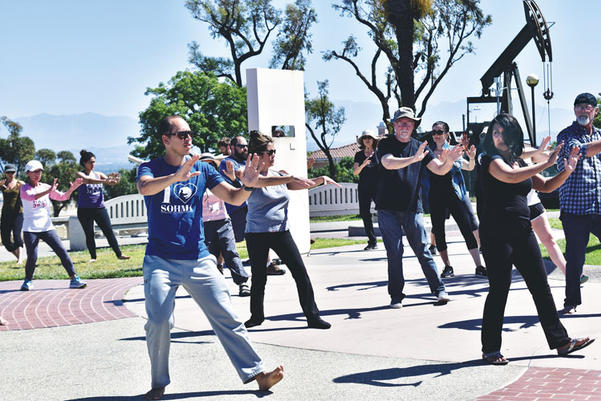 Dr. Daniel Hoover, front, founder of SOHMA Integrative Health Center in Long Beach, teaches Tai Chi to students. He said a combination of Eastern and Western medicine and practices would create healthier communities. (Photograph courtesy of Nicholas Mansouri)
At the SOHMA center, Hoover said Eastern and Western medicine are part of the practice, without the use of drugs and surgery. He explained it is a conservative approach that encompasses chiropractic, acupuncture, herb, Tai Chi and psychotherapy practices. He added that the center focuses on patient-centered care and will recommend more modern medical facilities and treatments if necessary.
"Our mind leads our behavior and our behavior leads to the overall health of our bodies. There's a connection right there. If we can become more conscious about what we're doing, what we're thinking, what we're saying, we're halfway there."
Similar to the SOHMA center, founder Dr. Matthew Vo's Health Arts Institute in Long Beach focuses on Tai Chi, yoga, acupuncture and massage therapy, all of which can act as a form of meditation. Vo practices Eastern and Western forms of medicine and noted that utilizing both simultaneously is the most effective way to regain and maintain a healthy body and mind.
Vo said he thinks Western medicine is superior for treating acute problems, short-term issues such as broken limbs and surgery but falls short of Eastern medicine when dealing with chronic health problems such as hypertension, diabetes and heart disease.
"The problem is we are getting better and keeping patients living longer but they're not necessarily healthier. On top of it, there are so many side effects of medications that we give them and the cost of taking care of people is just getting worse and worse. I was frustrated by the fact that patients get so sick and they're not getting healthier."
Utilizing Eastern practices, Vo said he has had success treating chronic illnesses. He noted that education on Eastern medicine is not common enough and that such practices remain underutilized. He explained that his role in his practice is outreach to the community to spread knowledge on the topic and to get more people to try them as an alternative to medication and unnecessary surgeries.
Another common problem with Eastern medicine is those that adopt basic principle or just borrow the name and do not use the practices as they were intended, which. This can lead to a lack of positive results and turn people off to the idea of Eastern medicine as an acceptable alternative.
"The other thing is Western culture in general, people have a tendency to be reliant on some magic silver bullet," Vo said. "They're hoping that the pill will be the answer to all their problems, so people are not actively trying to improve themselves."
Vo said that Western medicine is beginning to realize the connection of body and mind in regard to health but is still far behind Eastern practices. However, he said that as more people advocate for its integration into the Western world, communities will continue to benefit from Eastern medicine and practices.
Elizabeth Bolla, owner of Olive Yoga in Long Beach, said yoga is the connection of mind, body and spirit. Though not a religion, she said the experience of proper yoga is spiritual in that it allows people to live in the present and not worry about things of the past or what's to come in the future.
By focusing on the breath and movements, Bolla said the body is able to relax and draw into a single-point focus, which allows for a state of moving meditation and a supreme state of consciousness.
"The beauty of yoga is it's not a competition. It's very experiential, especially in my classes in my studio. We allow for expressions and modifications and challenges," Bolla said. "It's really expansive and it's multiplying, and I love it. The light is within us all. So the more we express it, the more we get to share it and the more people will tap into their light."
The emphasis on breathing during yoga gives people instant oxygenated fuel for the body, which helps reduce stress, heart rate and blood pressure, according to Bolla. She said yoga is a path and that once people step onto it the results are undeniable. Bolla said she is happy and honored to share the path with the Long Beach community.
"Especially in America, we are out of balance in the regard of work, work, work, go, go, go, more, more, more. It's hard for human beings to relax. So we teach people how to do that," Bolla said. "When we reduce stress, that creates wellness, harmony, serenity – present moment bliss, I like to call it."