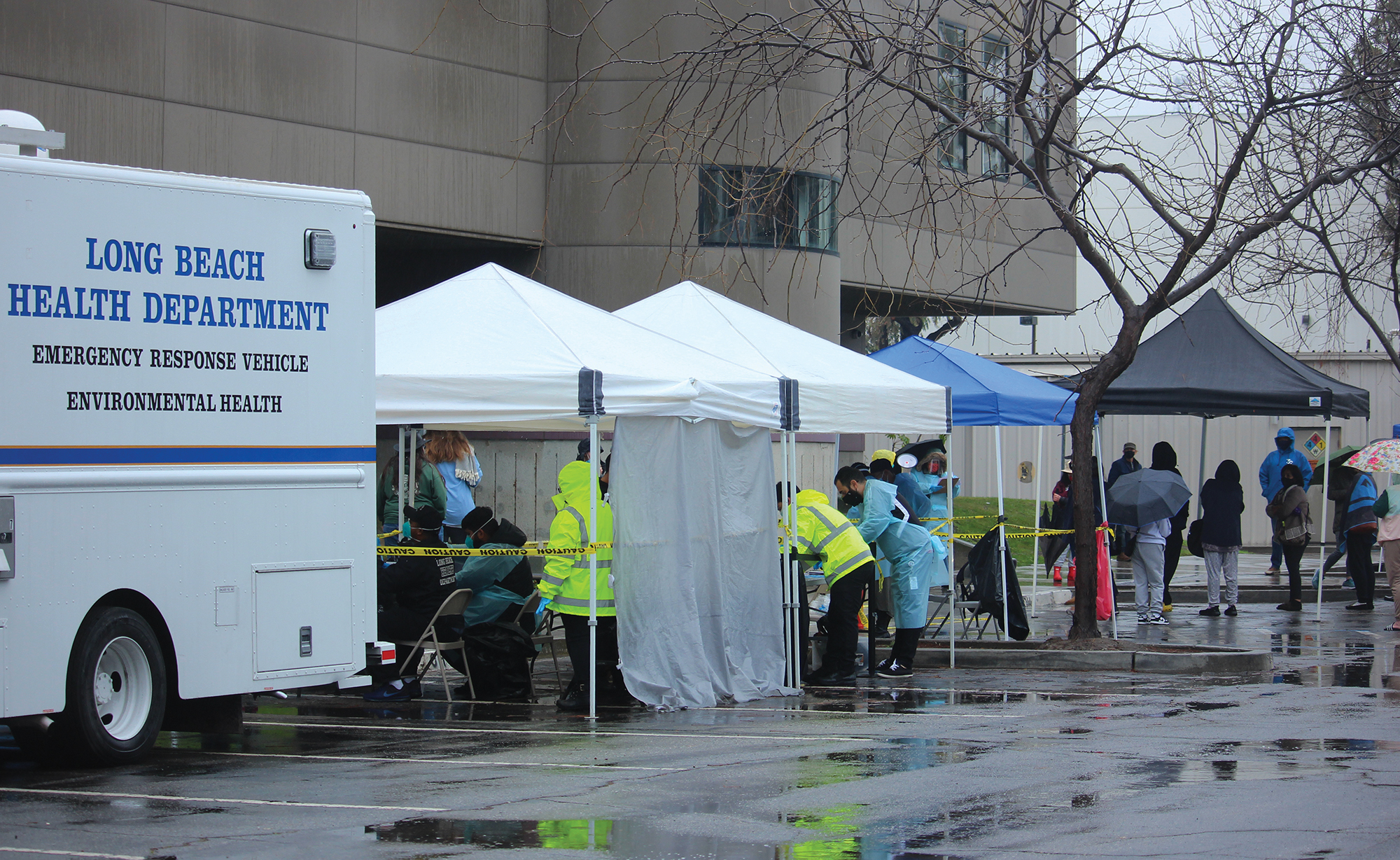 The Long Beach Health Department is entering the third year of responding to the COVID-19 pandemic, something it's been able to do thanks in part to an infusion of tens of millions in federal and state funding, which is expected to last through July 2023.
The department has received $57 million since the start of 2020 to help support things like testing, contact tracing and vaccine operations. Unlike other cities in the county, Long Beach and Pasadena have their own health departments and can issue their own health orders and operate their own testing and vaccine sites.
Jennifer Rice Epstein, a spokesperson for the Health Department, said that the funding is expected to last through 2022 and halfway through 2023, but the city is pursuing additional relief funds from the federal government to cover costs like other city employees being reassigned to help out with vaccine and testing clinics.
Long Beach issued over 408,000 tests just in 2021, and in the early days of 2022 began to exceed 6,000 tests per day as omicron took hold over the holiday season.
Rice Epstein said that each PCR test costs the city about $42, including the cost for labs like Fulgent and Healthvana to process them and return results. Insurance typically covers the cost, but whatever is not covered by insurance is covered by grants, she added.
Rapid tests have been provided to the city by the state at no cost to the city.
The size of the site and the demand for tests can also dictate how much the city has to pay to run them. A "mega-site" like the one at Veterans Stadium has cost as much as $100,000 per month during a surge of testing demand, while a smaller site like the one at Houghton Park costs about $25,000 per month during peak demand.
At least 346,622 residents had received at least one dose of Pfizer, Moderna or Johnson & Johnson vaccine as of mid-January, according to city  data.
Vaccine sites are covered by state and federal funds, but the city is seeking reimbursement for the extra staff needed to operate them who are reassigned from other city departments and charge their hours to the Health Department.
Rice Epstein said that the Federal Emergency Management Agency can cover these costs and has extended its reimbursement period for these types of costs through April.
Other costs like RVs used for mobile testing and vaccination operations, special refrigerators and freezers used to store vaccines and canopies, chairs and tables for staff working these sites are costs associated with the city's response that are not necessarily apparent to the public, Rice Epstein said.
But the single largest cost has been staffing. The Health Department has hired more than 200 new employees to help with testing, vaccinations, contact tracing and case investigations.
If the pandemic begins to wane as some experts believe it could, Long Beach might not need additional funding for COVID-19 clinics past next July.
This week, Dr. Anthony Fauci, chief medical advisor to President Joe Biden, said he believed the world was still in the first phase of the pandemic, which is where it is still negatively affected by infections.
However, he said the quick spread of the omicron variant could have a meaningful effect on collective immunity, which could mean countries like the United States could be getting closer to the "control" stage of the pandemic.
There is optimism that the pandemic could reach that point sometime this year, especially with antiviral treatments being approved and the evolution of variants expected to become less deadly.