Executives from some of Long Beach's largest health care organizations report a mostly positive outlook through the end of the year, despite lingering uncertainty over the future of the Affordable Care Act and ongoing struggles related to decreasing Medicaid and Medicare reimbursement payments.
MemorialCare Health System's three Long Beach hospitals – Long Beach Memorial Medical Center, Miller Children's & Women's Hospital and Community Hospital – have a positive outlook through the end of the year now that some adjustments have been made to compensate for declining reimbursements, according to the hospitals' CEO, John Bishop.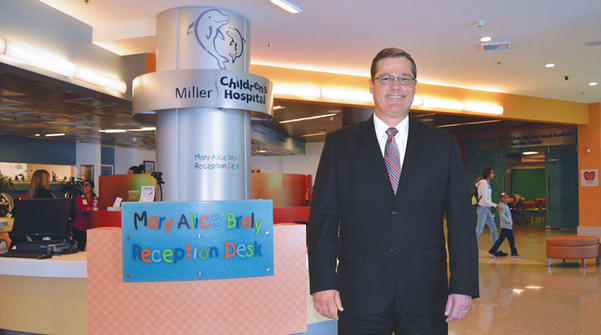 Miller Children's & Women's Hospital Long Beach recently announced a partnership with UCLA Mattel Children's Hospital to grow pediatric care options in Los Angeles County through new facilities and by educating more physicians. Plus, according to CEO John Bishop (pictured), a proposed pediatric outpatient village planned adjacent to the hospital will soon go to the hospital's board of directors for a vote. (Photograph by the Business Journal's Larry Duncan)
"Reimbursements continue to get reduced related to state and federal budget pressures," he said. "It's a challenge that we're experiencing in the market because the commercial health plans, which used to be able to offset the lack of increases from Medicare and Medi-Cal, are no longer able to sustain the types of increases that would effectively offset. . . . And so, we are not able to get revenue increases that keep up with expense inflation, which cause us every year to need to find ways to deliver care more effectively," he explained.
"We have made many operational adjustments related to declining reimbursement that have caused us to, we think, be able to deliver better value to our patients at a lower, reduced cost," Bishop said. These adjustments included laying off about 130 people in January.
"We did some care model redesign work," Bishop added. "We continue to focus on reducing the length of stay for our patients, because getting patients home earlier is always better. And we have looked at other opportunities to deliver cost in the appropriate setting: the right care and the right time and the right venue."
MemorialCare is continuing to expand with new ambulatory care facilities in Long Beach as part of its efforts to operate under a population health-centric model focused on preventative care, according to Bishop.
"We have made significant increases in the Douglas Park area," Bishop said. "We have opened a primary care site. We have opened an ambulatory surgery center. We are also opening an imaging center. And we continue to grow."
Miller Children's is slated for growth thanks to a new partnership with UCLA Mattel Children's Hospital. The two plan to work together to expand pediatric care sites in Southern California and educate more pediatricians to care for the region's communities. "I would say over the next several months, we are going to be taking much more definitive steps on building out an actual joint venture [agreement] for sites," Bishop said. "We already are partnering with them in a number of ways with physicians. And we will look to continue to expand upon that."
MemorialCare is also planning to construct an outpatient village adjacent to Miller Children's that would house pediatric specialists so that patients would be able to find all relevant services in one place. "The outpatient village is currently continuing to be designed, and we expect to take that through our board in the fall," Bishop said.
Dignity Health St. Mary Medical Center, a historic hospital just outside of Downtown Long Beach, is in the midst of a capital campaign to expand its emergency room. The hospital's new CEO, Carolyn Caldwell, who started in mid-June, said the hospital's foundation is about 75% of the way toward its $11 million goal for the project. Additional funds will be contributed by Dignity Health, the health care system that operates the hospital.
"I have spent quite a bit of time in the emergency room the first week that I have been here. It is very busy," Caldwell said. "And even with that, the staff and the physicians there do a great job taking care of our patients. To be able to go from a 26-bed emergency room to a 47-bed emergency room is really going to be great for the community." Caldwell hopes to designate an area of the emergency room for senior patients, she noted. Groundbreaking for the project is expected in 2018, according to a hospital spokesperson.
Caldwell noted that St. Mary's experience with Medicaid reimbursements is not unlike those of most other hospitals in California and acknowledged that the situation is a challenge.
"I think from a financial perspective we're doing well. We are definitely looking at how we continue to make sure that we meet the needs of our community, because we do serve an underserved community." Caldwell said.
Caldwell added that in her short time at the hospital, she has been impressed by the willingness of staff, the community and outside organizations to contribute to this effort. On June 15, for example, the hospital announced it had received a two-year, $500,000 grant from the UniHealth Foundation to implement a project in partnership with Mental Health America of Los Angeles.
The Healthlink Project enables the hospital to identify vulnerable emergency room patients and "provide them with comprehensive case management services, housing resources and emergency financial support," according to a hospital statement.
Both St. Mary Medical Center and Community Hospital Long Beach are undergoing assessments of their seismic stability to determine if they need retrofitting to operate in compliance with state regulations, according to hospital executives.
"We are going through that process now. It is my understanding that St. Mary will have to address seismic issues, and I am in the process now of reviewing all of that data," Caldwell said.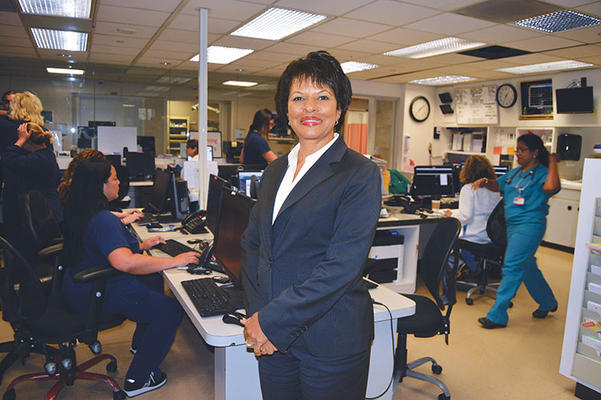 Carolyn Caldwell began her new job as CEO of Dignity Health St. Mary Medical Center in late June. The new executive is optimistic about the hospital's future, and is particularly focused on plans to expand the emergency department, where she is pictured at a busy nursing station. (Photograph by the Business Journal's Larry Duncan)
No determinations have been made about Community Hospital's future as of yet, Bishop said. "We have been reviewing the seismic status of the location and working with the city and with the state to identify the best possible solutions," he said. "And those solutions will be driven by the needs of the community as to what their specific health care needs are."
In addition to these hospitals, Long Beach is also home to major health plans, including SCAN Health Plan, a nonprofit Medicare Advantage plan provider, and Molina Healthcare, a for-profit provider of Medicaid and Medicare plans.
When interviewed in March, a Molina Healthcare spokesperson reported that the plan had nearly 10,000 employees in Long Beach. Since then, the health plan has experienced a major shift – its longtime executives and sons of founder C. David Molina, Mario Molina and John Molina, were ousted by the board from their positions as president/CEO and CFO, respectively. At the time, a company statement indicated that earnings, while increasing, had been below expectations. In advance of the company's upcoming earnings report release, a spokesperson declined an interview request.
According to SCAN Health Plan CEO Chris Wing, the nonprofit organization is going into the second half of 2017 with growing membership and strong financial footing. "As of the close of May, we had over $560 million in cash and cash equivalents. So as far as financial stability, SCAN has probably never been in better shape," he said.
The Centers for Medicare & Medicaid Services has rated SCAN a four-star plan provider, putting it in the 82nd percentile of all California Medicare Advantage Plan providers, according to Wing. "On market share, we're having a great year as far as enrollments. We have got 186,500 members up from 125,000 members in 2012," Wing said.
This year, SCAN has set an $11.6 million budget for three community benefit programs it launched last year. These monies go towards the organization's mission as a nonprofit to serve the community beyond its health plans, including a program that assists seniors with medication adherence.
SCAN is working with the mayor's office, the Archstone Foundation, California State University, Long Beach and other entities to create a model that would make Long Beach a center of excellence for aging, Wing said.
Despite an overall positive outlook for SCAN, Wing is concerned about the future of the health care industry overall, thanks to efforts in Congress to overhaul the Affordable Care Act. What keeps him up at night, he said, is uncertainty. "The political process being rammed down the health care system – the uncertainty it's causing for everybody is very unsettling. That's my primary concern," he said.
"You know, the uncertainty it is causing is going to cause a lack of investment and innovation, and we need to innovate," Wing said. "We have a long way to go to improve health for seniors and for babies, as far as mortality rates. And I'm just afraid that this partisanship being just played out in the health care environment is not good for America."
A bill passed by the U.S. House of Representatives earlier in the year would have eventually caused 23 million fewer Americans to have health insurance, Wing noted. The Senate then followed up with its own proposal released in June that the Congressional Budget Office (CBO) estimated would cause 22 million people to lose health coverage within 10 years. Fifteen million of those would lose Medicaid coverage.
Following the CBO scoring of the Senate Bill, Republicans could not garner enough support to pass it, so House Majority Leader Sen. Mitch McConnell delayed a vote.
"At Dignity, we support policies that ensure health coverage is available and affordable for all. Therefore, we are concerned about this," Caldwell said of the Senate bill.
"I think that simply stripping costs out of the system and turning us back to a more fee-for-service model would absolutely be a mistake. So I think improving the Affordable Care Act is highly preferable to repealing it," Bishop said.
"I think the Affordable Care Act is a bill that is very well-intended, because it changes the mindset and the incentives for providers from a time when, frankly, sick patients were good business to a system where the hospitals and physicians are rewarded for keeping patients healthy," Bishop explained. "And I think that is absolutely the right incentive."