When it was announced that Community Hospital Long Beach was closing its doors, residents and community leaders voiced concerns about overburdening other emergency departments and urgent care facilities in the city. Six weeks after the closure, hospital representatives reported that the number of patient visits has been higher than usual this summer, but still well within their operational capacity.
"We're seeing a natural increase over the last few years, and on top of that we're seeing more people from Community [Hospital]," Dr. Bobby Massoudian, emergency department director at MemorialCare Long Beach Medical Center (LBMC) and president and CEO of the hospital's emergency room (ER) group, said. "The advanced life support and basic life support ambulance traffic to us was a little overestimated as far as the predictions were concerned. We're getting less than we thought."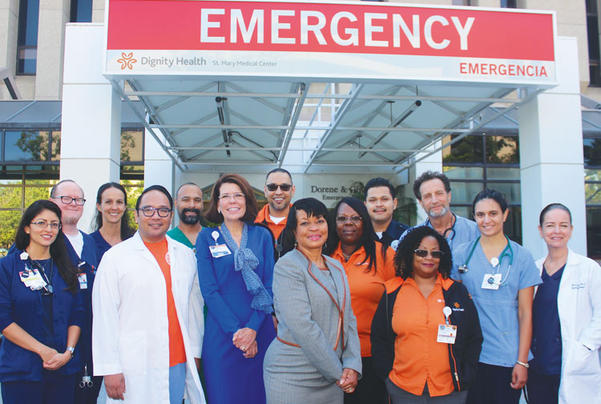 Dignity Health – St. Mary Medical Center handled nearly 55,000 emergency room visits from July 1, 2017, to June 30 of this year, according to President and CEO Carolyn Caldwell. Pictured, back row from left: Jeff Brewer, RN; Nicole Militello, RN; Albert Montes, emergency medicine assistant; David Montes, admitting; Guendolyn Johnson, admitting; Victor Hernandez, security; and Dr. Keith Stamler, emergency medicine physician. Front row from left: Lia Arredondo, RN; Ardel Avelino, senior director of clinic operations; Nancy Valla, chief nursing executive; Caldwell; Valerie Johnson-Booker, admitting; Ana Behmardian, nurse practitioner; and Rose Vargas, RN. (Photograph by the Business Journal's Brandon Richardson)
The ER at Long Beach Medical Center has always been a high-volume facility, Massoudian explained, adding that operations have been business as usual. Though volume is up compared to previous years' summer months, Massoudian said the ER could absorb a good amount of increased volume without resources such as beds and staff becoming strained.
Over the last four or five years, Massoudian said patient volumes in the ER have been increasing. One possible reason for the increase is the Affordable Care Act (ACA), he explained. Logically, the ACA should have reduced visits to the ER as primary care visits increased, according to Massoudian. However, due to difficulties related to seeing physicians in the primary care system, people are visiting ERs for non-emergency matters more frequently.
Five years ago, Massoudian said, 230 patients passing through the ER would have been considered a busy summer day. This summer, LBMC's ER has averaged around 310 patients per day. Massoudian noted that winter is always busier, and that two years ago 310 patients per day was the norm for winter months. He added that hospital staff are curious what these numbers might mean for the upcoming winter season.
The state mandates a nursing staff-to-patient ratio of four to one, which Massoudian said LBMC has not had a problem maintaining. In terms of physicians, he said the ER is more than covered with five to seven physicians working at all times. The department also recently added an overnight dedicated pediatric physician. In addition to its own staff, Massoudian said the ER has senior residents from UC Irvine, UCLA and USC medical programs working as well.
In the last several years, LBMC has added hallway beds and focused on patient outflow to ensure arriving patients are seen as quickly as possible. Nationwide, patient flow is an issue, Massoudian said. The department has plans to open a separate observation unit for patients who remain in the emergency department after being admitted to the hospital, which opens up other ER beds to increase patient flow efficiency.
"We have a physician in triage, which is a pretty unique thing for emergency departments. And we try to get people's workups and tests initiated right when they come to the department," Massoudian said. "That way, even if they don't have a bed yet, they're still having their workup done. We'd like everyone to have no wait, but that's not realistic."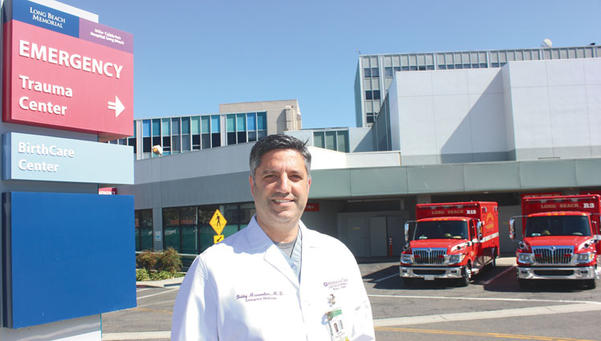 MemorialCare Long Beach Medical Center's emergency department has experienced higher patient volume this summer than in previous years, according to department director Dr. Bobby Massoudian. The volume is partially due to natural increases the department has seen over the last several years, as well as diversions from the recently closed Community Hospital Long Beach, he added. (Photograph by the Business Journal's Brandon Richardson)
An increased number of urgent care facilities are assisting ERs by absorbing some of their patients. Massoudian said LBMC gets a lot of urgent care referrals, which suggests that many other patients are being treated at urgent care facilities and not being referred to emergency departments.
From July 1, 2017, to June 30 of this year, St. Mary Medical Center handled nearly 55,000 emergency room visits, according to President and CEO Carolyn Caldwell. Dignity Health, which owns and operates St. Mary, has plans to make significant investments in the hospital, including a masterplan to meet seismic upgrade requirements per Senate Bill 1953. Investment also includes an expansion of the hospital's emergency department to nearly double its current size.
The hospital's emergency services include a Level II Trauma Center, a receiving center for patients suffering from a heart attack, stroke care and an Emergency Department Approved for Pediatrics. Caldwell noted that a new electrophysiology program will examine electrophysiological changes in the hearts of heart attack patients. The hospital also has a new MRI machine for patients who experience claustrophobia.
"The hospital has seen an increase in utilization of emergency services this summer. In order to continue to provide excellent care for all patients . . . St. Mary has implemented a new throughput program to transition ER patients who are being admitted to the hospital to the appropriate department more efficiently, thus freeing up the ER bed for another patient," Caldwell said. "Dignity Health – St. Mary Medical Center is prepared to handle any additional patients that may result from the closure of Community Hospital."
At the regional level, Jennifer Bayer, vice president of external affairs for the Hospital Association of Southern California, said there are no emerging issues for emergency departments. She explained that for years the top issue has been the inappropriate use of emergency rooms by those who do not have access to a primary care physician.
Emergency department staffing is not an issue in the region, Bayer said. However, there is sometimes a lack of beds because they are occupied by patients who are not using ERs for the intended purpose of emergent care, she explained. This shortage has led to ERs adding hallway beds and examining other methods to increase patient throughput efficiency.
Mental or behavioral health crisis situations are another issue emergency departments have been coping with for years. Bayer said hospitals are looking at creating other resources for people suffering from a mental or behavioral health crises in order to free up ER beds for other patients. Due to the nature of emergency department work, ERs are often bright and loud, which can be overstimulating and cause more distress for patients suffering from mental or behavioral health issues, she added.
Regarding the closure of Community Hospital, Bayer said she has not heard any concerns from impacted hospitals relative to an overwhelming increase in patient traffic. She noted the impact studies prior to the closure examined all potential issues, and that the area's remaining emergency departments will not have any trouble absorbing patients until Community Hospital reopens next year.
"Hospitals are very creative in how they're triaging their patient populations and getting them into alternative services. They remain very focused on throughput and getting people to the right level of care," Bayer said. "As an industry, the hospital world has been changing. Unique to Long Beach is what MemorialCare is doing – opening up more urgent care centers and trying to educate the public on appropriate use of an emergency department."
The Business Journal also reached out to Lakewood Regional Medical Center on South Street  and to Los Alamitos Medical Center on Katella Avenue (which is Willow Street in Long Beach). Both hospitals, which are owned by Tenent Healthcare, are adjacent to a large number of Long Beach residents. A spokeswoman for Tenet told the Business Journal that the hospitals declined to comment.