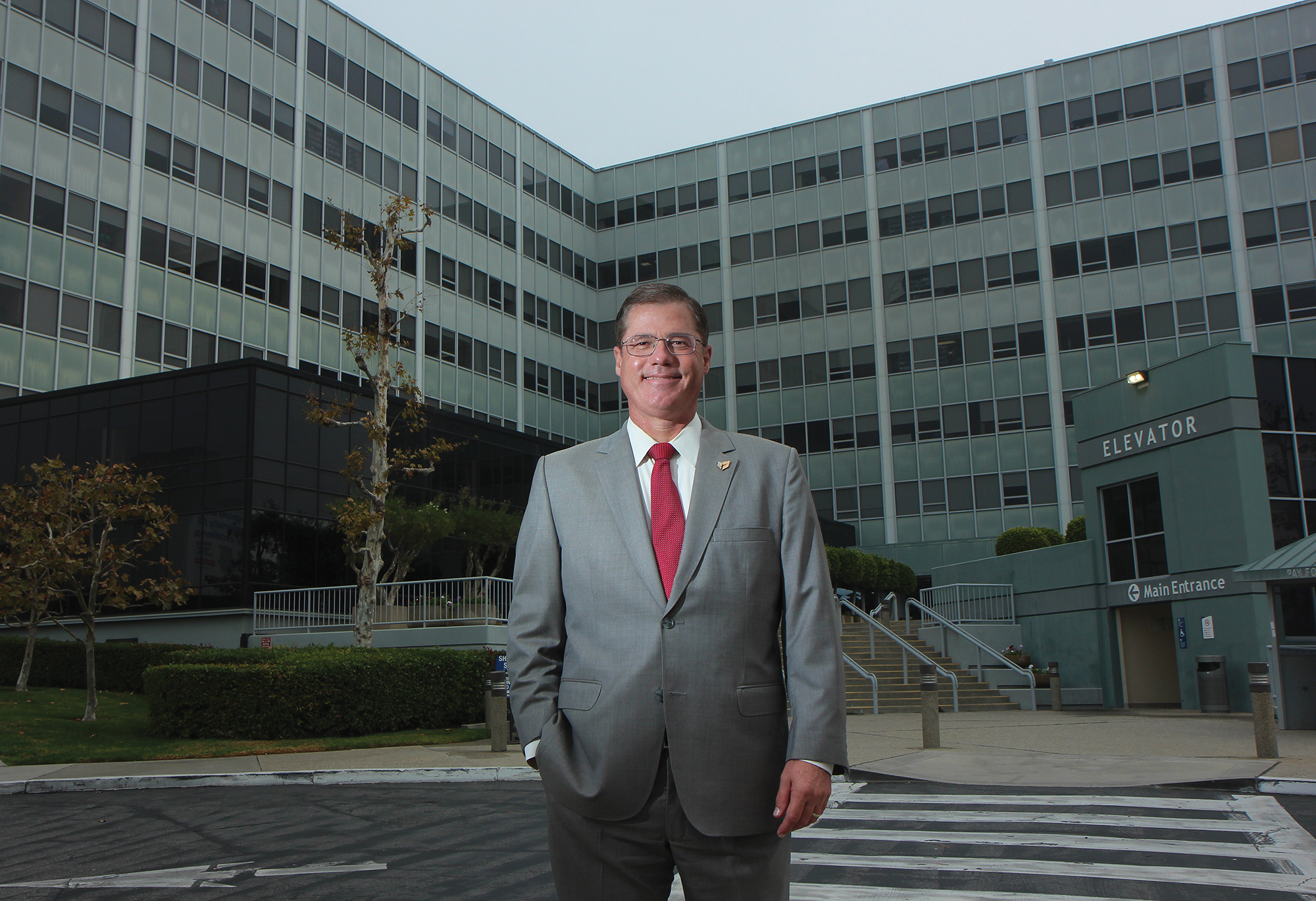 Since the emergence of COVID-19 almost two years ago, medical facilities have faced an onslaught of challenges—from overcrowding to budgetary shortfalls to staff shortages. Some of the challenges were the result of the pandemic and some were exacerbated by it, but many hurdles remain, according to hospital executives.
While hospitals saw increased expenditures due to the need for more protective equipment, they also had a loss of revenues when elective procedures—a major source of income for hospitals—were canceled month after month as a means to slow the spread of the deadly virus. Locally, Long Beach Memorial Medical Center, which has a fiscal year that begins July 1, received some funding through the federal CARES Act, but it was not enough to salvage 2020 or 2021, according to CEO John Bishop.
"We were significantly in the red in our fiscal 2020, and then some CARES Act funding came through in 2021," Bishop said. "If you average the two years, there was clearly a huge detrimental impact. The federal funds were not nearly enough to offset the overall impact."
Bishop said campuses with children's hospitals, such as Miller Children's & Women's Hospital, were disproportionately impacted by the pandemic due to their inability to receive COVID-19 funding. While children's hospitals certainly saw increased costs and loss of revenue similar to other facilities, they did not treat high numbers of coronavirus cases, a prerequisite for receiving the emergency federal funding, Bishop said.
The pandemic also caused delays in care for various reasons—some patients were scared to visit hospitals with coronavirus patients, while others were told their procedures would be put on hold—which has caused an influx of patients as the pandemic has waned.
"The hospital is extremely busy due to deferred health," Bishop said. "And our patients are sicker than they have been historically."
At St. Mary Medical Center, emergency room volumes continue to climb with non-coronavirus patients, President and CEO Carolyn Caldwell said in an email.
At Memorial, the deferred health needs of the community are stabilizing, Bishop said, and operations—COVID aside—are back to pre-pandemic levels. The money generated from the deferred care boom should leave the hospital breaking even or with minimal losses at the end of fiscal year 2022 on June 30, he added.
While coronavirus numbers remain low, dozens of people remain hospitalized at local facilities, according to city data. Bishop said the vaccine is playing a major role in keeping people out of the hospital, noting that almost every COVID-19 patient at Memorial is unvaccinated.
"The importance of taking the vaccine couldn't be clearer," Bishop said.
Over 80% of Long Beach residents 12 years and older have received at least one dose of a coronavirus vaccine, according to city data, and more than 72% of those 12 and older are fully vaccinated. The city recently began vaccinating children ages 5-to-11, and with that age group factored in, more than 73% of eligible residents have received at least one dose.
"We are very encouraged now that the CDC and FDA have recommended vaccines for children ages 5 to 11," Caldwell said. "This is another opportunity to protect another 28 million people across the country."
Bishop said the city is approaching herd immunity, which is a necessary milestone. He explained that the longer the pandemic remains active, the more chance there is for new mutations, or variants, of the virus that could evade the vaccine, prolonging the worst health crisis in a generation.
Along with the patients who survived the virus and the loved ones of those who have died as a result of it, nearly two years of COVID-19 has taken a toll on frontline workers.
"Staff is doing OK. It's just been a really trying [time] for everyone," Bishop said. "I would say morale is good but people are tired."
Early in the pandemic, hospital leadership put out online tools and resources to assist staff who felt overwhelmed or burned out. However, feedback from staff was that they did not have time to access those resources, so leadership has shifted, creating resources that can be pushed out directly to staff.
The hospital created the Tender, Love and Care Workstream, which was a group of people meant to actively support staff. The group put out an anonymous well-being index survey to get a barometer to see how staff were doing and found that some areas were impacted more than others, Bishop said.
Some outcomes from the survey were a weekly email called Caring With Compassion that includes links to online resources, Tea for the Soul, which is a tea time in a relaxed, "zen" environment for staff to decompress and debriefing sessions with mental health professionals with time off for staff to meet with them.
"In this field, more than any other, the burnout rate is very real and accelerated," Caldwell said. "The demands on our people and their selfless dedication to serve our patients are unmatched."
The St. Mary leadership team makes daily rounds to the hospital's various units to check on the well-being of staff, Caldwell said. The hospital opened a new relaxation room for staff to unwind and recharge, the Spiritual Care team provides support for employees and an assistance program offers a variety of benefits, she added.
Nationally, vaccine mandates have been a hot topic for many industries. Healthcare was one of the first to adopt a vaccination mandate. At Memorial, around 99% of about 6,000 staff have been vaccinated, Bishop said. A small number received a medical or religious exemption and an even smaller number quit, he said.
"It really hasn't had any significant impact on us from an operational perspective," Bishop said, noting that the holdouts were not from any specific job type, but spread out among departments.
About 92% of St. Mary staff has been vaccinated, Caldwell said. A small number of staff opted to leave their jobs, and the hospital has formally granted 44 religious exemptions. Dozens of staff were placed on a 90-day unpaid leave of absence and must comply with the mandate within that time or lose their job.
Like Memorial, those out of compliance with the mandate are from a mix of departments, Caldwell said.
Many feared the vaccine mandate could further exacerbate the national nursing shortage, an issue that has plagued the industry for years. Amid the pandemic, as hospitals found themselves overrun and short-staffed, supplemental nurses (those who travel where needed) began receiving premium pay upward of $2,000 per shift.
"As in all industries, we are experiencing challenges with the workforce," Caldwell said. "We are actively recruiting in our community and across the country to fill any openings."
On average, 10-15% of St. Mary nursing staff is supplemental, Caldwell said.
At Memorial, the "vast majority" of nurses are full-time employees, Bishop said. But supplemental nursing levels remain higher now than prior to the pandemic, he added, noting that that's the norm across the industry.
While some nurses have left the industry over the vaccine mandate, others have left full-time positions to take advantage of the premium pay of traveling nurses, Bishop said. Others still have left the field for other reasons, including burnout and a shift in priorities.
"The pandemic caused people to reexamine their values," Bishop said. "We had employees decide they were going to go live with their parents or near their children. There were a lot of different reasons people left our organization, and it wasn't for historical reasons of promotion or pay difference. It's because they were trying to do what was most important to them."
As winter approaches and the impacts of the coronavirus pandemic continue to diminish, Bishop said the new challenge is the return of the seasonal flu. This year, Memorial already has seen more pediatric flu cases than it did last season. The 2020 flu season was extremely tame due to measures put in place to stymie COVID-19, Bishop said, including masking, social distancing, stay-at-home orders and virtual learning.
"But the flu remains a serious illness that historically has killed up to 60,000 people in some years," Bishop said. "Flu levels were so low last year, it results in less residual immunity, and there is concern that we may be in for a much worse flu season than normal."