After unprecedented preparations—including filling the Long Beach Arena with cots and welcoming a 1,000-bed floating medical center off the coast—Long Beach hospitals have yet to experience the patient surge anticipated in the early days of the COVID-19 health crisis.
In fact, local hospital officials say they are now making every effort to avoid laying off or furloughing staff, and hospitals statewide are estimating losses of up to $14 billion after they delayed elective surgeries to make room for an expected crush of emergency patients.
Despite over 70,000 coronavirus-related deaths in the United States, some critics of stay-at-home orders have argued the lack of patient surges at hospitals statewide is an indicator that COVID-19 is not as serious as initially thought. Local health officials and medical experts disagree.

On behalf of the Long Beach Department of Health and Human Services, city spokesman Eric Bradley said the city has been "fortunate" to avoid overwhelming hospitals. He said it's the result of city and state leaders' early actions, not an indication that the virus is being blown out of proportion.
"Our residents have done an excellent job in adhering to the city's safer-at-home order, following our social distancing, hand hygiene, and facial coverings," Bradley said. "We believe these efforts . . . have helped us to begin to flatten the curve."
As of Monday, the city reported 42 people were hospitalized for COVID-19. Since early April, that number has fluctuated between about 40 and 50, but it reached a high of 58 last week, prompting the mayor to urge caution in any move to lift stay-at-home orders. 
After seeing hospitals overrun with patients in places like New York City—which is approaching 20,000 deaths—and Italy, Long Beach in March took rapid steps to shore up hospital space. The city deployed its temporary field medical tents for the first time since acquiring them in 2017, opened a no-cost rapid assessment clinic and created a daily hospital capacity dashboard.
Local officials even turned part of the Convention Center into a makeshift medical space, but to date, the 100 cots in the Long Beach Arena have not been used for any patients.
At the request of Gov. Gavin Newsom, the federal government deployed the USNS Mercy, a 1,000-bed floating Navy hospital that has been anchored off the Los Angeles coast since March 27. Since arriving, the ship has treated just over 70 non-coronavirus patients through the end of April.
Newsom also called on Community Hospital Long Beach operators to try to open the facility earlier than expected. But after weeks of reports that the facility would "open soon," hospital spokesperson Brandon Dowling said operators have yet to receive the needed acute-care license.
"The spread of COVID-19 has slowed and current hospital capacity has been able to keep up with demand," Dowling said. "This has lessened the urgency seen over recent weeks for our COVID-19 readiness, but we're still moving toward Community Hospital's reopening in the near future."
Hospital staff workloads
Aside from fewer coronavirus patients than anticipated, the health department postulated that fewer people are visiting hospitals for non-COVID reasons out of fear of contracting the virus. In a live chat with the Post on April 21, Long Beach Fire Chief Xavier Espino said transports to local hospitals were down 30%.
Since late March, more than 200 hospitals nationwide have announced furloughs due to decreased patient volumes, according to Becker's Hospital Review. 
MemorialCare's Long Beach Medical Center and Dignity Health-St. Mary Medical Center have so far not had to lay off or furlough any staff.
Nevertheless, some employees at the MemorialCare hospital have had their work schedules disrupted, working less, more sporadic hours, said James Leo, chief medical officer at Long Beach Medical Center. "We have implemented a labor pool for those workers, giving them access to shifts within the system to cover other essential positions."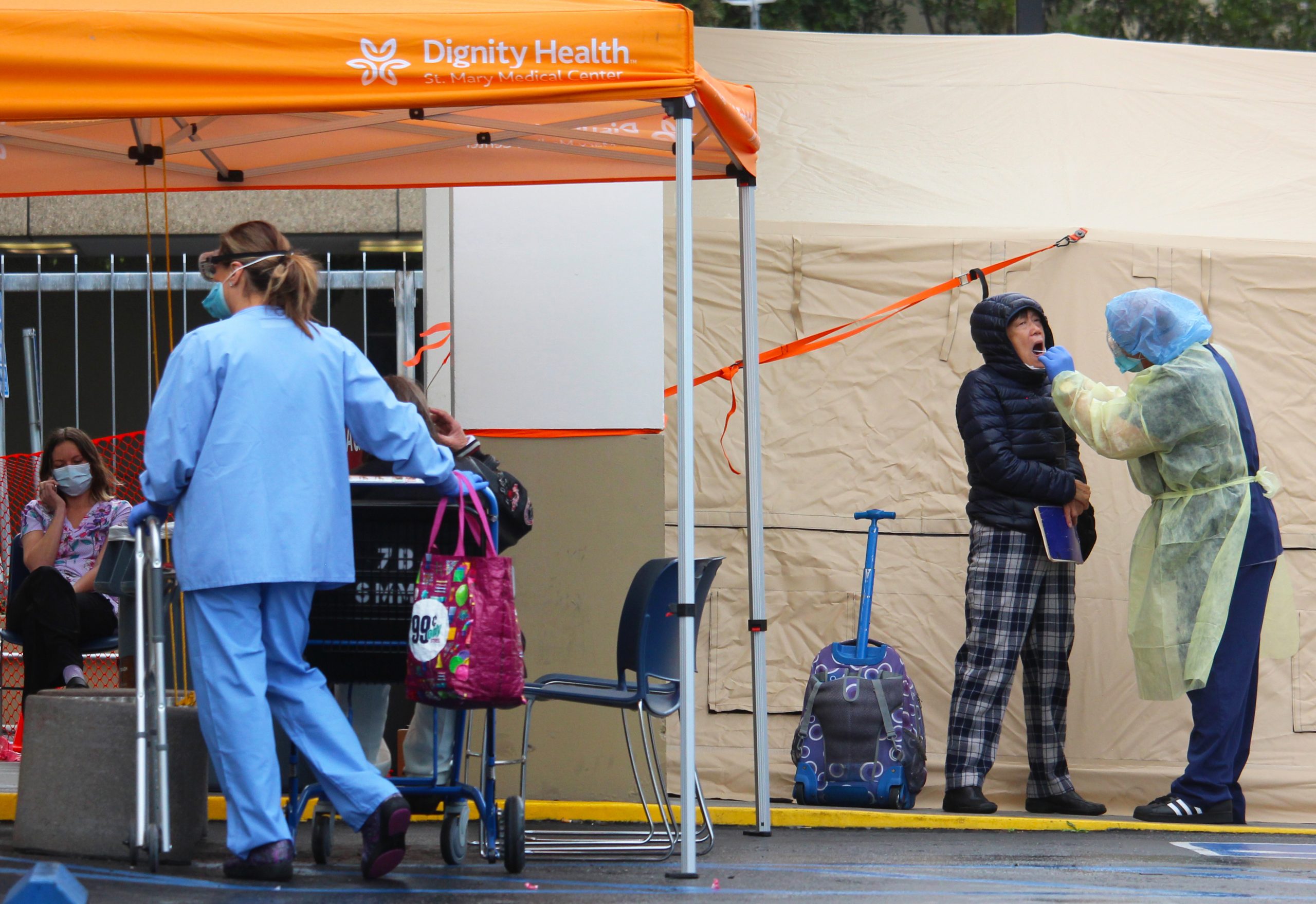 The labor pool could have employees working in other departments, nursing stations, safety monitors or screening people entering the hospitals, Leo said. Other employees have worked making masks and coordinating food and supply donations made by the community.
A St. Mary spokesperson said the hospital's staffing model was dependent on flexibility even prior to the pandemic. The hospital's leadership is attempting to keep employees working their regular number of hours but noted that is not always possible. For those who have their hours cut, the spokesperson said there is a safety net in place to minimize the financial impacts.
Hospitals facing financial strain
Last year, Kaiser Health News reported that hospitals receive $700 more for elective surgery admissions than emergency room admissions. Surgical stays account for over 48% of all hospital costs, according to the Agency for Healthcare Research and Quality. In the early days of coronavirus, Newsom requested hospitals cease all elective surgeries as a means to slow the spread of the illness and create capacity for coronavirus patients.
An elective surgery is a procedure scheduled in advance because it does not involve a medical emergency, Leo explained. Certain types of heart, joint and cancer surgeries are examples of elective procedures that can be safely delayed four to six weeks with approval from the patient's surgeon or physician.
As requested, Long Beach Medical Center canceled all semi-elective and elective surgeries in mid-March. Though MemorialCare does not share specific financial details publicly, Leo noted that hospital revenue dipped because of that decision.
"The safety of our employees, physicians and patients always has and always will be our very highest priority," Leo said. "We will place safety above the business concerns of the organization and will make the investments necessary to ensure this is evident."
As of Monday, Long Beach Medical Center started performing some, but not all, types of elective surgeries, according to spokeswoman Richele Steele.
A common claim by critics online attempting to downplay the severity of COVID-19 is that hospitals and health agencies are inflating case and death numbers. Some people have gone so far as to say that hospitals are being monetarily incentivized to over-report their coronavirus numbers.
But hospitals are only reimbursed for the services they provide, regardless of the illness of the patient, the St. Mary spokesperson said. When asked if hospitals are being incentivized monetarily or otherwise, Steele responded with a resounding "no."
Hospitals report deaths to local and state health agencies, which then report the figures to the U.S. Center for Disease Control. Long Beach has reported 768 positive COVID-19 cases and 37 deaths, as of the mayor's update Monday. 
While the number of cases and deaths in Long Beach remain significantly lower than the worst-hit areas like New York City, local health experts said it would have been irresponsible to not prepare for the worst-case scenario.
"Long Beach could have suffered a catastrophe if we had not prepared. Tens of thousands of people could have become infected, overwhelming our healthcare system, and numerous people would have died," officials from the city's health department said in a statement. "Seeing what transpired in other countries and other states in the U.S., it would have been unconscionable to not prepare for large numbers of ill people potentially needing hospitalization."