In a technological age dealing with an obesity epidemic, men are encouraged to stay active, get regular health checkups and make lifestyle changes that can help prevent major health problems later in life, according to physicians and health educators.
This year marks the 22nd anniversary of Men's Health Month, an initiative now celebrated every June across the world with health screenings and events to raise awareness about the health of boys and men. The initiative was started in 1994 after U.S. Congress first established Men's Health Week (celebrated this year June 13 to 19), leading up to and including Father's Day.
While life expectancy in the United States is at an all-time high of 78.8 years of age, women today live on average about five years longer than men, according to the latest data from the U.S. Centers for Disease Control and Prevention (CDC).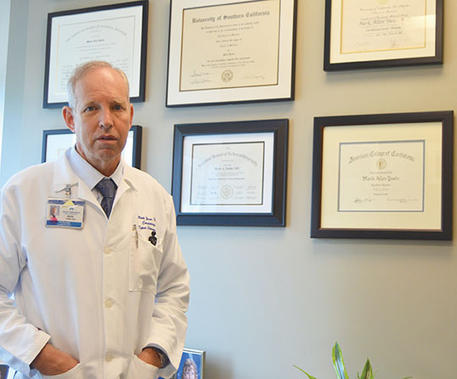 Dr. Mark A. Yusin is a Diplomate of the American Board of Internal Medicine and Cardiovascular Disease. He is part of the Southern California Permanente Medical Group in Harbor City. He is affiliated with the Kaiser Permanente Los Angeles Medical Center. "When you're in a restaurant," he said, "you can order off a healthy menu. They list the calories now and they put it out there, but unfortunately, the healthy menu doesn't include french fries. . . . It really comes down to willpower and your desire to really do something for you."(Photograph by the Business Journal's Larry Duncan)
The main reason males are dying younger than females is that men in general don't take as much of an interest in preventive care or try to keep themselves as healthy as women, Ana Fadich, vice president of Washington, D.C.-based Men's Health Network (MHN), told the Business Journal.
According to physicians and health care experts, some of the top health issues for men are heart disease, lung cancer, prostate cancer, liver disease, diabetes and mental disorders. Doctors recommend regular exercise, health screenings and lifestyle changes, such as quitting smoking and eating healthier, as the best ways to combat such health problems.
One of the biggest threats to men's health is that men, who often portray a "masculine" persona, pay more attention to the appearance of being healthy, rather than taking preventive care measures that can significantly reduce health risks as they age, Fadich said.
"For guys, it's about being masculine, working out, having a good body and feeling like they're physically okay," Fadich explained. "We hear that a lot from men. 'I feel fine. I'm in the best shape of my life.' But there are underlying issues that may be lingering inside of them, a potential heart problem or potential diabetes. . . . If they're not going to get their preventive visits every year, they're going to have a problem in the future."
In an op-ed piece released late last month, Fadich said that, in addition to being far less likely than women to see a doctor for preventive care, men are also less likely to have health insurance, adding that these factors combined can have an impact on men's "ability to be involved fathers, supportive husbands and engaged members of the community."
Still, she said "big improvements" have been made over the past several years to close the life-expectancy gender gap, noting that nearly two decades ago men died 6.6 years earlier than women. Fadich said federal, state and local initiatives, such as male outreach programs like in Oakland and other areas of the country, along with "Wear Blue" days in which people wear blue during fitness events to support men's health, have helped close the gap.
Technology And Virtual Care
Many health care professionals said they are now leveraging technology through mobile phones and social media channels to increase access to care, particularly for men.
For instance, MHN has recently partnered with the National Healthy Start Foundation, a national Kappa Alpha Psi fraternity and others to develop texting and app-based programs that deliver informative and actionable health messages designed to help young men specifically take a more active role in their own health and the health of their children.
Dr. Greg Pecchia, a family physician and health educator who runs an adult and geriatric care medical practice at the Eisenhower Argyros Health Center in La Quinta that focuses on men's health, said his practice has developed a model that now delivers about half of its care through virtual means, such as social networking tools and secure e-mail messages.
"Virtual care" or telecommunication has provided an additional way for men in particular to connect with a trusted health care resource, rather than through a typical medical office setting that can often be intimidating or uncomfortable for men, he said, adding that virtual care has also helped reduce costs of health care visits and reached men lacking health insurance coverage.
"The office setting and the need to take off of work really interfered with men to see physicians on a regular basis and to receive preventive and screening care," Pecchia said. "Our experience has been that [virtual care] has made quite a difference for many of our men who express their thanks for that type of care that they would not have had access to without these new tools."
He said virtual care and social media tools enable doctors to diagnose and treat illnesses and conditions virtually, while delivering useful medical knowledge through digital coaching and facilitating healthy lifestyles to assist patients with maintaining their health on a daily basis.
Pecchia, who participated in the first-ever White House Dialogue on Men's Health organized by MHN that took place in January, said expanding health care into the virtual realm has the ability to make care for men more accessible, reliable and less expensive than the office setting.
"We found that, for men in particular, this resonates with them and that the opportunities to leverage their smartphone environment and even their smart texting-capable devices allows us the opportunity to deliver some wisdom that previously was not necessarily available to them," he said.
Exercise And Staying Active
Many physicians and health educators list exercise and staying active as one of the top things men can do to reduce health risks.
Dr. John Molina, chief financial officer (CFO) of Long Beach-based Molina Healthcare, said the number one thing men can do to boost their health is to stay active and regularly exercise, which can be as simple as taking a 30-minute walk five times a week.
While fitness trends "wax and wane," society is becoming more sedentary than ever before, he said. And even though technology has helped health care professionals with communication and increasing access to care, Molina said that in some ways technology has played a part in enabling people to become more sedentary, which can lead to obesity.
"Generally, I think we're doing a worse job at taking care of our health now than 10 years ago," he said. "Big screen TVs, video games, all these things are pulling us back to the couch. . . . A 30-minute walk five times a week is all you need, and it doesn't sound like much, but it makes a huge difference."
Fadich agrees that staying active and regularly exercising is one of the top things men can do to prevent health problems later in life. She added that men are encouraged to participate in family-friendly activities, such as taking the kids to the park after dinner, to make staying active a part of everyday life.
Health Checkups And Screenings
Men are also encouraged to take preventive measures, such as getting regular health checkups and screenings, to detect diseases and health conditions early on before they manifest, according to physicians and health educators.
Dr. Jay Lee, a family physician for Long Beach Memorial Medical Center, said regular health checkups and screenings provide an opportunity for primary care physicians to create a trusting relationship with male patients, to become their coach, cheerleader or health "Sherpa," while providing a "welcoming environment."
He recommends men get health screenings for high blood pressure, diabetes, cholesterol, chronic diseases and mental health issues, as well as consider immunization vaccines. While most screenings are administered through blood tests, Lee said screenings for some men-specific diseases, such as colon cancer and prostate cancer, are recommended for senior years.
For colon cancer, screening is critical for men over the age of 50, even with no family history of the disease, he said. As for prostate cancer and benign prostatic hyperplasia (BPH), which is an enlarged prostate, Lee noted that the health care community is now more "judicious" about getting regular screenings since the side effects of such tests appear to outweigh the benefits. In addition, he said it's important for men to perform self-testicular exams to check for testicular cancer.
Molina pointed out that, as the Affordable Care Act (ACA) has pushed more people to become insured, people who have signed up for health care coverage through Covered California or Medi-Cal should take advantage of preventive care, such as health checkups and screenings that are provided without a co-pay or deductible.
"As more and more Californians are insured, they should take advantage of these things," he said.
Sunny Yu, spokesperson for Molina Healthcare, pointed out that nearly 250 people attended a recent event organized by the health care company to provide uninsured individuals with free health care services, including dental and vision.
Lifestyle Changes
Physicians and health experts also said it's critical for men to change unhealthy lifestyle choices early on to prevent major health problems later in life.
In fact, the most effective way to prevent coronary heart disease, which continues to be the leading cause of death for men, is to quit smoking and change to a healthier diet, according to local physicians and experts.
Dr. Nikhil Kapoor, a cardiologist who specializes in interventional cardiology for Dignity Health/St. Mary Medical Center, said that, while family history and genetics also contribute to heart disease and heart attack, unhealthy lifestyle choices, such as not getting enough exercise, eating unhealthy foods and smoking cigarettes, are major factors.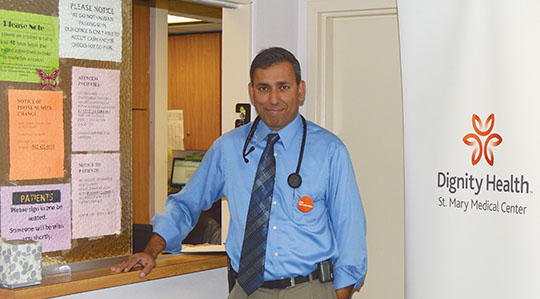 Dr. Nikhil Kapoor, M.D., is an interventional cardiologist with the ProHealth Multi-Specialty Network. His hospital affiliations include Dignity Health/St. Mary Medical Center and Lakewood Regional Medical Center. Board certified in cardiology and internal medicine, Dr. Kapoor said, "Lifestyle is one of the key components of keeping one's heart healthy . . . "It's better to prevent and make those changes right at the start, rather than having heart disease and then making those changes." (Photograph by the Business Journal's Larry Duncan)
He said research has shown that outcomes for heart disease, which come with early symptoms of chest pain and shortness of breath, have improved over the past decade as more people have become knowledgeable about the detrimental effects of some unhealthy lifestyle choices.
"Lifestyle is one of the key components of keeping one's heart healthy," Kapoor said, adding that changing one's diet and exercise are key to controlling risk factors.
"It's better to prevent and make those changes right at the start, rather than having heart disease and then making those changes," he said. "It's never too late to make the changes, but it's never too early to make the changes either."
Kapoor pointed out that quitting smoking is the most important thing men can do to prevent heart disease, as smoking builds plaque in the arteries over time and can cause numerous other heart-related health problems.
"Cigarette smoking, unfortunately, has major different pathways in which it can be bad for the heart and for the arteries," he said. "It's the formation of plaque, the increase in inflation inside the arteries and the vessel constriction that the smoking and tobacco causes. There are major pathways and all of them are damaging to our heart."
Dr. Mark Yusin, a cardiologist who is affiliated with Kaiser Permanente's Los Angeles Medical Center in Harbor City, said changing to a healthier lifestyle by eating healthy foods and staying active can greatly reduce a person's body mass index and prevent obesity, which is linked to heart disease.
While the number of people smoking overall in the United States has dropped significantly over the past few decades, more men still smoke than women, he pointed out.
In addition, Yusin pointed out that more attention needs to be paid to men getting regular exercise and maintaining a healthy diet, which includes eating more fruits and vegetables while limiting fat intake and avoiding red meat and fatty fast foods.
"When you're in a restaurant, you can order off a healthy menu," Yusin said. "They list the calories now and they put it out there, but unfortunately, the healthy menu doesn't include french fries. . . . It really comes down to willpower and your desire to really do something for you."