Is Long Beach on the verge of a nursing shortage? That depends on the source of information. Reputable authorities place California's supply of registered nurses (RNs) at either a surplus or a deficit in the coming decade.
According to a 2017 report from the Health Resources and Services Administration (HRSA), while some states are projected to run a surplus of registered nurses by 2030, California is projected to run a deficit of 44,500 RNs. "A host of factors" led to this projection, according to the HRSA, including population growth, the aging Baby Boomer generation needing more care, overall economic conditions, expanded health insurance coverage, and health workforce availability.
This lack of supply could have a critical impact on California's health care industry and its capacity to care for patients, according to industry experts.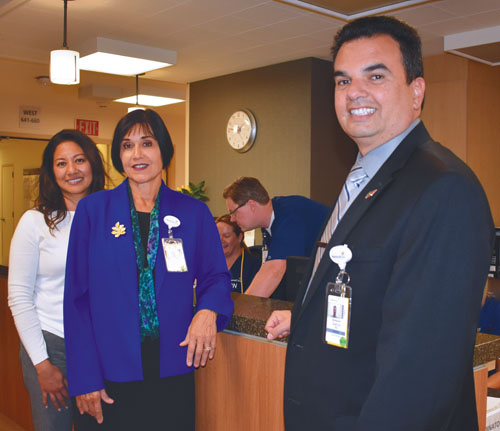 "In the hypothetical situation that you had extreme shortages, you would likely have to close beds," Diane Wynn, RN and vice president of risk management services for MemorialCare Long Beach Medical Center, told the Business Journal. This would be due in part to California's nurse-to-patient ratio law, she explained, which regulates the number of patients that a nurse is able to care for at one time. "If I have 12 beds on a unit and I have a one-to-four ratio, but I only have two nurses, then . . . I can't really put patients in them if I don't have the staff."
Hospitals that lack nurses may contract with agencies for what are known as "traveler nurses," which cost more than regular staff because of agency fees. "The [staffing] company has to provide housing for the nurses and traveling expenses and other things that need to be taken into consideration," Long Beach Medical Center's chief nursing officer, Tony Garcia, an RN, said. Though they provide an essential service, Garcia added, temporary nurses affect a hospital's budget "dramatically."
But the HRSA report is not the only indicator of nursing supply and demand. Michelle Mahon, RN, national nursing practice specialist for National Nurses United (NNU), noted that reports of nursing shortages hit the news from time to time and "often cause a flurry of alarm." There are several factors that need to be evaluated, she said, especially in a state as large as California. "I wouldn't leap immediately to HRSA's conclusion that there's necessarily a shortage," she said.
Mahon pointed to a 2017 evaluation by the University of California, San Francisco (UCSF), which projected no shortage in California. This year, UCSF put out another evaluation that looked specifically at the counties of Los Angeles, Ventura and Orange. The new evaluation, led by Dr. Joanne Spetz, the associate director for research at UCSF's Healthforce Center, predicted that these counties would experience a surplus of RNs in the next 15 years. The report anticipated that there would be so much competition for RN positions in these areas that nursing graduates would be compelled to move elsewhere for work.
American Nurses AssociationCalifornia Executive Director Markéta Houskova, an RN, attended a summit hosted by the California Board of Registered Nursing this past week, where Spetz delivered a lecture on her findings. "All of us had questions, the same questions you're asking me," Houskova told the Business Journal. "'But we heard all these stories about this shortage.'"
Spetz ran projections from 2020 to 2035 and predicted that, if California continues to graduate between 11,000 and 12,000 RNs per year – as has been the average, according to Houskova – there would be enough new RNs entering the workforce to replace retiring nurses.
Central California is expected to run an RN deficit, particularly in the San Joaquin Valley, according to UCSF's projections. Houskova said that nursing schools in Southern California may encourage their students to seek positions in the less populated region.
How To Retain And Increase The Supply Of Long Beach RNs
Registered nurses risk both physical and mental exhaustion in their daily work, nurse recruitment and retention firm NSI Nursing Solutions reported in March, which has led to turnover rates that range from 8.8% to 37%, depending on geographic location and nursing specialty. A 2014 study in "Policy, Politics & Nursing Practice," a quarterly peer-reviewed nursing journal estimated that 17.5% of newly-licensed RNs leave their first nursing job within the first year. That jumps to 33.5% within the first two years.
"Nursing turnover is extremely costly to hospitals," Mahon said. A 2018 report on national health care retention and RN staffing by NSI Nursing Solutions places the cost of turnover for an RN between $38,000 to $61,000. Moreover, each percent change in RN turnover costs the average hospital an additional $337,500, according to the report.
The high turnover rate is not only due to workplace stressors but the fact that RNs are aging out of their profession, Wynn said. The U.S. Department of Health and Human Services estimated that the majority of registered nurses in the U.S. range between 45 and 59 years-old.
Long Beach Memorial is preparing for the inevitable "retirement wave" by partnering with Cal State Long Beach (CSULB) to bring new graduates into the profession. "We have a 14-year standing partnership with Cal State Long Beach Nursing School," Michelle Cline, director of Memorial's clinical workforce development, said. "They have all their clinical [experience] here and our hope is . . . they become our new grads and our RNs."
Memorial has approximately 1,900 RNs on staff and brings on about 90 to 100 new graduate RNs through its CSULB partnership program each year. "We're anticipating that we'll need to increase those numbers and supplement that program a little bit . . . based on our projections of rtirement," Wynn said.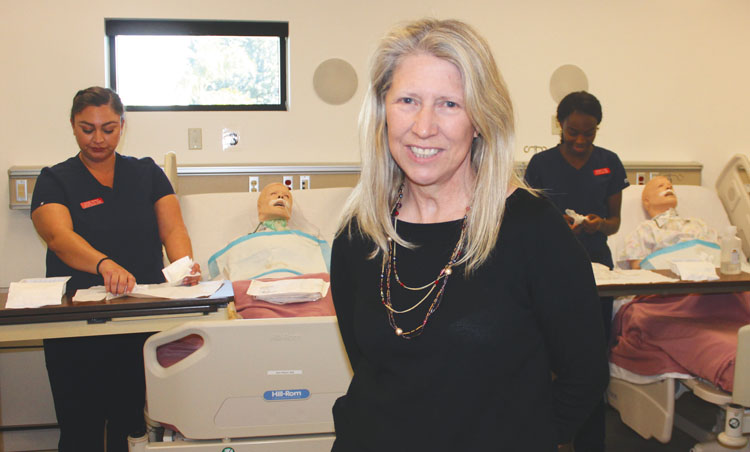 To combat potential turnover, Long Beach City College (LBCC) prepares its nursing students for the rigors of their chosen profession by giving them hands on experience with counseling and psychiatric care. "When we're in hospitals with them, we get a chance to work with them in terms of their . . . emotional intelligence, their levels of empathy, how they respond to challenging situations," Sigrid Sexton, an RN and LBCC's program director for registered nursing, said.
"There is a high turnover rate," she said of the profession, but added that nursing students at LBCC tend to be more resilient than average. "We have students here who come from the local community. They're very diverse, they have life experiences. In that group, you tend to see less attrition."
Making nurses feel valued and safe in the workplace may reduce turnover and incentivize incoming graduates, Mahon said, adding that it's only by retaining existing staff and replenishing those nurses set to retire that California hospitals could offset a projected shortage.
Nursing organizations, health care facilities and schools are all working towards making California a desirable place to practice medicine, according to industry professionals. For Mahon and the NNU, California's mandated minimum nurse-to-patient ratio is a prime example of that agenda. "There's no limit anywhere else," Mahon said. "This is driving a mass exodus from this profession, not just nationally but internationally. It's a crisis."
The ratio limit may be a factor in reducing nurse staffing vacancies and turnover rates, as one 2016 study suggests. According to the Texas Center for Nursing Workforce Studies, RN turnover rates in California are lower than in states without nurse-to-patient ratios. A 2015 study published in the "International Archives of Occupational and Environmental Health" found that the California RN staffing ratio law was associated with a 31.6% reduction in occupational injuries and illnesses among RNs working in hospitals in California.
"We knew staffing was important in preventing injury in the workplace, but those results were pretty astounding," Mahon said.
California RNs enjoy some of the highest wages in the nation. According to the 2017 HRSA report, median pay for California RNs was second only to Hawaii ($48.43 per hour vs. $49.26 per hour, respectively).
However, California RNs must contend with a high cost of living. Wynn said that Long Beach Memorial has witnessed that effect firsthand. "We're also seeing challenges with some of our younger nurses because of the cost of living in Southern California in general, and especially in this area. When we've looked at our data and done exit interviews, we have found that we're seeing some of our workforce leaving California or leaving the area because of the cost of living," she said.
That may not present an immediate issue, Sexton said, as there are enough nursing programs and nursing students in the Long Beach area to meet the community's needs. Currently, she added, "It's a little bit over what our needs are."
But that doesn't mean the surplus will last. Economic factors lead to fluctuations in supply, she said, and with the Affordable Care Act bringing more patients into the health care system, there will be a higher demand for clinical staff. Also, the aging Baby Boomer generation, combined with the aging RN workforce, will necessitate more nurses.
Locally, the closure of Long Beach Community Hospital has forced a reshuffling of health care professionals, Sexton said. "Nurses who worked at Community Hospital, many of them were taken on into Long Beach Memorial . . . some went to St. Mary Medical Center." Sexton said she hopes that Community reopens, not only for the sake of LBCC nurses looking for jobs, but also for patients who live near the traffic circle.
In the meantime, LBCC continues to partner with local hospitals – Memorial, St. Mary, Lakewood Regional Medical Center and the V.A. Long Beach Healthcare System – to educate the next generation of registered nurses. "These partnerships between the local schools and hospitals are key in keeping the community resilient in terms of nursing supply and demand," Sexton said. "We highly value those partnerships and would like to keep them going."