Visiting the dentist may still come with some pain, but dental care in general is becoming more efficient and convenient for patients thanks to new digital imaging and other technologies.
While oral surgeons have used three-dimensional (3D) imaging for years, today more dentists are employing such technology in general practice to be cost effective while improving quality of care as prices for equipment have dropped, according to specialists in the dental field.
Dr. Art Laos, a dentist at Volterra Dental in Los Alamitos, said investing in a cone beam computer tomography (CBCT) scan machine, which provides 3D digital images, has enabled him to evaluate parts of the mouth once difficult to precisely identify through standard one-dimensional X-rays.
"You can actually get a three-dimensional picture, rotate it and do all types of things to evaluate the joints, the jaw and where the teeth set relative to where the nerve is to determine whether teeth are fractured," he said. "These are things we kind of had to guess at before . . . Now, you can accurately diagnose exactly what is going on."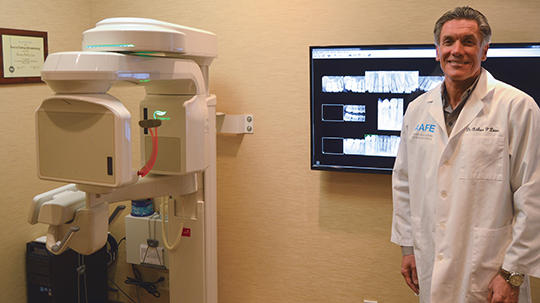 Dr. Art Laos, a dentist who has been in practice in the local area for more than 30 years, said investing in three-dimensional (3D) digital imaging technology has enabled him to evaluate parts of the mouth that were once difficult to identify using standard X-rays. His office is located at 3532 Howard Ave. in Los Alamitos. (Photograph by the Business Journal's Larry Duncan)
The technology is a useful visual aid in root canal procedures and implants while making dental visits more convenient for patients since images can be taken at the office, said Laos, who has been in practice in the local area for more than 30 years.
"Instead of having to send patients someplace to have the scan done at an imaging center, we're actually able to do it here in the office, which makes it convenient for them," he said.
Over the past decade, costs for CBCT machines as well as computer-aided design and computer-aided manufacturing (CADCAM) technology, which enables dentists to perform "same day" crown procedures, have fallen significantly, said Glenn Showgren, California zone general manager for Henry Schein, a worldwide provider of dental office technology and health care products that resulted in more than $10.6 billion in sales last year.
"Dental technology is evolving at an extremely rapid pace," he told the Business Journal. "We now have technology that can take that impression digitally in one third of the time of the old way and that gives much more accurate readings."
Dentists now have access to "intraoral cameras" that can "illuminate" decay and help identify needed treatment without exposing the patient to radiation through dental X-rays, said Showgren, a 20-year employee specializing in dental technology for Henry Schein.
Even X-rays, if needed, can now be done with much lower doses of radiation than in the past and give highly accurate information, he said.
Entry into CADCAM for general practice dentists is still expensive, with initial investment averaging about $100,000, but prices have decreased and quality has improved from years ago as multiple companies are now producing the technology instead of one major firm, Showgren said.
"Now you can get the same material on your CADCAM machine that your dental lab would produce," he said. "Quality improved and price came down as more companies came into that market."
With the latest technology, dentists can now expect to see a return on investment in just 16 to 18 months after purchasing a CADCAM system, Showgren said.
A major factor spurring the shift toward technological advances in dentistry is a push for doctors to become more efficient as health insurance companies have reduced reimbursements in recent years, he said.
In fact, in some cases, health insurance companies have made 10 percent across-the-board cuts to reimbursements, forcing dentists to consider investing in new technology to help maintain quality of care while attracting more patients, Showgren said.
"While doctors have to pay more each year in rent, they have to pay higher salaries to their staff and the reimbursement from the insurance companies is dropping so they have to be more efficient in order to just maintain the production and their practice," he said. "That is the role technology is playing – to not sacrifice standard of care and quality, while allowing the doctors to see more patients."
Dr. Steven Pakiz, a practicing dentist in Long Beach for 20 years, said three-dimensional scanning for crown and bridge procedures has "revolutionized" his practice by providing more accurate models of patients' mouths.
Using a small wand, the machine is able to perform a full scan of the mouth within about 10 minutes without causing the gagging associated with the X-ray procedure, he said. The machine then instantly produces a three-dimensional image for the patient to view.
"It's easier than taking X-rays because it basically just hovers over the teeth and then scans them in three dimensions, and then [the image is] immediately available to show to the patient on a computer screen," Pakiz said. "It's part of what we do now for all of our patients because we feel that strongly that patients are really able to understand how their mouth functions."
Such new imaging capabilities are encouraging dentists to take a more holistic approach to dentistry and look at how the mouth impacts the rest of the body, he said.
In addition, Pakiz said new imaging technology also helps patients become more involved in their own dental care, adding that he often e-mails short videos of the 3D images to patients for them to consider later when prioritizing next steps for dental care.
"I think this imaging technology really helps to involve the patients in what is going on in their own mouths," he said. "Living in a visual society that we do, I think that anything that we can do as dentists to raise the awareness through visual opportunities helps the patient understand what they really need and prioritize it so over a period of time they can get the work done that is important to them."
Laser technology, which has been in use for years and is one of the few ways dentists have been able to reduce pain often associated with dental procedures, have also increased in quality recently and are helping to prevent progressive periodontal gum disease and tooth loss, Pakiz said.
"We're able to get some amazing results that were only possible through some very expensive, painful surgical procedures in the past," he said. "I really think that the lasers that we're using now in conjunction with everyday hygiene appointments have made a lot of difference in people's ability to keep their gum tissue healthy. . . I think that it has helped quite a bit."