To Long Beach residents who want to make good on their New Year's resolutions to get in shape, Pine Avenue in Downtown Long Beach boasts a variety of gyms and conditioning classes.
Featuring crossfit, Pilates, boxing, weight training and aerial silks, the half-mile stretch between Broadway and 8th Street has been dubbed "Fitness Row" by KP Pilates Plus, located at 245 Pine Ave. Owner Kelli Parsley said she viewed the presence of fellow fitness businesses as encouragement rather than competition. "We all have something different to offer," she told the Business Journal. "It's getting busier [downtown], and we appreciate our neighbors."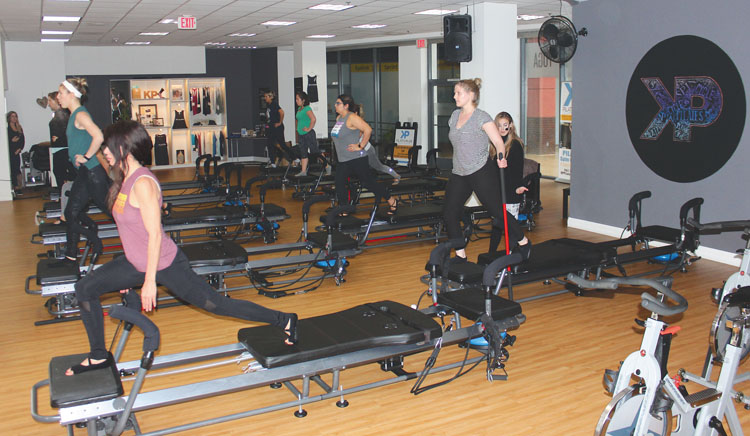 Speaking on behalf of the Downtown Long Beach Alliance (DLBA), a nonprofit that manages the two property and business improvement districts in the area, Research and Policy Manager Austin Metoyer said that the emergence of Fitness Row was not planned. The DLBA may make suggestions to a new business that wants to lease in downtown, but the decision is entirely up to the owner, he noted. The success of the various fitness centers on Pine is due to their specialization, he speculated. "They all serve a particular interest or need," he said.
Parsley said her establishment stands out from other Pilates studios by focusing on the Lagree method. This form of Pilates utilizes a sliding machine called a Megaformer to train the muscle fibers in the body's core. "It's high intensity but low impact," Parsley explained. This means the exercise does not put too much direct force on the body's joints, which makes it ideal for fitness training at all ages. "I used to be a runner, but [with] my knees, I just can't do it anymore," Parsley said. "With the Lagree method I can still maintain that physique I want."
KP offers eight to 10 classes every weekday, and three morning classes on Saturdays and Sundays. There are no more than 10 spots available per class, which keeps the instruction focused and in high demand. Parsley said she has many long-time members and is excited for the new housing projects downtown to bring in a fresh crop of residents.
D.J. Scorza manages the Anytime Fitness located at 301 Pine Ave. as well as the two on East Anaheim Street and Los Coyotes Diagonal. Scorza said the Pine facility, which has been open for nearly two years, is the most popular of the three. "We already had an established fan base, and when we opened the downtown club we actually had a lot of members checking that one out and transferring over," he told the Business Journal.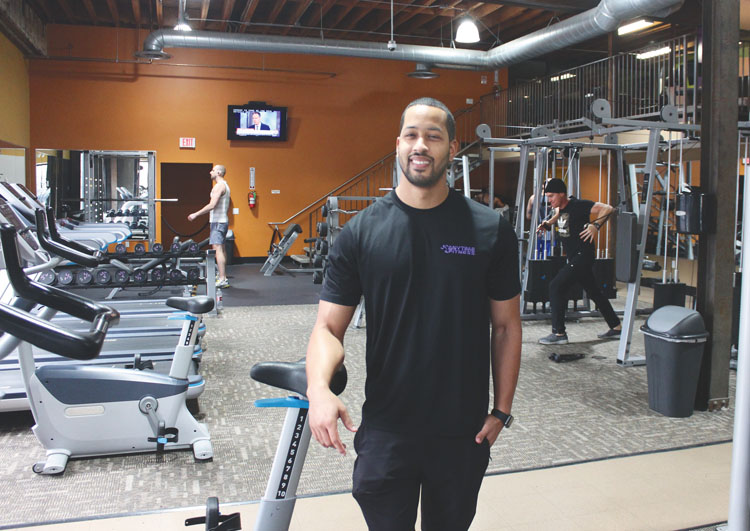 The Pine Avenue Anytime Fitness offers staffed hours Monday through Saturday, but members are free to use the 5,000-square-foot gym every day and hour of the year. "We don't really need as many people [for staff], so we hope that everybody can come in, get their workout in, get on whatever piece of equipment they want and get on with their day," Scorza said.
Regarding the abundance of fitness clubs downtown, Scorza said that while he does recognize them as competition, he sees no reason why the business on Fitness Row can't coexist as a thriving center for exercise. As a personal trainer, Scorza said he likes that his clients have multiple options for getting fit. "We tell people to try them all out, because at the end of the day you're going to find which one fits you most, and whatever makes you happy is going to help you get healthier."
Celeste Ayers, owner of Polarity Fitness on 501 Pine Ave., likened the options to having a McDonald's next to a Carl's, Jr. The diversity allows businesses to cater to varying tastes. "One day you want Carl's, Jr. hamburgers, the next day you want McDonald's," she said.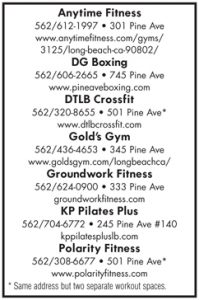 Now in its fifth year, Polarity Fitness offers aerobic pole dancing classes, private training and dance workshops. "Any fitness where you can dance your booty off, that's what we offer," Ayers said. Classes are scheduled every evening of the week except for Fridays and Sundays. Ayers said her membership has grown each year as Pine has attracted new businesses and residents.
Gold's Gym Long Beach, located at 345 Pine Ave., first opened its doors on October 1, 2001. Membership has remained steady ever since, General Manager Jose Sandoval told the Business Journal. The gym features 38,000 square feet for strength and cardio-training areas, as well as a steam room, "Kids Club" and space for various fitness classes. "We pride ourselves on our world-class coaches and supportive, motivating community along with our wide variety of fitness experiences, group exercise classes and membership options," Sandoval said.
As to being located near so many other studios and clubs, Sandoval said, "Everyone has a unique fitness journey. It's great that our community offers so many options for potential members to compare and make the best decision for themselves."
DG Boxing at 745 Pine Ave. specializes in strength and conditioning for boxers, with both one-on-one and private sessions. General Manager George Orduna said the business has benefited from pedestrian traffic and Long Beach Transit's free Passport buses that loop around the downtown and waterfront area. Though Orduna believes the addition of new gyms has likely diluted the club's membership, 2019 has shown signs of growth for his business. "I think this year's going to be pretty good," he said.
Under new management as of January 1, DTLB Crossfit is now owned by Garret Scales. Scales, who owns two other crossfit facilities in Yorba Linda and Orange, said his corner spot next to Polarity Fitness is a prime location. (The two facilities share an address but are two separate workout spaces at 501 Pine Ave.) "It's great," he said. "People coming by, driving by, it's right around all that new development."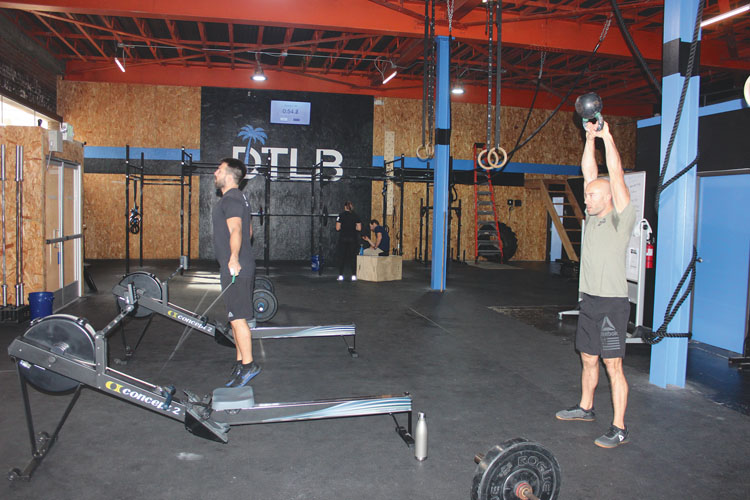 According to Scales, crossfit incorporates "every aspect of fitness," including strength, gymnastics and interval conditioning such as rowing, running and biking. These aspects are combined into one-hour classes that can fit into busy downtown schedules, the owner said.
Scales views nearby fitness clubs as healthy, even inspiring, for his business. "They feed me," he said. Whereas members of large gyms work out by themselves and get bored, at DTLB Crossfit they train and push each other to succeed, Scales said. "It's the old saying, misery loves company," he went on. "They come in, they do a group work out . . . they suffer together. And that makes it a lot more enjoyable."
Featuring group classes as well as personal training, Groundwork Fitness at 333 Pine Ave. was the first establishment to open an active fitness parklet in the United States, according to owner Giovanna Ferraro. In fair weather conditions, this repurposed pedestrian area is filled with active members and exercise equipment – which does wonders for marketing, Ferraro said. "I had a gentleman come by last night as I was closing up and he caught the last five minutes of the class. I gave him a pass," she said. "It's pretty amazing."
One of the newest classes available at Groundwork is "aerial silks," which involves gymnastic movements performed on silk ropes hanging from the ceiling. The class has grown in popularity and is now open to both adults and children, Ferraro said. "There's definitely a kids' course and that has gained momentum. They love it."
Ferraro has also formed a nonprofit, KeepLBCFit, that works with health organizations and the city to provide free workouts and health education for the homeless. The nonprofit has partnered with Pacific Gateway, the city's workforce development agency, to help employ those at risk of becoming homeless.
According to the U.S. Department of Health and Human Services (HHS), the immediate effects of "moderate-to-vigorous physical activity" include reduced blood pressure, diminished feelings of anxiety, better sleep and more efficient conversion of carbohydrates to energy. The long-term benefits include lowered risks of chronic diseases such as heart disease, stroke and some types of cancer.
The Physical Activity Guidelines for Americans, a 2018 HHS report based on current health science, recommends that adults engage in at least 150 minutes of "moderate-intensity" physical activity each week, with "brisk walking" being given as an example. The report states that regularly engaging in this level of activity can lead to lowered risks of Type 2 diabetes, Alzheimer's disease, depression and obesity. Furthermore, it can strengthen bones and joints, heighten energy, improve balance in the elderly and increase one's chances of living longer.
"This is what's going to keep you out of the doctor's [office]; this is what's going to keep your heart healthy," Parsley said of her Pilates studio. Speaking about exercise in general, she highlighted how important it was that gyms offer classes and space to work out within the urban environment. "Your body needs to move, and I think that's what a lot of people miss. The fact that we have this to offer right in downtown is amazing."