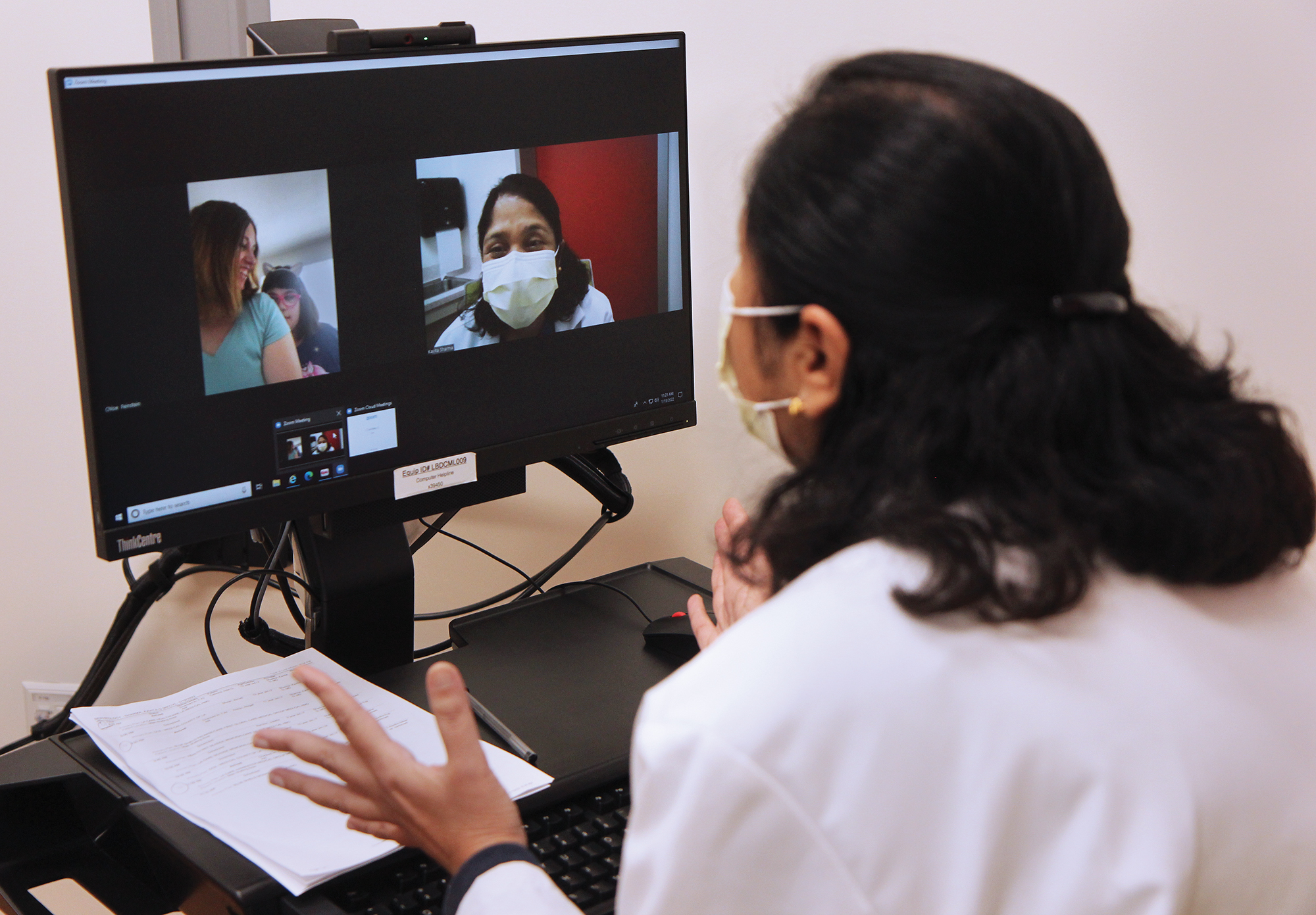 In the past, if you had a minor injury or ailment and wanted a doctor's opinion, you went to a hospital. But during the global pandemic, when people were hesitant to visit a hospital—or encouraged not to unless it was an emergency—phone and computer screens replaced the walk-in visit for many.
Telehealth, or virtual care, has existed for years but has always accounted for a very small number of visits, according to Dr. Graham Tse, the COVID-19 physician-in-charge at Long Beach Memorial Medical Center.
"A lot of it has to do with regulations from all the governments in terms of reimbursement," Tse said. "One of the silver linings to the pandemic is that many accommodations were made to facilitate virtual care—for obvious reasons. It became very crucial."
In the first two and a half months of 2020, Memorial did about 50 scattered virtual visits, according to hospital data. At the onset of the pandemic, the facility rapidly expanded its virtual appointments, which then made up 60% of visits.
As the initial caution eased, virtual visits at Memorial dipped to about 10% of visits but subsequent surges kept demand in flux. In 2020, the hospital averaged 840 virtual visits per year. That figure jumped to 1,063 in 2021, according to data.
Memorial saw 3,052 patients virtually in the first week of January as the omicron variant continued to run rampant, according to hospital staff.
Telehealth can be beneficial to a wide spectrum of specialties and departments, but it has proven to lend itself particularly well to mental health visits and case management, said Ardel Avelino, senior director of operations at St. Mary Medical Center.
"The retention of these patients would be compromised—the patients who suffer from mental illness and social services gaps," Avelino said. "By providing virtual services, we were able to continue to meet the patients' needs."
At St. Mary, the vast majority of mental health visits over the past two years have been conducted virtually, according to Avelino. In 2020, 1,003—or 67%—of 1,490 mental health visits were virtual. That figure expanded to 1,213 (87%) of the 1,388 mental health visits last year.
The reason telehealth was so critical early on in the pandemic is that so little was known about the virus, Tse said. Limiting the amount of in-person interaction was one method to slow the spread of the disease and maintain the health of hospital staff.
Throughout the two years of COVID-19, however, patients needed to continue their care, especially those with chronic illnesses, Tse said.
"There is always ongoing care and maintenance care—both in adults and pediatrics that needs to happen," Tse said. "Health is important and healthcare needs to continue on."
Left without a means to connect with doctors virtually, pandemic conditions could result in missed diagnoses or a lapse in care. Check-ups inform doctors when ailments worsen, Tse said, which could mean they could require surgery and adjustments to medications. Not taking these actions in a timely manner could result in significant negative effects,  Tse added, including death.
Virtual care became particularly critical at St. Mary's CARE Center, which provides services for the area's LGBTQ+ community, Avelino said. The online service has been critical in minimizing delays in care, including HIV diagnoses, treatment regimens, sustained viral suppression and prevention of new infections, he said.
Early in the pandemic, doctors were seeing patients avoid hospitals at all cost for fear of catching the virus, Tse said. This resulted in patients becoming even sicker than they would have in normal circumstances. With the current surge of the omicron variant, hospitals are facing the opposite: emergency departments and urgent cares are being inundated with people seeking COVID testing or treatment for mild symptoms, Tse said.
When an ER becomes overcrowded with people not experiencing an emergency, it becomes a dangerous situation for those who are, Tse said.
"We have to keep our emergency departments and ambulatory services available for things that are more urgent," Tse said, urging residents to utilize telehealth when possible. "The heart attacks, the accidents, the traumas, the strokes—they're all still happening during this surge."
Hospital staff have been pushed to the brink throughout the pandemic, battling surges, crowded hospitals and staffing shortages. The flexibility of virtual care was a vehicle to help some avoid burnout, Avelino said, noting that staff could conduct virtual visits from home.
The medium also is convenient for patients, especially those who require frequent visits and those with mobility issues, Avelino added. However, there remains the challenge of the digital divide, which sees many households still without internet access, Tse said.
Technological advances are driving telehealth, Avelino said. Products such as smartphones and watches and fitness trackers such as Fitbit can be integrated into telehealth as a means to monitor patient health from afar. Some patients are even being issued equipment such as blood pressure cuffs to take home so they can provide their doctors with certain information during virtual visits.
Both Avelino and Tse concede that it is impossible for virtual care to fully replace in-person healthcare services, with countless procedures requiring the patient to be present. Also, there is a lot to be said for face-to-face conversations, especially when giving difficult news, Tse said. But virtual care is certainly here to stay in a more prevalent capacity, they said.
"Virtual care is really an innovative approach and its utility has been validated by the unprecedented pandemic," Avelino said. "It's really posed to transform the healthcare industry."