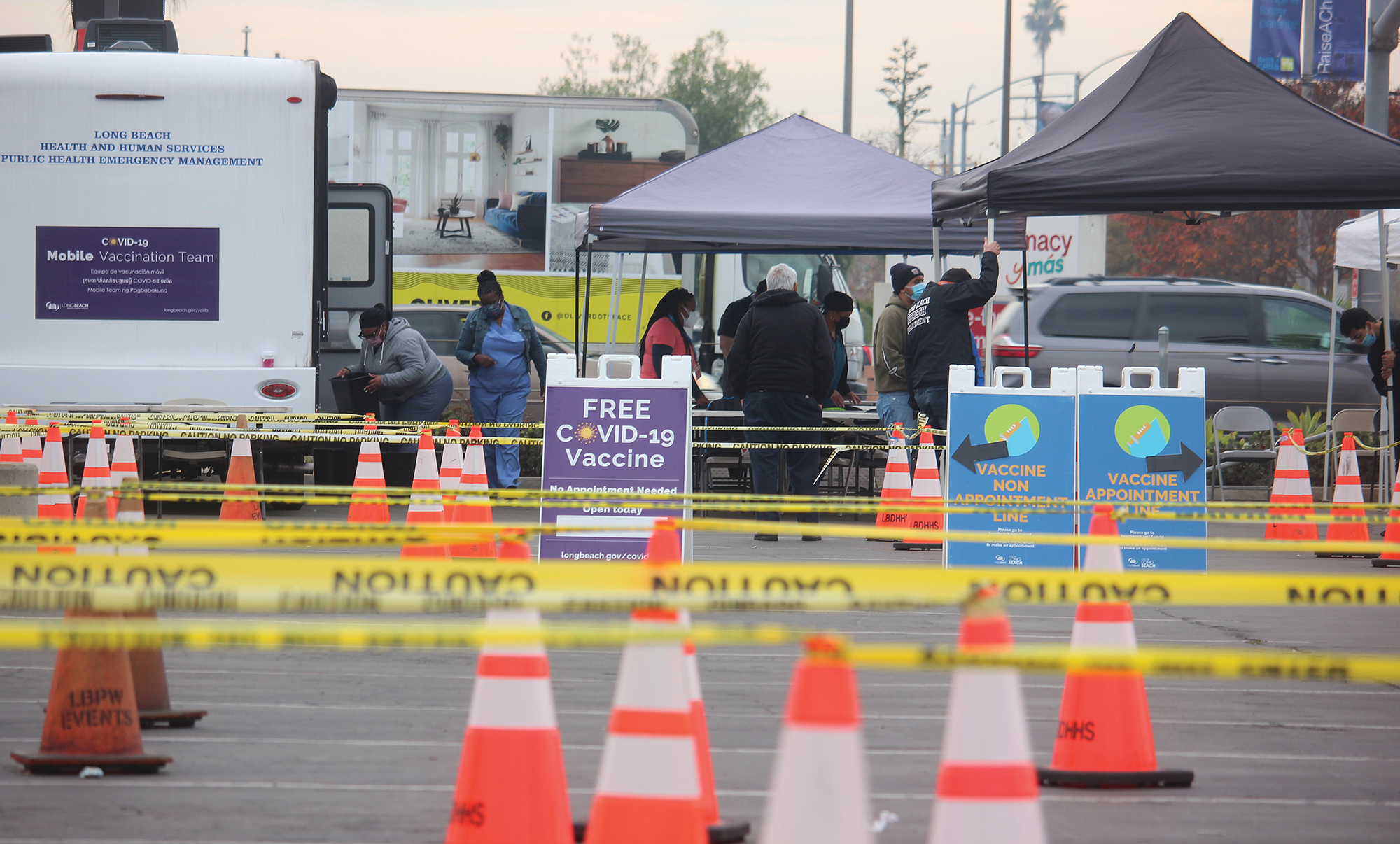 As the world faces the third year of the coronavirus pandemic, guidelines from public health agencies continue to evolve—but experts have varying opinions on what those changes will mean in the fight against COVID-19.
One of the most recent examples was an announcement from the Centers for Disease Control and Prevention that it was shortening the recommended quarantine and isolation period for people who contract or are exposed to COVID-19.
Rather than the previous recommendation to stay home for 10 days, the CDC's stance is now that folks should stay home for five days if they test positive. The same applies to those who are exposed to the virus and have not been recently vaccinated or received a booster shot. People who have been recently vaccinated and are asymptomatic, though, don't need to stay home. But everyone who is exposed to the virus should wear a mask around others for 10 days, according to the CDC.
The California Department of Public Health followed with its own set of similar—but slightly stricter—guidelines earlier this month. While the CDC does not include testing in its recommendations, CDPH asks that everyone who tests positive or is exposed to COVID-19 to get tested after five days to determine how to proceed. This includes people who were recently vaccinated or received a booster shot, even though they don't need to stay home after exposure.
The Long Beach Health Department, for its part, followed Califorina's lead with its own health order, which also shortens quarantine and isolation periods while calling for testing.
Long Beach City Health Officer Dr. Anissa Davis said in a phone interview that Long Beach's updated health order was based on the CDC's decision and the data behind it.
"My understanding from what [the CDC] said is that they felt that you're most infectious earlier on in your disease course," Davis said, "so you're most contagious a day or two before you start showing symptoms, to a day or two after.
"So that information, coupled with the huge workplace impact that omicron was having, kind of guided them to change the isolation and quarantine guidance at that time," Davis added. "So we've adjusted all of our guidelines based on that."
The announcement of the new guidelines has been welcome news in many industries that have faced worker shortages amid the recent omicron surge. But health care professionals appear split on what the new recommendations will mean for the public.
"I'm actually concerned that there may be more transmission," said Dr. Timothy Brewer, a UCLA professor of medicine and epidemiology. "So among the recommendations is reduced amount of [quarantine] time for asymptomatic individuals, but given the data to show that omicron is more likely to cause asymptomatic infection, that means there will be more people out there potentially capable of spreading this virus to others. And while most people will have mild to moderate disease, some people will be very seriously affected."
But Dr. Jeffrey Klausner, a clinical professor of population and public health sciences at USC, sees it differently.
"There are a combination of factors that go into it," Klausner said when asked about his thoughts on the changes in guidance. "One is obviously recognition that efforts to control the spread of infection have failed, and it's actually good to update one's strategy when one is seeing failure of the initial strategy. If you keep doing the same thing again and again, expecting a different outcome, that's the definition of insanity.
"Infection prevention at the community level did not work," he continued. "It's time to pivot and do something new. And secondly, given that there is a fair amount of population-level immunity that protects people from severe disease, that also means that a lot of efforts to reduce the spread of infection are not cost-effective or worthwhile. And then lastly, with the advent of increasing availability of new therapies, the focus has shifted to getting people treated early."
As for what the new guidelines look like on a practical level, in a health care setting, Long Beach Memorial Medical Center's COVID-19 physician-in-charge, Dr. Graham Tse, said testing is still of paramount importance.
"We absolutely want to keep our patients and staff safe, and to that end, we take a more stringent approach in that we require testing before we allow anyone to come back to work, and we do not allow them to currently come back to work if they're asymptomatic and without testing," Tse said of Memorial's current approach. "We have a defined practice to ensure that we minimize the chances of anyone passing it on."
Tse said the CDC's decision to exempt anyone exposed to COVID-19—even those who are asymptomatic and have recently been vaccinated or received a booster—from quarantine recommendations has been controversial in the medical field. Even California's approach, which requires testing but not quarantine, allows for further transmission of the virus, he said.
"Allowing someone who's asymptomatic just to come back to work without testing—how does that fit in terms of the infectiousness and transmissibility of the omicron?" Tse said. "So we've taken a more stringent approach."