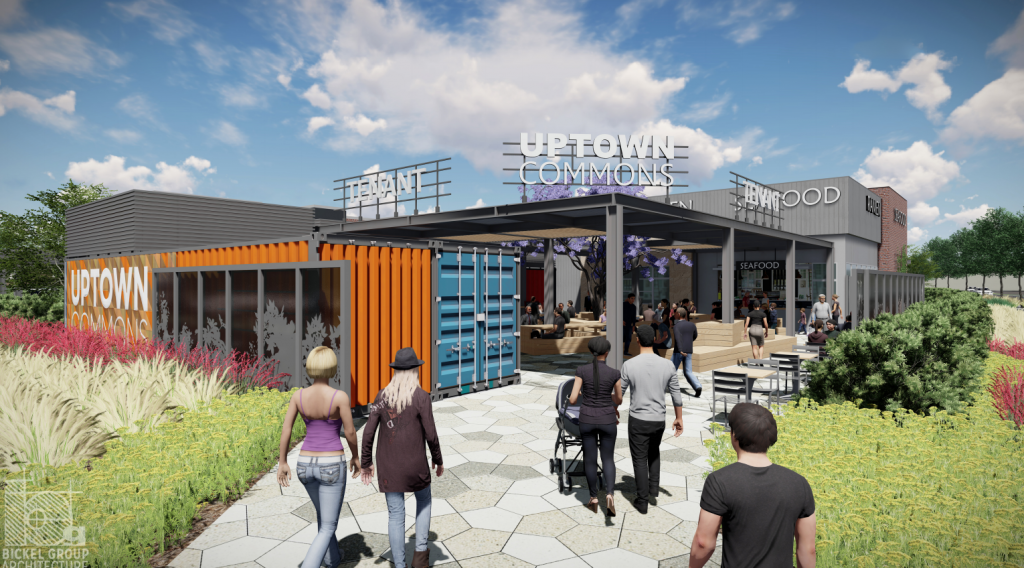 Over the last few years, developers and real estate firms have had a bullish approach to North Long Beach. Three companies in particular, Frontier Real Estate Investments, LAB Holding and Westland Real Estate Group, have all shown interest in bringing amenities and housing to North Long Beach.
Councilman Rex Richardson, who oversees parts of the city where the projects are being built, said that when he took office, the community lacked public libraries, banks and walkable retail corridors. Richardson saw the construction of the Michelle Obama Library and upgrades to the Houghton Park community center and Fire Station 12 as success stories for the local community, but what was still lacking was interest from developers to invest in the northern part of the city.
"People have been wanting to see the private sector get involved," Richardson said.
The establishment of Uptown Commons by Frontier has opened the door for the other developments—The Uptown and The Beat seek to enhance walkable retail corridors in the region, something North Long Beach has been primed for, Richardson said.
Uptown Commons
Frontier's Uptown Commons, located at Atlantic Avenue and Artesia Boulevard, hosted a partial opening in June, bringing the first bank to the 9th District.
Uptown Commons' exterior patio design has allowed newcomers Main Chick fried chicken restaurant and Oi Asian Fusion to successfully host grand-opening celebrations in September, and they continue to serve hungry local residents. The COVID-19 pandemic has prompted restaurants to resort to outdoor seating, which is still allowed under the county's current health orders—making exterior dining areas that much more valuable for new retail developments.
"Uptown Commons has been a hit," Richardson said. "There's more diversity in what it offers."
Tom Carpenter, Frontier Real Estate Investments president, said that Portside Fish Co. and Shomi Noods Ramen Bar are also scheduled to join Main Chick and Oi at the Uptown Commons. The two newest locations hosted soft openings last week.
"It has been years in the making, and seeing it completed is meaningful," Carpenter said. "We were able to deliver the tenants that the city desired and create gathering spaces for residents to enjoy."
Carpenter said Uptown Common's varied slate of tenants—Portside Fish Co., Shomi Noods Ramen Bar, Main Chick, Oi Asian Fusion, Starbucks, Wendy's and Chase— were secured before the pandemic struck.
The Uptown
Just south of Uptown Commons at the intersection of Atlantic Avenue and 61st Street lies a 112,000 acre plot of land where Westland developers are seeking to build The Uptown: a mixed-use retail center with an industrial aesthetic across the street from Houghton Park.
The team at Westland has been in negotiations with The Blink Fitness to open a gym at The Uptown, making it the centerpoint of the project. Service businesses and retail shops such as a barbershop and a cafe will surround the gym. There will also be office space.The Uptown will connect with the Harding Plaza, which is currently open to the public.
Yanki Greenspan, president of Westland Real Estate Group, said his team is in project negotiations with the city and are seeking to break ground in early 2021.
With no end in sight to the pandemic, restaurants with outdoor seating have momentarily braved the wave of full-blown closures.
"Our project is perfect for a post-COVID world," Greenspan said. "The buildings all surround central courtyards with plenty of outdoor seating opportunities."
Greenspan said he's optimistic that tenants will be able to open their businesses by the time the project is completed late next year. So far, the restaurants showing interest in The Uptown are content with outdoor dining options, Greenspan said.
After hopefully breaking ground early next year, Greenspan said tenants will most likely have the keys to their spaces in late 2021.
"I'm not going to lie to you and say I'm not nervous," Greenspan said. "But we're optimistic."
The Beat
The creative minds at LAB Holding, responsible for the LAB Anti-Mall in Costa Mesa, are retrofitting separate parcels of land around Atlantic Avenue in one of the larger developments in the north called The Beat.
What sets this project apart from the other two developments in North Long Beach is that it's not contained to one location, but rather dotted along Atlantic Avenue—surrounding the Michelle Obama Library. The Beat is the umbrella term that covers four sub-projects.
These projects range from retail space to housing and residential. For one of the residential projects, LAB Holding will construct 14 cottage-style units on Lime and Atlantic avenues.
Another sub-development project is called the ARTery, which is located at South Street and Atlantic Avenue. The ARTery is a micro residential project that will include a community art gallery as well as 14 cottage-style housing units.
The largest of the four sub-projects will introduce a massive, mixed-use, office and retail space across the street from the Michelle Obama Library. Known as Spring: The Gardens of Long Beach, LAB Holding's design models for this project seem to take inspiration from The Anaheim Packing District in Orange County. Roman Ciuni with LAB Holding said they are planning to build 86 townhomes at this location with about 7,000 square feet of retail space.
Shaheen Sadeghi, chief executive officer of LAB Holding, said the designs of the proposed projects are mostly complete. He said his team is negotiating with the city to finalize entitlements and permits.
Sadeghi added that it would take between a year to two and a half years to complete construction depending on the project.
This year has been especially difficult for LAB Holding's retail developments, Sadeghi said, as COVID-19 has thrown a wrench in LAB Holding's commercial projects.
"2020 is a bit of a write off," Sadeghi said, "Everybody is on a hold pattern. From a leasing standpoint, there is a certain uncertainty."
The residential projects are steadily advancing, despite COVID-19 dampening LAB Holding's more commercial-focused endeavours.
"We are moving forward with the residential development," Sadeghi said. "We are redoing the current retail segment and will continue our leasing efforts."