Many local women business owners have strong ties to the greater Long Beach community; they live here, run their businesses here, and their customers and employees are local, too. For this reason, many make it a priority to give back by volunteering with Long Beach nonprofits and community organizations, and donating to philanthropic causes.
Heather Duncan, owner of Belmont Shore boutique Blue Windows, said she was inspired to give back to her community during one of her hardest times as a business owner – the Great Recession. "When everything came crashing down, that's when I sort of realized what was special about this shop is that it's in the middle of this community that loves it," she told the Business Journal. "They support me, so I need to support my community."
The five women interviewed by the Business Journal for this piece each indicated they are most driven to contribute to local causes that positively impact the well-being of others.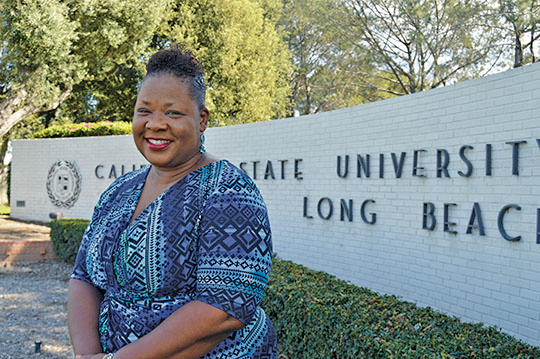 Michele Dobson, who owns a law firm in the Belmont Heights area of Long Beach, often blocks out entire days on her schedule to give back to the community through her work with various organizations and boards, including the California State University, Long Beach Board of Governors. (Photograph by the Business Journal's Larry Duncan)
"For me, I am definitely more drawn to the human side of an organization," Duncan said. One of her favorite local nonprofits is Precious Lamb, a downtown preschool for homeless children.
"With Precious Lamb it is obviously not just about the kids, it is about the moms," Duncan said. "It gives them an opportunity to make their life better. They can drop off their kids to a safe place, and they can actually go out and go to school and do what they need to do in order to make their life better for their children."
Duncan said her Christian faith drove her to start giving back to her community. Despite struggling, as many business owners did, to keep her shop open during the recession, she for a time began donating 10 percent of her monthly profits to local nonprofits. Despite the financial challenge, her business remained open.
Now, in addition to regularly supporting organizations like Precious Lamb and the Long Beach Rescue Mission, she holds give-back days in which she donates a percentage of her profits. "Every Saturday in November we will be giving back," Duncan said. Each Saturday that month, she will give 10 percent of her profits to local nonprofits.
Kathryn Wade, who started Long Beach-based William Wade Fine Photography with her husband 42 years ago and who also owns a picture framing business, has always been drawn to organizations that help local children. In the 1980s, she joined Rick Rackers, an auxiliary of Assistance League of Long Beach that runs Operation School Bell. The program provides school uniforms to Long Beach Unified School District children whose families cannot provide them.
"Working with Operation School Bell puts an immediate warm spot in your heart when you realize there are so many children who don't have things that our children do – the little things like socks and underwear," Wade reflected. The program now clothes more than 10,000 children a year, she noted.
In 2005, Wade became a chapter member of ALLB, and served as its president from 2012 to 2013. She has also volunteered with Long Beach Day Nursery, Long Beach Cancer League and Steel Magnolias. She now sits on the committee for Community Hospital Long Beach's annual fundraiser. She said she gets her spirit of giving back from her grandmother, whom she used to volunteer with as a child. "I encourage everyone to get out and get involved. We need a lot more volunteers," she said.
It's not easy for Wade, as a business owner, to find time to give back. "Sometimes I come home at night [from volunteer efforts] and have to work on my business late at night," she said. But, she emphasized, it's worth it.
Other local women business owners give back to causes they identify with on a personal level. Melissa Guy, who co-owns the Signal Hill digital media production company Asset Media Group with her husband, began volunteering with a cause close to her heart about nine years ago. "Both my husband and I have humble backgrounds . . . and we wanted to give back to the kids in the neighborhoods that we grew up in, so we started volunteering," Guy said.
The Guys began volunteering with the Urban Media Foundation, a nonprofit dedicated to mentoring and educating urban students with interests in media, journalism and mass communications. They now run the organization, with Guy acting as executive director. "We offer entrepreneur and technology training and field trips free of cost to students aged 13 to 18," Guy said.
"This year, in 2016, we are really excited to partner with the City of Long Beach where we will be producing our junior business and innovation camp at the Long Beach Convention Center on July 16 to 17," Guy noted. At least 100 of the 360 spots for local area students will be free of charge. This year, the organization has served nearly 1,000 students.
Guy and her husband are also actively involved with the Antioch Church of Long Beach, through which they help put on the annual Long Beach Gospel Fest, as well as other local causes.
Kay Cofield, a past president and long time member of Rotary Club of Long Beach, is most active in the organization's literacy program geared towards young students because she personally understands the impact strong reading skills can have on one's life. "I always recognized that reading was very instrumental in making me the person I ultimately became," she said. Because her mother began reading to her at a young age she developed strong reading skills early on, which helped her in her academics and with later success, she explained.
"We have annually put several hundred thousand dollars into the community in terms of books into our elementary schools," Cofield said. "A couple of our projects have been to deliver those books to, and read to, the children in our preschool programs," she explained, noting that she often volunteers for these events.
"I candidly admit I joined for business reasons in the beginning," Cofield said, explaining that she joined Rotary for networking opportunities. "But I drank a lot of Rotary Kool-Aid, because I ended up staying for the ability to make effective change in our own community as well as in the world."
Long Beach native and attorney Michele Dobson began giving back to the community when she started up her own law firm in Long Beach 10 years ago. Around that time, a friend nominated her to the board of directors for the Arts Council for Long Beach. She just recently completed her last of three three-year terms.
"I really want to support organizations that help to provide opportunities for children to engage in the arts along with their academics, because on my side of town where I grew up in West Long Beach we didn't have lot of the arts," Dobson said. "A lot of the organizations that I work with, what draws me to them is if some component of the organization tries to provide opportunities to kids who otherwise wouldn't get those opportunities."
Dobson now serves on the boards for the Long Beach City College Foundation and the California State University, Long Beach Foundation. She also serves on boards for the Long Beach Community Foundation, YMCA Metro and the California Conference for Equality and Justice.
"If your business allows you to find the time to squeeze it in, I think it is pretty essential as a business owner, because your employees generally live and work within the same city," Dobson said of giving back. "You want to improve the quality of the city so your employees will be happy and you will have retention."