On Tuesday, April 16, dockworkers at the Port of Los Angeles protested the potential use of automated trucks at the nation's largest port, causing the L.A. Board of Harbor Commissioners to table a decision that would have allowed terminal operator APM to use driverless cargo vehicles. Autonomous trucks have been a contentious issue in the shipping industry, but automation has already taken hold in other areas of the logistics industry.
Numerous startups across the state have set out to modernize the supply chain through technology, and a number of them have chosen the Long Beach area as their home base. "It's really a prime location for this business," Steve Wen, co-founder and CEO of Lakewood-based Dray Alliance, told the Business Journal. "The L.A. and Long Beach ports are within a few miles of our office," Wen noted. "Having an office, initially, that's really close to where our customers are allows us to quickly resolve any problems in the beginning and do a lot of research, by having a close relationship with our end users."
Dray Alliance is one of two drayage-focused startups with offices in the Long Beach area that provide an online platform connecting small trucking companies with cargo loads in need of transportation. "Their livelihood relies on getting containers out of the ports more efficiently," Wen said. "We provide the right tools for them to engage with customers and we also provide the customers for them." In February, the company announced that it had secured $3.5 million in seed funding from Craft Ventures, a venture fund.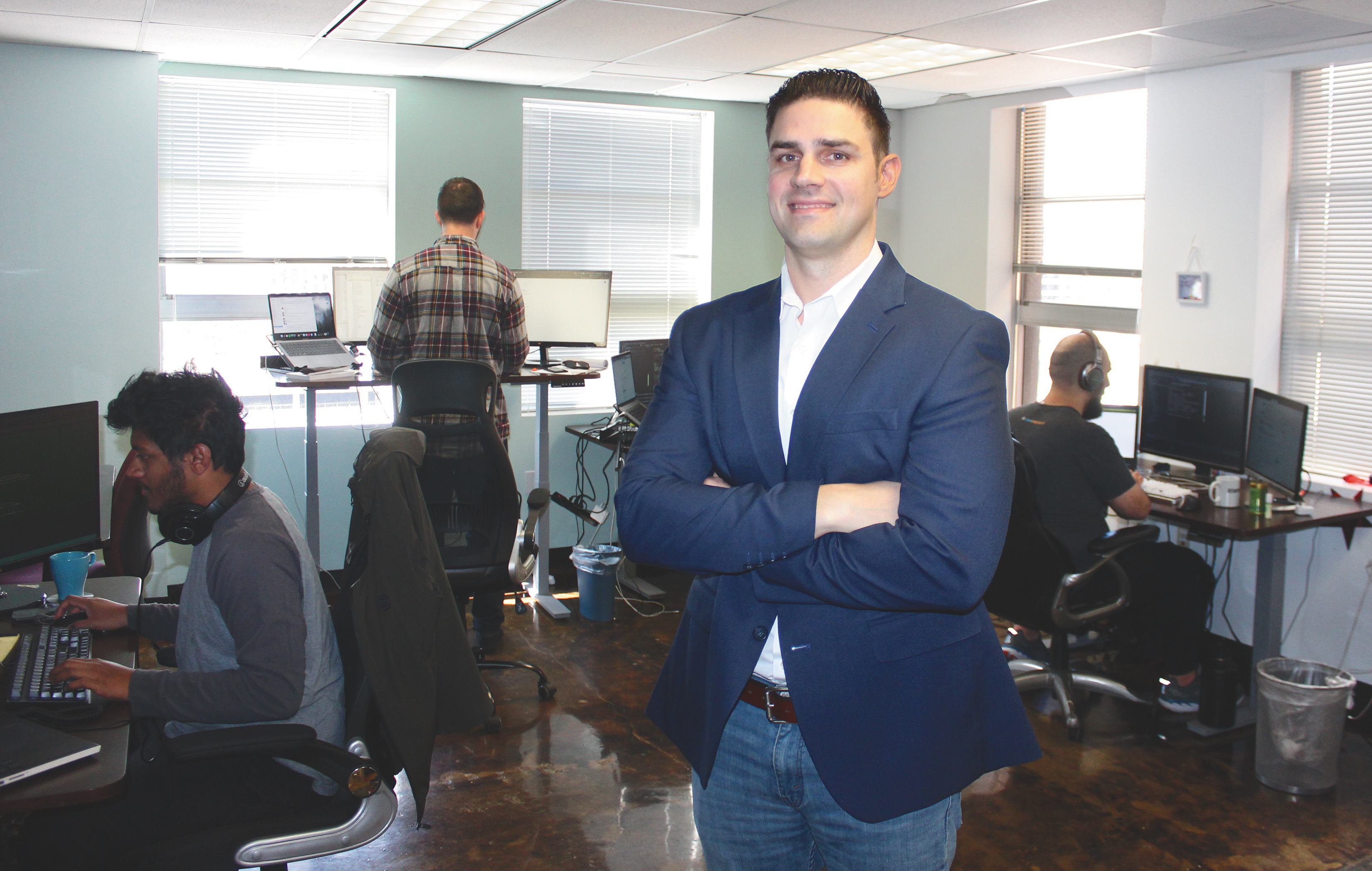 "I think it's important to take a step back and acknowledge that over the last 20 years or so, the world economy has evolved much faster than the traditional supply chain and has grown much more complex as consumer expectations have shifted and evolved," Stuart Leung, general manager of North America and the Southwest at Flexport, told the Business Journal. "Today, if you go online and you buy something, the expectation is that it's delivered in two days and, in some cases, maybe an hour. For companies to achieve that and deliver on that promise, they need to be really nimble, really flexible, really fast."
Flexport, a company based in San Francisco, has secured massive funding in recent years. In February, the company announced its most recent fundraising success, a $1 billion investment from the SoftBank Vision Fund. In a press release, founder Ryan Peterson outlined the company's growth since its inception in 2013: close to $500 million in revenue, 1,000 employees, 11 offices and warehouses and nearly 10,000 clients and suppliers.
"There are a lot of technology players in this space . . . and I'm really encouraged by that," Leung said. "We're just getting started, and you should expect a lot more exciting things to come."
So far, the company has focused on creating "The Operating System for Global Trade," which weaves together the various steps of the global supply chain on one platform, offering clients real-time tracking, data collection and analysis as their goods move across the world. In addition to automated data collection, clients are assigned a team of operators, which Flexport calls a "squad," to assist with any challenges that may come up along the way. "Because supply chain and freight forwarding are fairly complicated, challenges and exceptions do come up fairly quickly," Leung said. "We manage the shipment flow end-to-end."
Many smaller startups have focused on one element of the supply chain, like drayage, or one geographical area. NEXT Trucking, a Lynwood-based company, seeks to replace traditional freight brokers by directly connecting truck drivers with their cargo through a digital platform, similar to the Uber Freight services launched by transportation giant Uber. But, "different from some other tech startups that are trying to conquer the world, we actually are more regionally driven," Lidia Yan, co-founder of NEXT Trucking, told the Business Journal. NEXT Trucking, which raised $97 million in a recent funding round led by Brookfield Ventures and Sequoia Capital, is currently focusing its efforts on California and the Southwest.
"Traditionally, drivers rely on brokers to find them loads via phone calls or text messages. Drivers can spend hours on the phone with a traditional broker, trying to find the ideal load," Yan explained. By streamlining the process and taking the procurement of cargo to a digital platform, Yan said her company offers competitive fees and increases the visibility of available cargo for trucking companies. "We wanted to provide more clarity and transparency to the truck drivers."
The ubiquity of personal tech devices has spurred the development of trucker-focused apps and online services, Yan explained. "Compared to three years ago, a lot of drivers didn't even have smartphones. Now, almost all the drivers have downloaded one or two apps."
The owner-operators who make up a large portion of the trucking industry as well as the small businesses that traditionally broker the exchange of cargo often don't have the resources to develop operating systems and platforms of their own. For them, the Long Beach-based startup Comfreight offers another alternative to phone calls and fax machines. Rather than cut out freight brokers altogether, Comfreight offers a free digital platform where brokers post available loads for trucking companies to accept. In 2018, the company raised $3.1 million in a seed funding round led by the San Francisco-based venture capital firm Initialized Capital.
The company's revenue comes from the financing of payments made to trucking companies. As soon as a truck driver drops off his or her cargo load, Comfreight's financing service, Haulpay, creates a digital invoice. For a fixed percentage of the billed amount, the company pays the trucking company directly. The company's leads for this service are created through the free platform, also referred to as a loadboard. "Comfreight's loadboard is . . . effectively like a freight matching app," Comfreight founder and CEO Steve Kochan explained. "So you have multiple different brokers interacting with different carriers, interacting with different shippers, rather than the data connection being intercepted on every single load."
Kochan said services like the one provided by his company will bring automation to the industry in the near future. Comfreight uses automated risk-assessment to vet clients before paying out invoices on their behalf, as well as algorithms that help match trucking companies with available cargo loads. "We fundamentally see transportation and the financing of the movement of that transportation as critical digital infrastructure for the country," Kochan said.