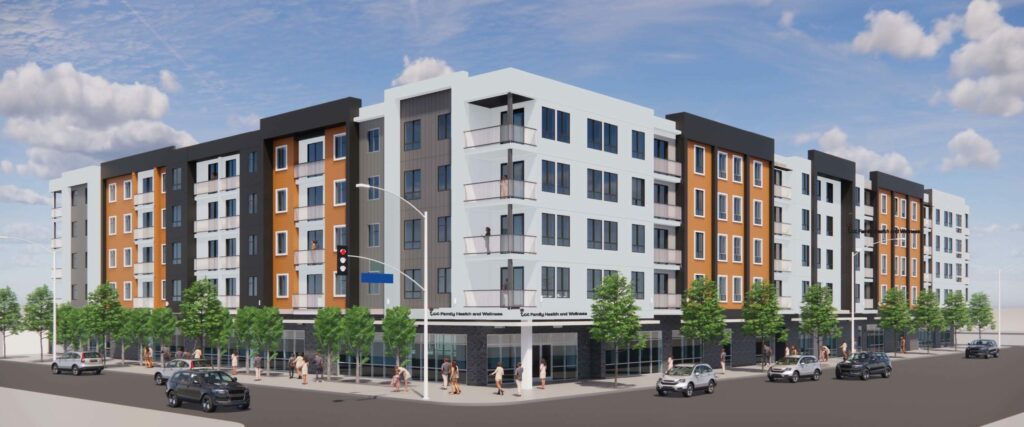 A new affordable-housing complex is on its way to Long Beach's Cambodia Town neighborhood.
Officials with the city, the Long Beach Community Investment Company, TCC Family Health and BRIDGE Housing broke ground today on the $57.7-million development at 1500 E. Anaheim St. The project will feature a community health and wellness center on the ground floor and 88 affordable apartments above, along with a parking structure for clinic staff, clients and residents.
"We are so thankful to be partnering with BRIDGE Housing to bring not only health, wellness and healing programs to this vibrant community, but also much needed quality, affordable and supportive housing," TCC Family Health CEO Dr. Elisa Nicholas said in a statement.
TCC will create jobs and offer health care to the community that includes services in women's health, dental health and behavioral health, along with acupuncture and a pharmacy. The wellness center will include meeting spaces, a teaching kitchen and a courtyard. TCC will also partner with Pacific Asian Counseling Services, Khmer Girls in Action and other community-based organizations in the neighborhood.
To qualify for the one-, two- and three-bedroom apartments, families will have to earn between 30-60% of the area's median income, according to the developers, while 20 units will be reserved for formerly homeless seniors. Rents will range between $398 and $1,762 per month depending on the size of the apartment. Mental Health American Los Angeles and YMCA of Greater Long Beach will provide resident services.
Construction is expected to wrap up by the end of 2023.